Newsletter: Clippers! Injuries were the big downfall this season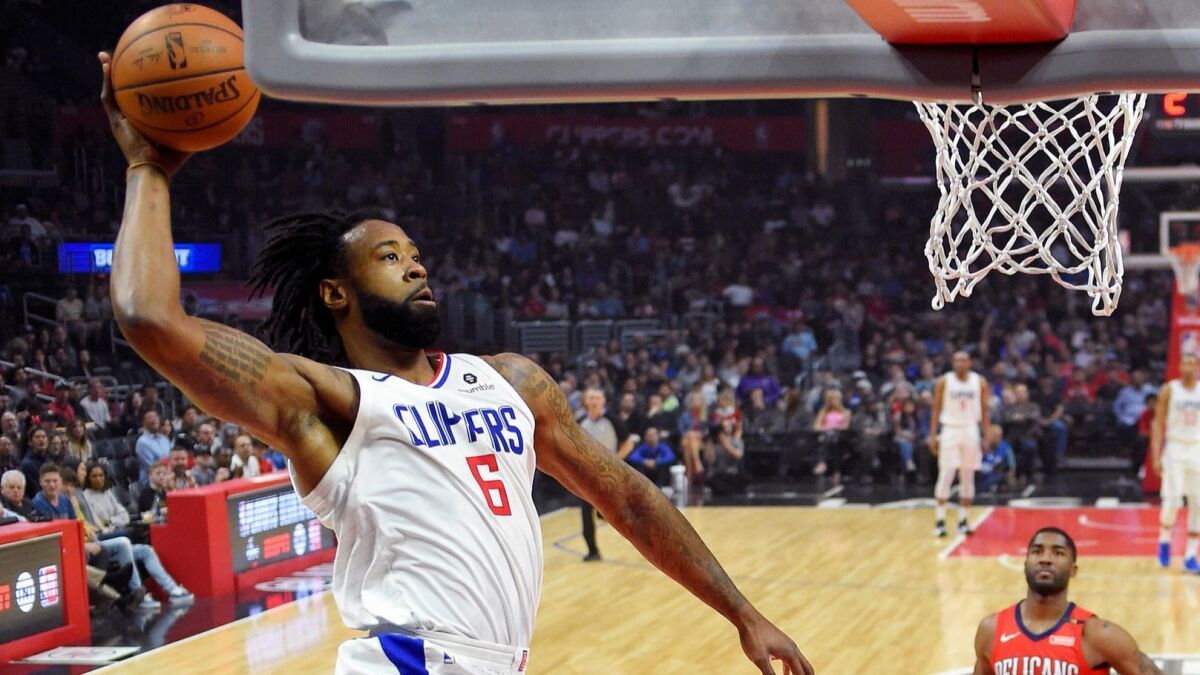 Hi, my name is Broderick Turner, and welcome back to the Los Angeles Times' Clippers newsletter.
Beg the basketball gods for a healthy existence.
Perhaps that should be the core of how the Clippers approach the 2018-19 season.
Injuries clearly were the undoing of the Clippers during their 2017-18 campaign, derailing any opportunity they may have had at reaching the playoffs for the seventh consecutive season.
Of course injuries are unavoidable in the NBA — in sports, for that matter — but the toll they took on the Clippers was undeniable.
They had 11 players miss a combined 264 games because of injuries, the fifth most in the NBA. They essentially had eight starting players get hurt. They had 37 different starting lineups in the process, an NBA-high.
"As soon as the season ended, we just burned some incense around this building," Lawrence Frank, the Clippers' president of basketball operations, joked about the team's practice facility in Playa Vista. "We [brought in] some witch doctors from around the world. … Hopefully the injuries are out of the way."
There is so much other work for the Clippers to do this summer in order to become relevant in the uber-competitive Western Conference.
The Clippers don't want the narrative to be called a rebuild for next season; they prefer "reshape," Frank said.
But it very well could be a starting-over if DeAndre Jordan, Austin Rivers, Wesley Johnson and Milos Teodosic opt out of their contracts. Or if unrestricted free agent Avery Bradley signs elsewhere. Or if restricted free agent Montrezl Harrell gets a big contract offer from another team and the Clippers decide not to match it.
Either way, for them to construct a sustained successful team, the Clippers have to be smart with the moves they make, they have to show some guile and, quite honestly, they have to be lucky.
Jordan has to inform the Clippers by June 29 if he's going to opt in on his contract, which will pay him $24.1 million next season. Rivers has a date of June 22 on his $12.6-million deal, Johnson has until June 22 for a $6.1-million deal and Teodosic has until June 24 to opt in on his contract for $6.1 million for next season ($2.1 million is guaranteed if he opts in).
The next step for the Clippers is the June 21 NBA draft.
They potentially could have two lottery picks: their own and that of the Detroit Pistons from the Blake Griffin trade if it falls out of the top four selections.
The predictions have the Pistons picking 12 and the Clippers 13.
If the Clippers wind up with both picks, they'll have options at taking a much-needed point guard, an athletic wing player or even a center, especially if Jordan bolts.
The free-agency periods start July 1.
These are important times for the Clippers.
"There are things that are big. There are things that might not be as big as people expect. They could be much bigger than people expect," Clippers owner Steve Ballmer told The Times. "And that's important, because in a sense there are some things that are just going to happen. Is DJ going to opt in, or is he going to opt out? Montrezl is a restricted free agent. That's just how it is. Austin and Wes: Are they going to opt in or not opt in? Avery is a free agent. Will he re-sign or he won't re-sign? So we have to settle things like that in aggregate. They are big. And then on top of whatever else gets done."
And finally
The Clippers newsletter will appear sporadically until the season begins again. In the meantime, we'd love for you to subscribe or to spread the word and ask your friends to subscribe. It's free! Click here to subscribe.
Have a comment or something you'd like to see in a future Clippers newsletter? Email me and follow me on Twitter: @BA_Turner.
Get our high school sports newsletter
Prep Rally is devoted to the SoCal high school sports experience, bringing you scores, stories and a behind-the-scenes look at what makes prep sports so popular.
You may occasionally receive promotional content from the Los Angeles Times.