Being Clippers mascot was a losing effort 30 years ago
Sam Dunk never dunked. The Clippers' first mascot also occasionally went over like an airball with the home crowd during his brief existence more than 30 years ago.
The character, who resembled a more buff version of Statler, the cantankerous balcony heckler from "The Muppet Show," once tried to sink a half-court shot during a break in a game against the Boston Celtics in December 1985. After the second miss, a referee grabbed the ball, prompting cheers from fans inside the Sports Arena.
It only got worse. When Sam held up a Celtics pennant, fans cheered again. A Clippers pennant prompted boos.
See the most-read stories in Sports this hour>>
That earned Sam, a.k.a. Mark Monninger in real life, a trip to the office of the Clippers' general manager at the time, Carl Scheer. No more half-court shots, Sam was told.
"It's bad enough my team is beaten and getting booed — I can deal with that," Monninger recalled Scheer telling him, "but I can't have the mascot getting booed."
The unveiling last week of the Clippers' new mascot, Chuck the Condor, brought back a lot of memories for his predecessor. Most were better than the pennant debacle.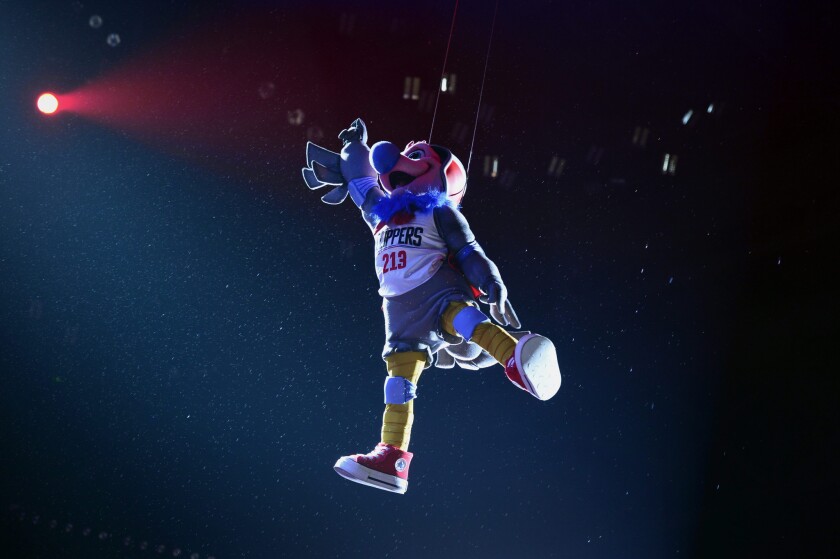 Sam got to dress in the same locker room as his childhood hero, Marques Johnson. The star forward and the mascot were standing next to each other in the shower when Johnson passed on a compliment far more valuable than the $50 or so Sam earned every game.
"You've got a pretty [expletive] ugly costume," Johnson said, "but you do a good job."
The Clippers' mascot had debuted in February 1985, midway through the team's first season in Los Angeles, as a nameless sea captain. It proved to be less marketable than team officials had hoped, leading to a redesign.
The mascot was rechristened Sam Dunk and rolled out early the next season. The new version was a sportier-looking character outfitted in a Clippers jersey with the No. 1 as well as red pants with white and blue stripes down the side and a cap also featuring team colors.
Inside the costume was Monninger, a student at Cal State Fullerton who had experience as the school's Tuffy the Titan mascot. Sam's reluctance to live up to the latter portion of his name was mostly a reflection of notoriously cheapskate owner Donald Sterling. Team officials obtained the trampoline Sam would need to dunk during games but never allowed him to do so.
"They were worried about insurance or something," Monninger said.
Sam roamed the stands during games, high-fiving fans and performing alongside cheerleaders from the recently disbanded Los Angeles Express of the U.S. Football League. He also completed on-court skits, dancing with a fake referee.
Once he noticed a pretty blond woman clapping along to his routine and grabbed her wrist in an attempt to bring her onto the court, only to have her politely decline.
He later was informed he had broken her bracelet. And it wasn't just any fan — it was Sterling's wife, Shelly.
"They said, 'Don't worry, she thought it was funny and they're OK,'" Monninger recalled, "'but be very careful who you pick out.'"
Like many of the itinerant players on the Clippers' roster in those days, Sam lasted only one season. He was dropped after the 1985-86 season and Monninger went on to man the mascots for the Los Angeles Rams and Rancho Cucamonga Quakes, among other teams.
You might have seen Monninger more recently. Remember the guy who smuggled a bear costume into Dodger Stadium during the playoffs in 2013 and danced on top of the St. Louis Cardinals' dugout? That was him.
Gillian Zucker, the Clippers' president of business operations, reached out to Monninger last year about the team's new mascot and asked him to submit an application. The Clippers did not grant Monninger, 52, a tryout, however.
"If I'm not as good and I'm too old and I can't do the same things I used to be able to do, then that's fine," said Monninger, who runs a company that sells office furniture. "But I at least would have liked to been able to try out. But they wanted somebody that can dunk and was really athletic."
Monninger said he liked the look of Chuck the Condor and pointed out that three of the most successful sports mascots had nothing to do with their team. The Phoenix Suns' Gorilla originated as a singing telegram. The San Diego Chicken was hatched to promote a radio station. And the Philly Phanatic isn't even modeled after a real-life animal.
Monninger prefers animal characters to human characters because of their comic appeal.
"A human character doing human things isn't funny," Monninger said. "An animal character doing human things is funny. Bugs Bunny is funny because he's a bunny that acts just like a human."
Monninger said he advised Zucker not to tie the mascot to the Clippers' name because they have never heavily marketed that brand since moving the franchise from San Diego in 1984.
"I told her, 'You've got to be careful,'" Monninger said, " 'because if you don't do this right — you don't have the right person in the right costume — the fans can really turn on you because they just feel like they don't need it unless they see a good one.' "
In other words, getting it right was no Sam Dunk.
Follow Ben Bolch on Twitter @latbbolch
---
Get the latest on L.A.'s teams in the daily Sports Report newsletter.
You may occasionally receive promotional content from the Los Angeles Times.