Clippers believe five-game losing streak served as a 'reality check'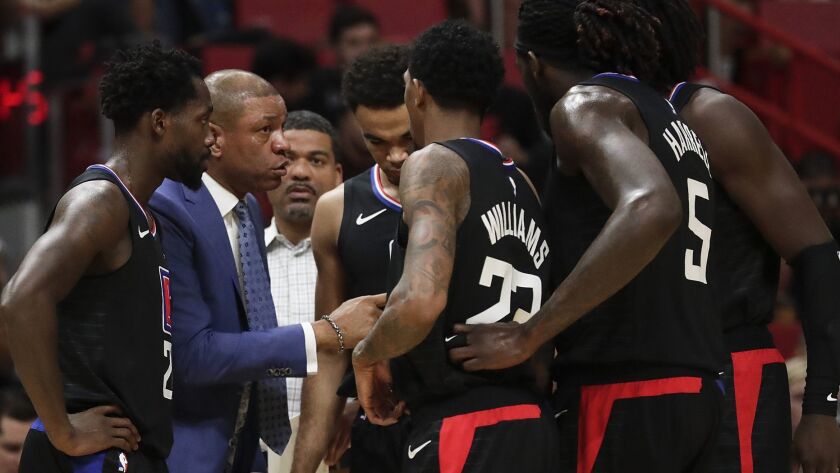 Reporting from Miami —
With a reservation at one of South Beach's swankiest steakhouses awaiting them, the Clippers quickly emptied out of their locker room Wednesday in Miami following a 111-99 victory. Coach Doc Rivers was picking up the check and few planned on missing out.
As they departed, players paired up and stepped out into a muggy Miami evening together. It was an appropriate display.
Six months after Clippers players bonded during a player-led retreat to Miami, several expressed a belief Wednesday night that the chemistry evident during that offseason trip — the kind that fueled their success during the six weeks to open the season but was missing during the slide that followed — has been recaptured in the wake of a seasonlong five-game losing streak, one that served as a team-wide "reality check."
"We're holding each other accountable throughout the game and I think that's the most important thing," guard Avery Bradley said. "Being receptive to criticism and things we need to do in the game — and guys actually listening and going out there and making changes and not looking at it like a negative — is helping us out big-time.
"We're out there fighting together and that has to be our mentality."
Since beginning the season 15-6 and standing in first place in the Western Conference, the Clippers have gone 11-16 and now are in eighth place, thanks to a defense that deteriorated and focus that sagged in December and continued through two weeks of January.
"It's just ups and downs," guard Lou Williams said. "Sometimes guys don't want to be bothered, sometimes they do want to be bothered, Sometimes you want to go eat with your teammates, sometimes you want to go across the country and get as far away as you can.
"We spend so much time together, especially at a time like this when [an All-Star weekend] break is coming up. I'm sure guys are kind of peeking around the corner trying to get their plans together and everybody have different intentions, so that's natural."
Sign up for our daily sports newsletter »
Veterans say they expect ebbs and flows, and yet their five-game losing streak, which ended Sunday with a victory in San Antonio, was viewed as a wake-up call. The season's promise was slipping away.
"It was a reality check," Williams said.
As evidence that a change has taken place, the Clippers submitted the way they've defended since the road trip began in San Antonio. In their last three games, their defensive rating ranks eighth in the NBA and they've allowed the fewest points off of turnovers despite playing without Danilo Gallinari, the team's second-leading scorer and one of its best communicators defensively. Gallinari is recovering from back spasms.
"We stayed the course," guard Patrick Beverley said. "If you listen to the way we talk to each other at halftime we curse each other out, but it's all to win a game. Collectively we stay on the same page."
That was the case following a loss on Tuesday in Dallas, as players took off their headphones en route to Miami and spoke to one another in frank terms about what went wrong. The hope was that any what-ifs wouldn't linger into the second night of back-to-back games.
The Clippers fell behind by eight points in the first half in Miami the following night but didn't fracture. Instead they committed one turnover after halftime and held Miami to 28% three-point shooting for the game, one night after Dallas made only 29% of its three-pointers.
Players are "understanding that it takes more than just cruising into a game and thinking we're going to outscore teams and having 140 points and another team having 140 and we end up beating them," said Bradley, whose recent breakout from his swoon on both the offensive and defensive ends has matched the team's own uptick. "We have to get stops. We have to have a defensive mentality."
The Clippers have their "swag back," Beverley said, but they declared the same thing before Christmas, too. Though the team won five of its next seven games, the losing streak followed.
The Clippers will have ample opportunities in the lead-up to the All-Star break to prove whether their "swag" can be sustained. Following their game in Chicago on Friday, they begin a three-game homestand before leaving for a six-game East Coast road trip.
"Sometimes teams click a little later than expected and I feel like right now we're on our stride," Bradley said. "We'll be even stronger when [Gallinari] gets back with the mindset that we have right now."
UP NEXT
AT CHICAGO
When: Friday, 5 p.m. PST
On Air: TV: Prime Ticket; Radio: 570, 1330.
Update: The Bulls (11-37) have lost five consecutive games against the Clippers (26-22) and 11 of their last 12 games. Since Chicago fired coach Fred Hoiberg on Dec. 3 and replaced him with Jim Boylen, the Bulls are 6-18. … Rookie forward Wendell Carter Jr. will not play, as he underwent surgery earlier this week to repair a ligament in his left thumb. … Guard Zach LaVine is averaging a team-leading 22.9 points a game. … Bulls opponents have committed double-digit turnovers in 14 of the last 15 games, whereas the Clippers are averaging 8.3 turnovers in their last three games.
Twitter: @andrewgreif
---
Get our high school sports newsletter
Prep Rally is devoted to the SoCal high school sports experience, bringing you scores, stories and a behind-the-scenes look at what makes prep sports so popular.
You may occasionally receive promotional content from the Los Angeles Times.