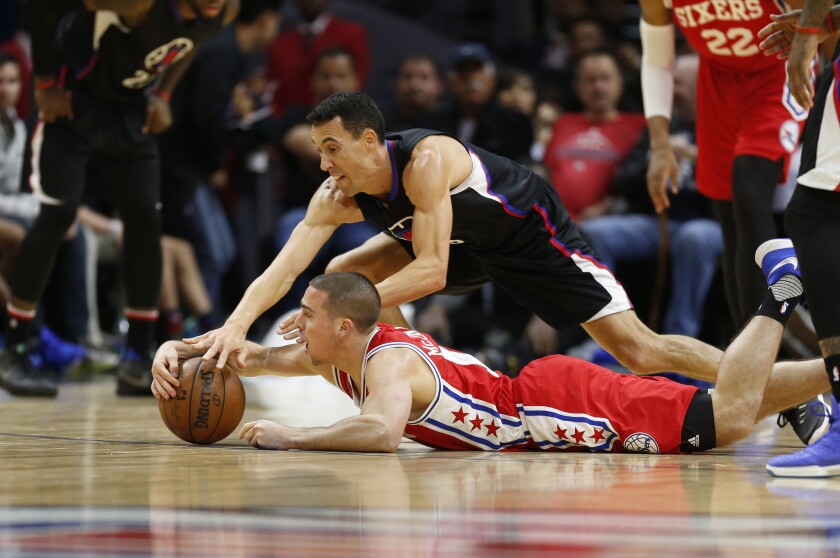 The remade Clippers' bench has been a strength as expected. It's just that its makeup has been a bit, um, surprising.
Pablo Prigioni and Cole Aldrich have been the primary catalysts among the newcomers during the team's six-game winning streak, not Lance Stephenson and Josh Smith.
With Prigioni taking over primary ballhandling duties and Aldrich spacing the court with his continual rolls toward the basket, Austin Rivers and Jamal Crawford have been able to go into attack mode.
Rivers and Crawford combined for 39 points Saturday during the Clippers' 130-99 victory over the Philadelphia 76ers and have been two of their team's main offensive cogs with All-Star forward Blake Griffin sidelined.
It all started with Prigioni's willingness to do some unglamorous work.
"Pablo's just like, 'Hey, Jamal, Austin, you guys just go and I'll help you guys out. That way you don't have to bring up the ball every time and I'll hassle the point guard on defense,' " Rivers said late Saturday night. "It makes everything a lot more simple and for us it's better."
Prigioni and Aldrich were bit players over the season's first two months but have become mainstays in the Clippers' recent surge. The flip side is that Stephenson and Smith have seen their playing time take a nosedive. That may not change anytime soon.
"For me, I'm just worried about who I'm playing and then when someone else is not, then we'll put Josh in or someone else in," Clippers Coach Doc Rivers said. "But right now, why would you want to touch what's going on?"
The only thing the Clippers may want to change is their designated dancer. They have started a tradition in which the last player to enter the locker room after a game has to dance in front of his teammates, a role that Aldrich had to fulfill Saturday after completing a television interview.
Aldrich was worthy of the camera time after scoring eight points on four-for-six shooting to go with nine rebounds and two blocks in only 11 minutes. His dancing was not so worthy.
"Thanks for making me dance tonight," Aldrich tweeted afterward. "I'm glad there isn't [sic] any cameras around to see how good I am."
Tweeted Clippers center DeAndre Jordan: "I never want to see that again!!! I'm scarred."
Court dates
The team that rarely practices will get to do so repeatedly over the next two weeks.
The schedule calls for the Clippers to have two or three days off before four of their next five games, with the exception being back-to-back games next weekend.
It's a deserved breather for a team that had been on the road for seven of its previous nine games.
"We need a break," said Doc Rivers, whose team took Sunday off and next plays the Portland Trail Blazers on Wednesday, "but we don't want to lose our rhythm either, so I'm not sure how I'm going to handle the three days but we're going to try to do it the right way."
The Clippers have played 15 of their last 16 games without staying in the same city, leaving Austin Rivers a bit disoriented.
"I came home and I felt like I was still in a hotel the first night," he said. "I was looking around like waiting for somebody to come in my door for room service or whatever."
Etc.
Austin Rivers has made nine of 15 three-pointers (60%) over his last three games, quite the surge for someone who had made 14 of 68 shots from that range (20.6%) previously this season. He said continued encouragement from assistant coach Sam Cassell helped. "Sam was like, 'Just keep trusting. It's going to fall. It's a long season,' " Rivers said. "Just like that, it changes." … Rookie forward Branden Dawson scored his first NBA basket on a floating jump shot in the fourth quarter against the 76ers. Dawson was assigned to Grand Rapids of the Development League on Sunday.
Twitter: @latbbolch
---