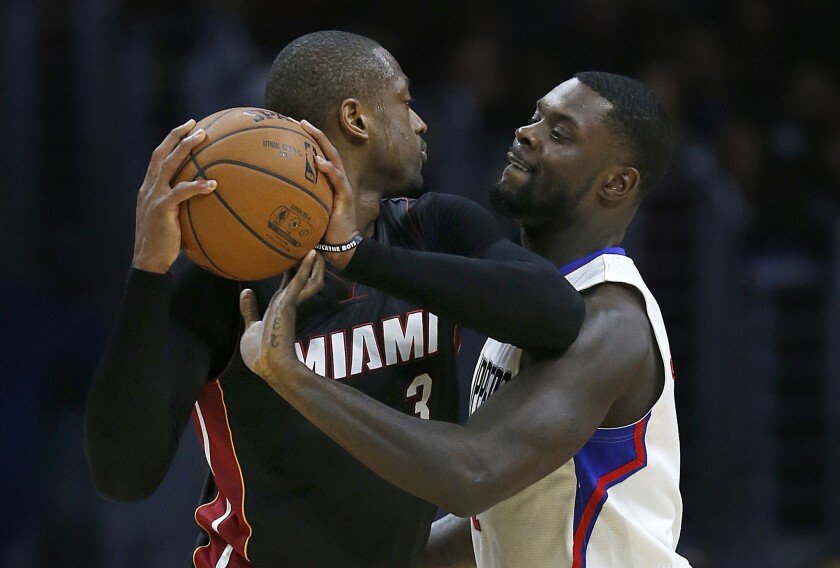 DeAndre Jordan liked what he saw as he walked into the interview room late Friday night.
"Born Ready!" Jordan yelled, acknowledging the nickname of the Clippers teammate situating himself behind a table to take questions.
"Hey, what's up?" Lance Stephenson responded earnestly.
Fun is usually involved whenever Stephenson is around. He had been largely an afterthought in recent weeks, receiving the dreaded "Did Not Play-Coach's Decision" in eight of the Clippers' 13 games preceding Friday.
Then Clippers Coach Doc Rivers decided to rest veteran Paul Pierce against the Lakers at Staples Center, making Wesley Johnson the starting power forward. Who would back up Johnson?
Rivers turned to Stephenson, a natural shooting guard and small forward who looked plenty powerful in soaring over the Lakers' Julius Randle for a one-handed dunk in the fourth quarter.
"It was a pretty spectacular play," said Jordan, who added his own on the Clippers' next possession with a windmill dunk off a lob from Jamal Crawford.
Stephenson was asked afterward where his dunk ranked, but before he could answer, Jordan interrupted in a high-pitched voice: "Whoo hoo! Whooo!"
Finally, it was Stephenson's turn to talk.
"It was nice," Stephenson said. "I saw a replay and I felt like, dang, I got up high."
Stephenson finished with 16 points on six-for-seven shooting to go with five rebounds, two assists, one steal and one block in 22 minutes during the Clippers' 105-93 victory. It was his most minutes in a game since he logged 28 against the Indiana Pacers in early December, nearly two months ago.
Stephenson was the latest Clipper to prop up the team with Blake Griffin sidelined by a quadriceps injury and a broken hand, a development made all the more amazing by Stephenson's subpar play for most of the season.
He's averaging 4.4 points, 2.5 rebounds and 1.5 assists in 15.7 minutes per game, his lowest numbers since his second NBA season with the Pacers.
"I still say he's going to help us," said Rivers, who wouldn't divulge whether he planned to give Stephenson an uptick in minutes as a result of his strong showing against the Lakers. "But I just like his spirit. He's ready every night, he wants to play. He's been a great team guy."
Arrested Development?
Jeff Ayres was selected to the Development League All-Star team but might not be able to play. And that would be fine with him.
It would mean the forward who signed a 10-day contract with the Clippers last weekend was still in the NBA. Ayres said he would be ineligible to compete in the All-Star game slated for Feb. 13 in Toronto if he remained with the Clippers.
"That's like a good problem to have," said Ayres, who averaged 16.3 points and 9.5 rebounds for the Idaho Stampede. "Man, I really want [another] 10-day, but it's like, do I hold it off for a like a week? Like, everybody's going to be off anyway [for the All-Star break]. Either way, man, just being selected is awesome, so I'll take that."
Etc.
Rivers said he would probably give point guard Chris Paul an occasional game off before Griffin returns to help keep him fresh. "He won't have to ask," Rivers said. "It will be, 'You have to sit one.'" … The Clippers replaced a banner of the recently traded Josh Smith with one of Austin Rivers inside Staples Center. … The Clippers did not practice Saturday.
Up next for Clipper:
VS. CHICAGO
When: 12:30 p.m. Sunday.
Where: Staples Center.
On the air: TV: Channel 7; Radio: 980, 1330.
Records: Bulls 26-19; Clippers 31-16.
Record vs. Bulls: 0-1.
Update: Chicago has been in a bit of a tailspin in recent weeks, winning only four of its last 11 games, with two of the victories coming over Philadelphia and the Lakers. It hasn't helped that center Joakim Noah was lost for the season earlier this month with a separated shoulder and forward Nikola Mirotic recently had an appendectomy that is expected to sideline him until after the All-Star break. The Clippers had trouble scoring in the first meeting between the teams this season, an 83-80 loss at the United Center in which they scored only 11 points in the second quarter.
Twitter: @latbbolch
---