Clippers Coach Doc Rivers wants Jeff Green to be more consistent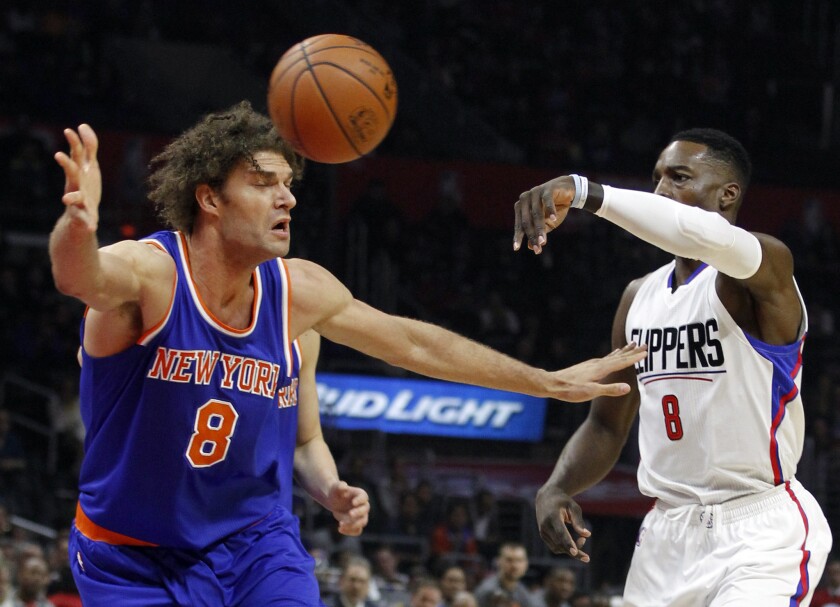 Over the course of his eight-year career, Jeff Green's performance, game to game, has been impossible to predict.
The Clippers have seen the uneven play from Green more often than not in his first nine games in a Los Angeles uniform.
The last four games before the Clippers played the New York Knicks at Staples Center on Friday night were a perfect illustration of Green's inconsistency.
He had zero points on 0-for-7 shooting in a March 2 game, 14 points on six-for-nine shooting March 5, zero points on 0-for-5 shooting Monday and 23 points on 10-for-13 shooting Wednesday.
He's "just up and down," Clippers Coach Doc Rivers said about Green's play. "We'd love for him to be more consistent. He will be. I'm confident in that. It's not like we eased him in. We grabbed him and threw him in."
The Clippers acquired Green from Memphis last month, hoping he could fill a void at both forward positions.
Green played for Rivers in Boston, but this offense with the Clippers is different from what he ran with the Celtics.
"So I thought he struggled with that early on," Rivers said about Green trying to adapt to the Clippers' more fast-paced offense. "Defensively is probably where I want him to pick it up more.
"We're just doing a lot of film work with him right now, trying to shortcut the curve. He'll get it. But we need it."
Mbah a Moute progressing
Luc Mbah a Moute missed his fifth consecutive game Friday night with a cut on his left eye lid.
Mbah a Moute said that "maybe" he will be able to return Sunday when the Clippers play the Cleveland Cavaliers at Staples Center.
"We'll see," he said.
Mbah a Moute started wearing glasses Thursday during a workout at the team's practice facility to protect his eye.
"I'm hoping that'll improve his jumper," Rivers joked about the glasses Mbah a Moute will be wearing. "I think he'll play Sunday. I don't know that as a fact. But he's feeling a lot better. He's seeing one person, which is nice. So I think he'll play."
Etc.
Paul Pierce didn't play against New York because of a sore right big toe.
Follow Broderick Turner on Twitter: @BA_Turner
---
Get the latest on L.A.'s teams in the daily Sports Report newsletter.
You may occasionally receive promotional content from the Los Angeles Times.