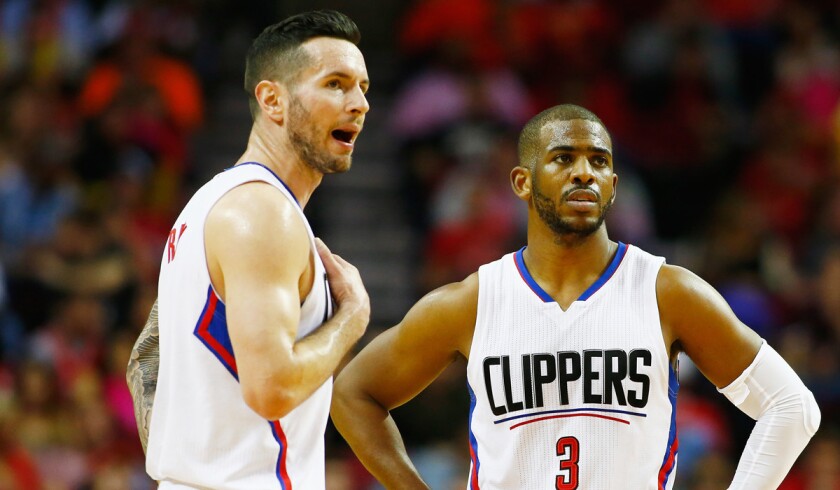 Reporting From HOUSTON —
The Clippers are making a late-season move on the radio dial, switching to KLAC-AM (570) for their final 14 games of the regular season and the playoffs after signing a multiyear deal with the station.
Their first game on their new radio home will be Saturday evening, when they play the Memphis Grizzlies.
"We are proud to establish an exceptional, long-term destination for Clippers basketball on the radio with a station that sounds like it was named for us," Clippers President of Business Operations Gillian Zucker said Wednesday in a statement.
The Clippers had been on KFWB-AM (980) since 2009 but sought an alternative after that station's change to a foreign-language format last month.
Brian Sieman will continue to handle play-by-play duties and will be joined by veteran broadcaster Ralph Lawler and analyst Michael Smith on nationally televised games not shown on Fox's Prime Ticket.
Clippers games will be carried on KEIB-AM (1150) when schedule conflicts with Dodgers broadcasts arise. As part of the deal, Clippers-related programming will run across iHeartMedia's multi-platform media assets, including radio, digital, outdoor and music and entertainment events.
Sitting it out
Josh Smith didn't play in a sixth consecutive game for the Houston Rockets, a situation reminiscent of his final weeks as a Clipper.
Rockets interim Coach J.B. Bickerstaff said before the game against the Clippers that Smith was "taking care of his body" to get in better shape after having gone long stretches this season without playing.
What Bickerstaff didn't mention was the presence of forwards Donatas Motiejunas and Michael Beasley. Motiejunas is back with the team and starting after an extended injury absence and a nixed trade involving the Detroit Pistons. The Rockets signed Beasley earlier this month after the former No. 2 overall NBA draft pick was the most valuable player of the Chinese league.
Motiejunas and Beasley have chewed up most of the playing time that was available to Smith, who was averaging 6.4 points and 3.2 rebounds while shooting 31.5% with the Rockets before Wednesday.
Taking flight
Jeff Ayres is the rare NBA player looking forward to his next charter flight. It means no more scrambling to find an exit-row seat on Southwest Airlines.
That was Ayres' usual mode of travel in the Development League, where he had been since the All-Star break after previously spending 20 days with the Clippers. The team re-signed him for the rest of the season Wednesday, meaning a big step up in travel amenities.
"There's food everywhere, where you stay the hotels are better," Ayres said. "I haven't been on the plane yet but I can't wait."
Clippers Coach Doc Rivers said he liked Ayres' energy, knowledge and enthusiasm.
"He's a great guy to have on the bench," Rivers said. "He's happy when he plays, he's happy when he doesn't play. He's been in a lot of big games in his life and whether he's played or he was sitting there, he's witnessed them and he's been in some of them, so I like guys like that."
He's back
The Clippers recalled second-year guard C.J. Wilcox after his third stint of the season in the Development League. Wilcox said he contacted rookie teammate Branden Dawson, who was arrested Sunday on suspicion of felony spousal abuse.
"I just wanted to make sure he was OK because that's rough," Wilcox said. "He seemed all right. He seemed in control, so hopefully it's not exactly how it sounds, so I guess we'll wait and see."
Twitter: @latbbolch
---