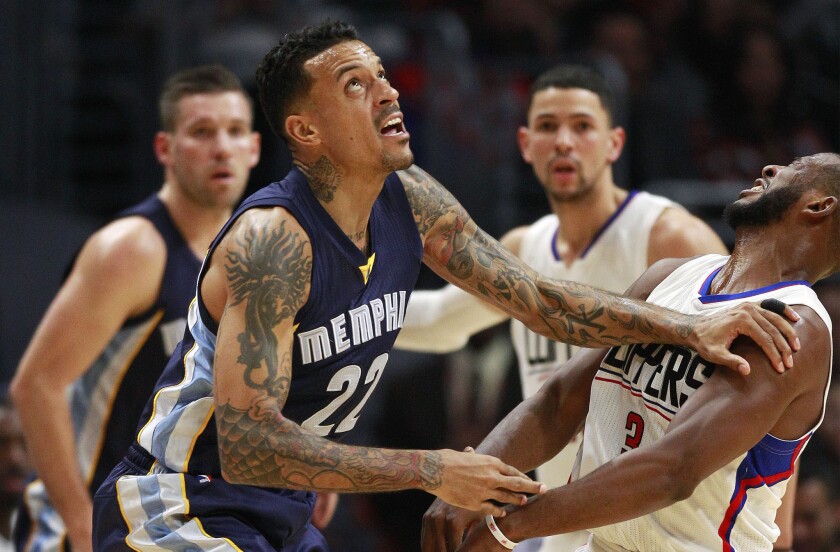 MEMPHIS, Tenn. —
One by one, Chris Paul ticked off the names: Matt Barnes, Lance Stephenson, Ryan Hollins, Alex Stepheson.
Each played for the Clippers within the last two years. Now they're all Memphis Grizzlies.
That makes the game between the teams Saturday at FedExForum something of an alumni reunion. It's even more so for Clippers center DeAndre Jordan, a onetime teammate of Grizzlies forward Zach Randolph.
All of the Grizzlies will surely want their former team to know how much better off they are in Memphis. The Clippers traded Barnes and Stephenson and decided not to re-sign Hollins and Stepheson. Clippers Coach Doc Rivers knows what that means.
"I was a player too," Rivers said Friday, "and whenever you're traded, you want to do well against your old team and the old team wants to do well against you."
In some ways, it feels as if Barnes never left. Paul and Jordan said they talk to their former teammate nearly every day. There was also a giant picture of Barnes in the Commercial Appeal on Friday as part of an advertisement touting the game between the longtime rivals who are on track to meet in the first round of the playoffs for the third time in five years.
Barnes' reputation as a hothead was buttressed Thursday when he sprinted into a tunnel at the BMO Harris Bradley Center in Milwaukee not long after Bucks power forward John Henson had disappeared into the same tunnel.
Henson had been ejected after picking up a second technical foul for taunting Barnes after blocking his shot. Barnes left the court with five seconds left in the game even though he had not been ejected, and tensions lingered afterward. Henson reportedly was not allowed to leave the arena before the Grizzlies' bus had departed.
Barnes was known as an instigator when he played for the Clippers. Just not by his teammates.
"Believe it or not, he was one of the guys who kept me calm a lot of the times," Jordan said. "Saved me a lot of money from getting techs because he would get them for me."
That doesn't mean Jordan expects pleasantries from Barnes during the game Saturday.
"I'm sure Matt's going to foul me hard and cuss me out," Jordan said. "And after the game we're going to talk and that's my guy."
Stephenson also endeared himself to the Clippers during his eight months with the team. Several players called him one of the funniest people they had met because of his goofy antics and refusal to back down.
"When him and Paul [Pierce] would get on each other on the plane," Clippers guard Austin Rivers said, "everybody on our team will remember that for the rest of our lives."
Paul said he had actually increased his communication with Stephenson since the Clippers sent the forward and a draft pick to the Grizzlies last month for Jeff Green.
"I actually talk to Lance a little bit more now that he's on another team than probably when he was here," Paul said.
There could be plenty of on-court conversations now that Stephenson is part of the Grizzlies' starting lineup alongside Barnes and Hollins. Barnes had already been a part-time starter, but Stephenson and Hollins earned promotions after a horde of injuries to more prominent teammates.
The Clippers wish them the best, with one exception.
"They were part of your franchise, so you want them to do well," Doc Rivers said, "you just don't want them to do well against you."
The flip side
Don't expect any tears from Green in his return to Memphis. It's nothing against the Grizzlies, but he was with the team for just 98 games over parts of two seasons.
"It's not like emotional or anything," Green said. "I wasn't here long enough."
NEXT UP
AT MEMPHIS
When: 5 p.m. PDT, Saturday.
Where: FedExForum.
On the air: TV: Prime; Radio: 570.
Records: Clippers 43-24, Grizzlies 39-30.
Record vs. Grizzlies: 1-0.
Update: This won't be much of a potential playoff preview considering how different the teams could look by this time next month. The Clippers expect to have Blake Griffin (hand, quadriceps) back by then, and Memphis hopes Zach Randolph (knee) and Mike Conley (Achilles') will also have returned. But Grizzlies center Marc Gasol is lost for the season because of a broken foot. The Grizzlies have eight players who are either out or questionable, necessitating the signing of four players from the Development League. They beat the Eastern Conference-leading Cleveland Cavaliers this month with only eight available players but have lost four consecutive games.
Follow Ben Bolch on Twitter: @latbbolch
---