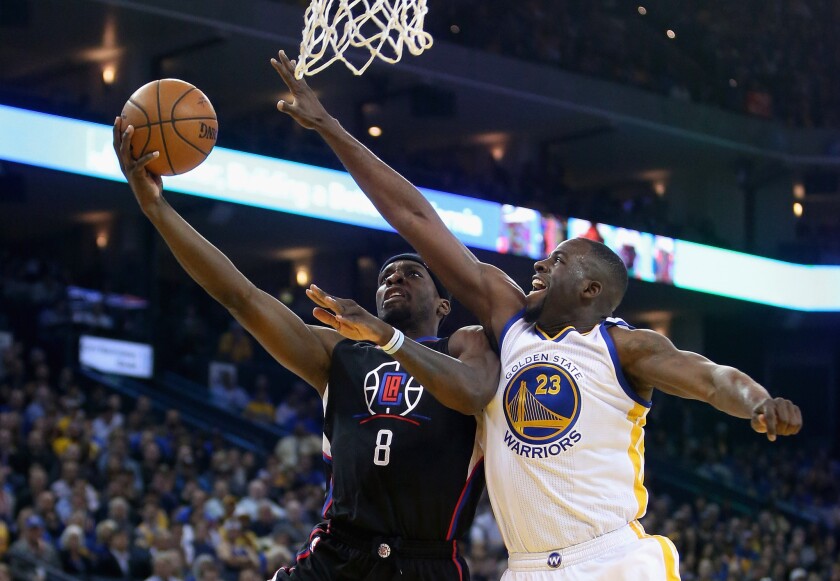 Reporting from Portland, Ore. —
A record amount of cash is expected to be lavished on NBA free agents this summer as a result of the historic rise in the salary cap. The Clippers will be spending very little of it.
Salary cap expert Larry Coon projects them to have as much as $11.9 million to use under a salary cap that is anticipated to reach a record $92 million. In comparison, the Lakers could have more than $68 million to entice free agents.
The Clippers having any money to spend under the cap is unlikely because it would require them to walk away from all their free agents and potential free agents, including Jamal Crawford, Jeff Green and Austin Rivers.
If the Clippers stayed over the salary cap, their options would also be limited. They would have the taxpayer mid-level exception of $3.5 million per year for up to four years, plus a biannual exception of $2.2 million for up to two years. They also possess a trade exception of $947,000 for departed forward Josh Smith that expires in January 2017 and would have as many veteran's minimum contracts as needed to fill out the roster.
Going under the salary cap would cost the Clippers all of the aforementioned exceptions but provide them with a room exception of $2.8 million for up to two years.
The Clippers are largely constrained by having committed more than $64 million to stars Chris Paul ($22.8 million), DeAndre Jordan ($21.1 million) and Blake Griffin ($20.4 million) for the 2016-17 season. That accounts for most of the team's $77.7 million in guaranteed salary to six players.
The Clippers could trade one of their top players in search of a long-awaited breakthrough in the playoffs for a franchise that has never made it past the second round, though Clippers Coach Doc Rivers sounded reluctant to part with a core that has been together for five seasons.
"It's not that tough of an argument for us," Rivers, who is also the Clippers' president of basketball operations, said Friday before Game 6 of their first-round playoff series against the Portland Trail Blazers. "We like our guys and we think we're really talented, so that's us."
Shooting guard J.J. Redick ($7.3 million), forward Paul Pierce ($3.5 million) and second-year guard C.J. Wilcox ($1.2 million) also have guaranteed contracts for next season, though Pierce, 38, may opt to retire. The Clippers owe an additional $1.4 million to waived players Carlos Delfino ($650,000), Jordan Farmar ($511,000) and Miroslav Raduljica ($252,000).
Guard Austin Rivers ($3.3 million), forward Wesley Johnson ($1.2 million) and center Cole Aldrich ($1.2 million) must inform the Clippers by June 29 whether they intend to exercise their player options for next season. There is an expectation around the league that many players will decline their options in search of a bigger payday.
Rookie forward Branden Dawson has a non-guaranteed contract for $847,636 that won't fully vest until January 2017. The Clippers will also have to make decisions about unrestricted free agents Crawford, Green, Luc Mbah a Moute, Pablo Prigioni and Jeff Ayres. They hold so-called Bird rights on Crawford and Green, meaning they could make more attractive offers to those players compared to other suitors in terms of length of contract and annual raises.
The Clippers do possess something they haven't in a while: two relatively attractive draft picks. They have a late-first round selection (No. 25) and an early second-round pick (No. 33), the latter coming as the result of a 2012 trade involving Reggie Evans.
On the mend
Doc Rivers said he anticipated Griffin being able to resume basketball activities this summer after undergoing a bone marrow injection in his partially torn left quadriceps tendon.
Follow Ben Bolch on Twitter: @latbbolch
---