C.J. Williams' play is creating a difficult decision for Clippers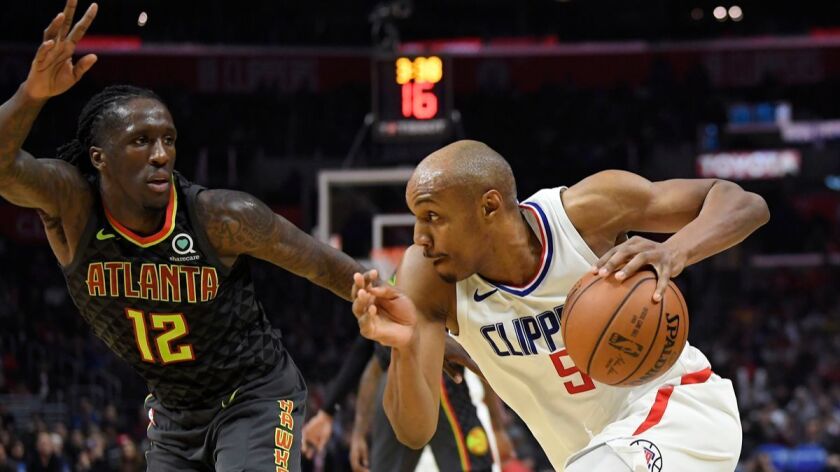 The ball eased off C.J. Williams' right hand and floated toward the basket, the fate of the Clippers to be determined in a matter of seconds.
Williams never doubted that his three-point shot was going to be the winner. So when the ball settled into the net, which secured Monday's victory over Atlanta at Staples Center, Williams had proved to himself and his team that his confidence is unwavering.
Williams, a 27-year-old rookie guard, is playing on a two-way contract and was not expected to be in this situation. He was supposed to spend the majority of his time playing for the Clippers' development league team, the Agua Caliente Clippers of Ontario.
Instead, the Clippers' rash of injuries has allowed Williams to have more playing time than he imagined, and a moment like he had against the Hawks.
"Obviously it's going to help my confidence a little bit," Williams said Monday night. "But, it's one of those things where I've had the confidence in myself for a long time. I felt I belonged in the NBA and now I'm getting my opportunity. I just want to take advantage of it."
Williams and the Clippers are in a tough predicament. Players who sign two-way contracts can spend no more than 45 days playing for their NBA team. Williams is at 41 days and will be at 42 when the Clippers visit Golden State Wednesday night.
The Clippers need Williams and do not want to lose him. They have the option of signing him to an NBA contract, leaving him in the development league or waiving him and then signing him to a 10-day contract — if he clears the 48-hour waivers and no other team picks him up.
Jamil Wilson, another two-way player who performed well for the Clippers before being waived last week, is joining the Lakers, and Williams has been even more indispensable.
They have seen him flourish in his past five games, averaging 9.8 points and 2.0 steals in 31 minutes while shooting 51.3% from the field, 33.3% from three-point range and 75% from the line.
"His confidence has grown offensively," coach Doc Rivers said. "I think C.J. was an NBA player when he walked on our team — definitely [his] defense and definitely doing all the little things. As the season has gone on and he has worked with our staff, you can see that his offense is now coming around too. And it's been pretty special to watch."
NEXT UP
AT GOLDEN STATE
When: 7:30 p.m. Wednesday.
On the air: TV: Prime Ticket, ESPN; Radio: 570, 1330.
Update: Blake Griffin is out with a concussion he sustained in Saturday's loss to the Warriors, while Milos Teodosic (plantar faciitis) is questionable. … The Clippers have lost to the Warriors 12 consecutive times. The Clippers lost the first two to them this season by an average of 22 points. Stephen Curry scored 45 points in three quarters Saturday. … Lou Williams has averaged 31.2 points and 6.2 assists in his past five games, shooting 46.5% from the field and 46.2% from three-point range.
Twitter: @BA_Turner
---
Get the latest on L.A.'s teams in the daily Sports Report newsletter.
You may occasionally receive promotional content from the Los Angeles Times.