Clippers' Patrick Beverley not changing despite early struggles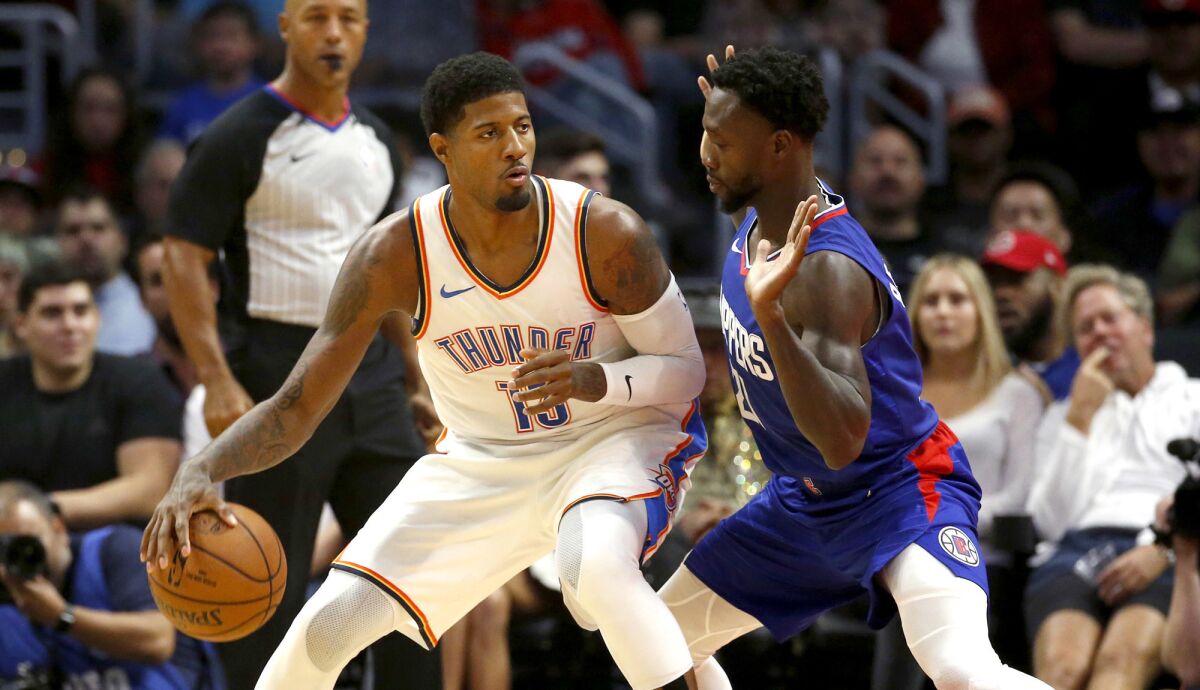 Reporting from NEW ORLEANS —
New Orleans coach Alvin Gentry called guard Patrick Beverley "as good as anyone on the ball" defensively before Tuesday's matchup, an assessment the Clippers agree with wholeheartedly.
It's why they hope he'll stay on the floor more often than he has to start the season.
Beverley has been called for two fouls during the first quarter in each of the Clippers' first four games.
"We can't get him in foul trouble so early," coach Doc Rivers said.
The early foul trouble comes after the NBA instituted new points of emphasis for its officials that seek to allow offensive players freedom of movement on the perimeter and in the post. That means closer scrutiny on grabbing and holding by defenders.
That emphasis hasn't applied to all of Beverley's fouls. One of his two in Tuesday's first quarter was the result of a loose ball. He was irate Sunday against Houston after being called for a block he believed should have been a charge on Rockets guard James Harden.
"I thought it was pretty good defense," Rivers said.
Even with officials taking a closer look at physical defensive play — something Beverley has never shied away from — Beverley insists he won't change his style.
"It ain't different, it's just how they call," Beverley said. "That don't stop me from being me. Actually I continue to be me and they adjust to me, they always do. …
"They adjust to James Harden when he does his stuff offensively, they'll adjust to me and Avery [Bradley] defensively. We don't say anything bad about the refs after games and we just go out there and continue to do what we're doing."
Rivers not taking sides
The war of words between Lakers guard Rajon Rondo and Rockets guard Chris Paul continued Tuesday but their former coach wanted nothing to do with the latest development.
Rondo, who traded punches with Paul during a game Saturday, told ESPN he believed Paul received only a two-game suspension because "everyone wants to believe Chris Paul is a good guy. They don't know he's a horrible teammate. They don't know how he treats people. Look at what he did last year when he was in L.A.; trying to get to the Clippers' locker room. They don't want to believe he's capable of taunting and igniting an incident."
Rivers knows both players extremely well, having coached Rondo for seven seasons in Boston and Paul for five seasons with the Clippers, but he declined to offer a characterization of Paul as a teammate.
"I'm staying away from all that," Rivers said. "Chris doesn't play for me and I don't have to deal with it. … He's no longer a Clipper. I don't coach Rondo anymore with the Celtics so I have nothing to say. I'll let everyone else fight that one out."
Bradley plays but struggles
Bradley played with a hurt foot Sunday, appearing to roll an ankle against the Rockets, but called himself fine at the team's shootaround Tuesday and started against the Pelicans. However he struggled, missing seven of eight shots and finishing with two points.
"He just needed a second," Rivers said before Tuesday's game. "Then he was fine."
Bradley has struggled offensively, making 25.8% of his shots from the field and missing nine of 10 three-pointers, but has compensated with his defense. The Clippers' first three opponents shot 31.8% outside of the restricted area against Bradley.
Twitter: @andrewgreif
Get our high school sports newsletter
Prep Rally is devoted to the SoCal high school sports experience, bringing you scores, stories and a behind-the-scenes look at what makes prep sports so popular.
You may occasionally receive promotional content from the Los Angeles Times.