Luc Mbah a Moute misses game in return to Philadelphia, where he was part of 'The Process'
Reporting from Philadelphia —
Instead of facing a team and a big man that Luc Mbah a Moute knows well, the Clippers forward did not play Thursday against the 76ers, his fourth consecutive game missed because of a sore left knee.
"I don't know how close I am" to returning, Mbah a Moute said at the team's morning shoot-around. "I didn't have an incident where it happened. It's just, I started feeling sore in my knee and so it's hard to tell. It's just a matter of feeling and seeing how the knee feels day to day. It's slowly getting better, and it is getting better, but at this point it's just continuing to rehab and treatment and see how it goes."
The 11th-year forward from UCLA averaged 15 minutes, 5.0 points and 1.8 rebounds in the team's first four games and was a key piece of the Clippers' defense.
Mbah a Moute played for Philadelphia in 2014-15, when the 76ers finished 18-64 in the second year of executive Sam Hinkie's strategy dubbed "The Process," which sought to collect as many draft picks as possible in part by bottoming out in the standings. What looked "really bad" from the outside is remembered by Mbah a Moute as an "amazing" experience because of the positivity that survived despite the losing.
"I always remember Brett [Brown], I think he's an unbelievable coach and the way he goes about the game, getting guys involved and getting better, that's what I remember," he said. "If you were in our locker room, we felt we were the top team in the East."
The 76ers are no longer a doormat, advancing to the Eastern Conference semifinals last spring, thanks in part to a young core led by point guard Ben Simmons, last season's rookie of the year, and 7-foot center Joel Embiid. Without Mbah a Moute, Embiid might have never made it to the NBA.
Embiid attended a camp hosted by Mbah a Moute in their native Cameroon in 2011 and his play there propelled him to an appearance later that summer at the NBA's and FIBA's joint Basketball Without Borders Africa camp, the same camp Mbah a Moute attended eight years earlier.
Thursday's game featured six former Basketball Without Borders campers, including Milos Teodosic (2001), Danilo Gallinari (2003), Dario Saric (2010) and Shai Gilgeous-Alexander (2016). They are among the 58 Basketball Without Borders alumni who have either gone on to be drafted or signed as a free agent.
Mbah a Moute called Embiid, the third overall pick in the 2014 draft who has battled back from foot injuries early in his career, "relentless."
"He's going to play hard, go hard and that's a skill in itself," he said. "Then you add what he can do with the basketball at his size, he can shoot and play inside out and really good touch and knows the game for such a young player, he's a load."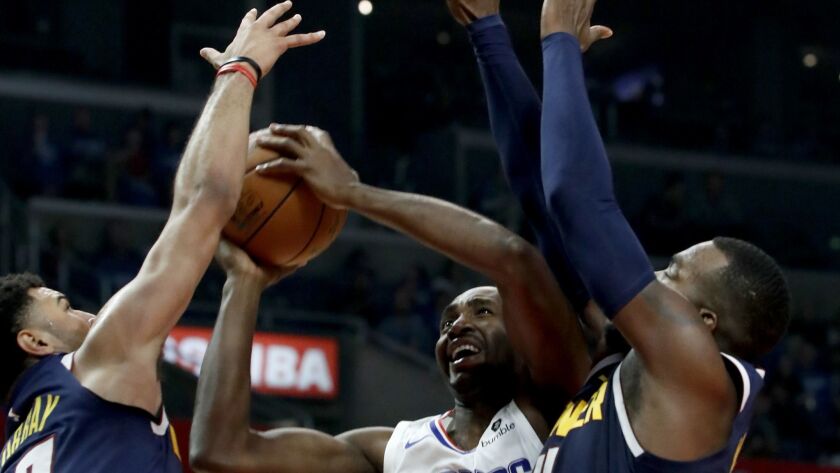 Clippers coach Doc Rivers called Embiid unusually good defensively for a young player.
"People forget, there are not a lot of seven-footers walking on Earth so he has a uniqueness about him just when he wakes up in the morning," Rivers said. "Then he took that size and turned it into skill.
"A lot of guys don't get through injury, they just don't have the mental capacity, the toughness to get through it and he did that. You take your hat off to him."
Gilgeous-Alexander's learning curve
The education of Gilgeous-Alexander continued in a 128-110 loss at Oklahoma City on Tuesday, as teammates and coaches insisted the rookie point guard play faster to match the Thunder's intensity.
Gilgeous-Alexander has been praised regularly for his ability to play at his own speed, but the Thunder used it to their advantage and limited him to two-of-four shooting. The Clippers scored seven points on the 11 possessions in which he was guarded by the ultra-physical Russell Westbrook.
"They thought if he doesn't play at a certain pace that they could blow up every play he was in, and they did that," Rivers said. "If you're not going at a right pace a defensive player can really be more physical and take you out of sets and I thought they single-handedly just took him out of everything, and that's a good lesson for him."
The other end of the court was no easier for Gilgeous-Alexander. Five Thunder players combined to shoot seven of 14 against his defense.
"That's a good lesson, like, every night you have to be ready to play and he's young and he's going to have nights like the Oklahoma game," Rivers said. "There will be more. We're still going to love him the same but we're still going to coach him the same."
UP NEXT
VS. ORLANDO
When: Friday, 4 p.m. PDT
On the air: TV: Prime Ticket; Radio: 570, 1330
Update: This marks the first of 14 times this season that the Clippers will play games on consecutive days. That is slightly higher than this season's league average of 13.3 back-to-back games.
Twitter: @andrewgreif
---
Get our high school sports newsletter
Prep Rally is devoted to the SoCal high school sports experience, bringing you scores, stories and a behind-the-scenes look at what makes prep sports so popular.
You may occasionally receive promotional content from the Los Angeles Times.