Clippers coach Doc Rivers unveils a lineup he's never used before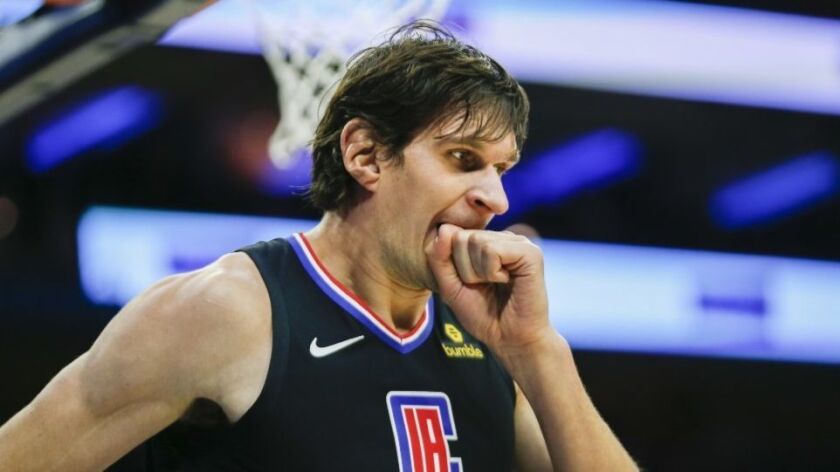 For a second time in as many games the Clippers used a new starting lineup Monday, this time featuring rookie guard Shai Gilgeous-Alexander and center Boban Marjanovic.
The lineup of Gilgeous-Alexander, Marjanovic, forwards Tobias Harris and Danilo Gallinari and guard Patrick Beverley had never been used. Gilgeous-Alexander was inserted for his first start after Avery Bradley, who'd started each of the first nine games, sprained an ankle in practice Sunday.
Gilgeous-Alexander averaged 8.2 points, 3.1 assists and 2.9 rebounds in 24.8 minutes a game entering Monday's matchup against Minnesota and the Clippers had outscored opponents by 5.9 points when he was on the court, the second-highest plus-minus rating on the team behind Milos Teodosic's 7.8, which was achieved in far fewer minutes.
Losing Bradley meant playing without a defender coach Doc Rivers has called the team's best, and in the first quarter Timberwolves guard Derrick Rose scored nine points, more than half of his per-game average. Rose finished with a team-high 21; Gilgeous-Alexander scored six.
"He's very cerebral," Rivers said of Gilgeous-Alexander. "He does remind me of [Rajon] Rondo in his rookie year where in shootarounds he would call out the plays or he would already know. I ask a lot of questions in practices and Shai seems to always smile or he knows the answer. I don't know what that means, I just know he's studying and he really understands the game."
Gilgeous-Alexander's start followed an up-and-down three-game road trip in which he posted plus/minus ratings of minus-10 at Oklahoma City and minus-18 at Philadelphia before rebounding for a plus-22 at Orlando. After scoring in double figures in four of the Clippers' first six games he was quieter during the trip, averaging 6.6 points.
"I thought he got attacked, I thought people got physical with him, I thought they got into him, and other than the times that he struggled, from a coaching standpoint, I absolutely loved it," Rivers said. "I thought it was great for him. He's gonna see everything and he needs to see it and learn from it. What I liked about him, he came back the next night and it's a new night; he doesn't let things stick on him very long. At least so far he hasn't."
Marjanovic's start was the seventh of his career and second consecutive in place of Marcin Gortat. Marjanovic scored 10 points and grabbed 11 rebounds in Friday's victory at Orlando; he had 10 and nine Monday.
Gortat remains in the rotation, Rivers said, though against the Timberwolves, he used the same center rotation as against the Magic by playing Montrezl Harrell — and Harrell only — as Marjanovic's backup.
"I had a big, not a blowup, with my staff recently about why do we keep saying what [Marjanovic] can't do?" Rivers said. "From now on we're only talking about what he does because he does a lot of good stuff out on the floor and yeah, there's areas where he struggles because of his size but I like the things that he does. I think it's more of a plus for us than a minus when he's on the floor."
The Clippers entered Monday outscoring opponents by 2.9 points per game when the 7-foot-3 Marjanovic plays. He had made 75.9% of his shots within 10 feet of the basket, the third-highest rate in the league among players with at least 25 attempts.
"Boban is really unique, in terms of if he gets deep post position, very hard to stop," Timberwolves coach Tom Thibodeau said. "Their team has great versatility, they have guys who can play multiple positions, and that puts a lot of pressure on you."
G Leaguers return
One night after playing in Ontario with the Clippers' G League affiliate, guards Jerome Robinson and Sindarius Thornwell were recalled.
Robinson had spent two days with the team and scored 28 points in 40 minutes on nine-of-21 shooting in the Agua Caliente Clippers' season-opening loss Sunday against the Oklahoma City Blue. Thornwell scored 16 points in 27 minutes and made five of 12 attempts.
The pair worked out with coaches 90 minutes before tipoff and Robinson returned to the court in the second quarter. With the Clippers' rotation down a guard because of Bradley's injury, Robinson played earlier than ever and essentially moved into Gilgeous-Alexander's second-unit role.
Robinson hit two threes in seven minutes; Thornwell didn't play.
Etc.
Forward Luc Mbah a Moute missed his sixth consecutive game with a sore left knee.
Twitter: @andrewgreif
---
Get our high school sports newsletter
Prep Rally is devoted to the SoCal high school sports experience, bringing you scores, stories and a behind-the-scenes look at what makes prep sports so popular.
You may occasionally receive promotional content from the Los Angeles Times.