Ralph Lawler, Doc Rivers and others around the NBA honor Craig Sager with their wardrobes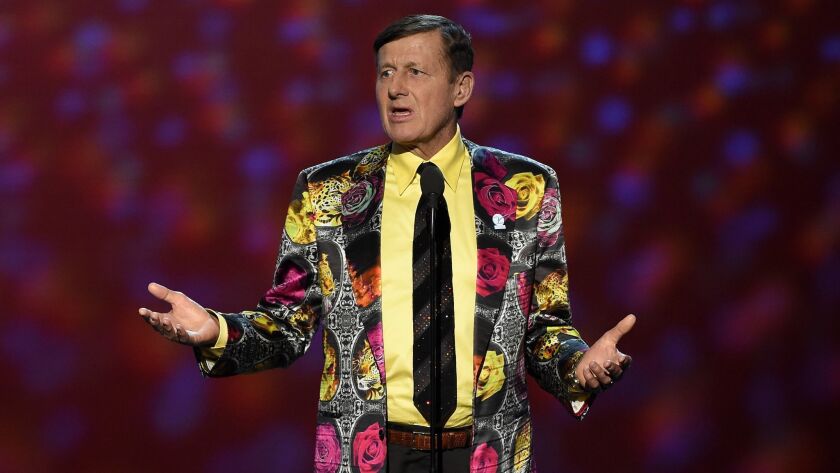 Reporting from SACRAMENTO —
A few years ago, broadcaster Ralph Lawler was in Memphis for the Clippers' playoff series against the Grizzlies when he realized he'd packed everything but a blazer. Before leaving for the arena, he hurried downstairs to a men's store in his hotel's lobby, desperate to find a jacket measuring either 42 or 43 long.
"This," he said, holding the lapel of a blue and green jacket with a plaid pattern, "was it."
It's not the type of pattern he can wear in many settings but it fit right in Thursday.
During a nationally televised NBA double-header that included the Clippers' matchup with the Sacramento Kings, Lawler joined broadcasters, team officials and coaches around the country who donned their most garish outfits as a tribute to the late Craig Sager, the sideline reporter best known for his decades of wearing loud combinations of blazers, ties and shirts on air for Turner Sports. The tributes were part of a larger fundraising effort for cancer research by the foundation of former college basketball coach Jim Valvano. Sager died from cancer on Dec. 15, 2016.
"On the air I thought he was an absolute delight," said Lawler, who also wore a multi-colored tie. "He is exactly what a sideline reporter should be on his national telecasts. He knew the game, He knew the people, related to people, did all the things that a guy is supposed to do and he had a signature — his style of clothes.
"If you're going to stand out in this business you've got to do something different and his difference was, aside from his excellence as a reporter, it was his style. He had plenty of that."
Clippers coach Doc Rivers first met Sager when his playing career began in Atlanta. Along with Rivers' Hawks teammates Randy Wittman and Scott Hastings, Sager and Rivers eventually owned an Atlanta sports bar together called Jocks & Jills.
Rivers' tribute to Sager was a yellow tie with a busy design. Clippers assistants also wore ties in bright colors.
"I obviously was very close with him," Rivers said of Sager. "We had a business together. It's nice that they're doing this for him."
Lawler has worn the sport coat on a few occasions since that night in Memphis, but none so fitting as Sager's tribute.
"When I heard about this," Lawler said, "I said, 'I've got the perfect jacket.' "
Gortat returns, Motley recalled
Center Marcin Gortat returned to action against the Kings after missing Wednesday's victory against Phoenix because of back spasms. The Clippers recalled Johnathan Motley from their G League affiliate to provide frontcourt depth, just in case.
The 6-foot-10, 230-pound Motley is on a two-way contract with the Clippers that allows him to go back and forth between leagues and spend up to 45 days in the NBA. He spent training camp in Hawaii and the preseason with the Clippers before joining the Agua Caliente Clippers of Ontario, where he averaged 24.4 points, 11.6 rebounds, 3.1 assists and 3.4 turnovers during nine games.
Motley arrived in Sacramento just hours before tipoff after flying in from Cleveland. The Agua Caliente Clippers had played in Canton, Ohio, on Wednesday night, and Motley scored 21 points.
Motley went undrafted after leaving Baylor in 2017 before landing with Dallas, where he became a G League All-Star last season after averaging 22.2 points and 9.8 rebounds. The Clippers acquired him and the draft rights to guard Renaldas Seibutis in July in exchange for the draft rights to forward Maarty Leunen and cash. Motley is one of two Clippers, joining forward Angel Delgado, on two-way contracts this season. Guards Sindarius Thornwell and Jerome Robinson have also gone back and forth between the NBA and G League this season to earn more playing time in the developmental league.
Gortat, who said he'd injured his back in the weight room, started against the Kings.
Marjanovic stymies Ayton
With Gortat out Wednesday, Boban Marjanovic started and proceeded to stifle rookie Suns center Deandre Ayton, the top pick in June's NBA draft.
Ayton scored a season-low four points and was rendered ineffective because of the presence of the 7-foot-3 Marjanovic.
"I felt like I played like a rookie tonight," Ayton said after the loss. "I really got [thrown] off by the big dude, I'm not gonna lie."
One night later Rivers laughed at hearing the quote, suggesting it was illustrative of the rookie learning curve.
"It was funny," Rivers said. "They have to teach him not to admit things — forget the basketball part."
Twitter: @andrewgreif
---
Get the latest on L.A.'s teams in the daily Sports Report newsletter.
You may occasionally receive promotional content from the Los Angeles Times.