The key to Clippers success has been practice, but not too much of it
When the Clippers' roster featured veterans Blake Griffin, Chris Paul and DeAndre Jordan, they often went weeks without practicing.
With those three gone and a cast of new faces in their place this season, practices are no longer an afterthought but a necessity.
"Practice," coach Doc Rivers said, "has been very important for us."
The Clippers returned 10 players from last season's roster, but the number is misleading because a nucleus was rarely together. Three — Tobias Harris, Avery Bradley and Boban Marjanovic — arrived via trade at midseason, and three others — Patrick Beverley, Milos Teodosic and Danilo Gallinari — were on the roster the entire season but rarely on the court, missing a combined 169 games because of injury. One more, Tyrone Wallace, spent the latter half of the season shuttling between the Clippers and the team's G League affiliate.
A weeklong training camp in Hawaii in September and the two weeks of preseason in Los Angeles that followed familiarized players and coaches with one another, but by mid-November the Clippers began a monthlong stretch where the team didn't play consecutive games in the same arena. A shoot-around was often held the morning of a game, but the near-constant travel left the team with few opportunities to run through the skeleton of their various offensive and defensive schemes or to go over game-planning details in depth on the court, forward Tobias Harris said.
Practices, said center Marcin Gortat, are an "opportunity for you just to be in shape, get a lift, get your shots, get a little sweat, refresh our schemes and refresh our offense.
"It's opportunity to just stay sharp."
That the Clippers (21-15) were sharper against Dallas on Dec. 20 was no accident, Rivers said. The team had practiced the day before at its Playa Vista facility. After the victory over the Mavericks, Rivers said an assistant told him, "'I don't say this often, but that practice won the game.'"
The workout Monday was the team's third since Dec. 19 but only the fifth in the last six weeks.
"When we didn't have practice for that stretch, we struggled because we didn't have that time to teach," Rivers said. "This is a new team. It's not just because there are a lot of new guys; this team has not been together that long, so everything is new for the group, not just the young guys."
Seven of the Clippers' next nine games are at home, but Rivers won't fill that time in Los Angeles with workouts to make up for lost time.
"You've still got to temper your practice," he said. "You have so many games you've got to be careful with your practice, and I think there are times we've done that well. And I think there are times where I have not done that well and I've gone too hard. I think I saw that in games, too."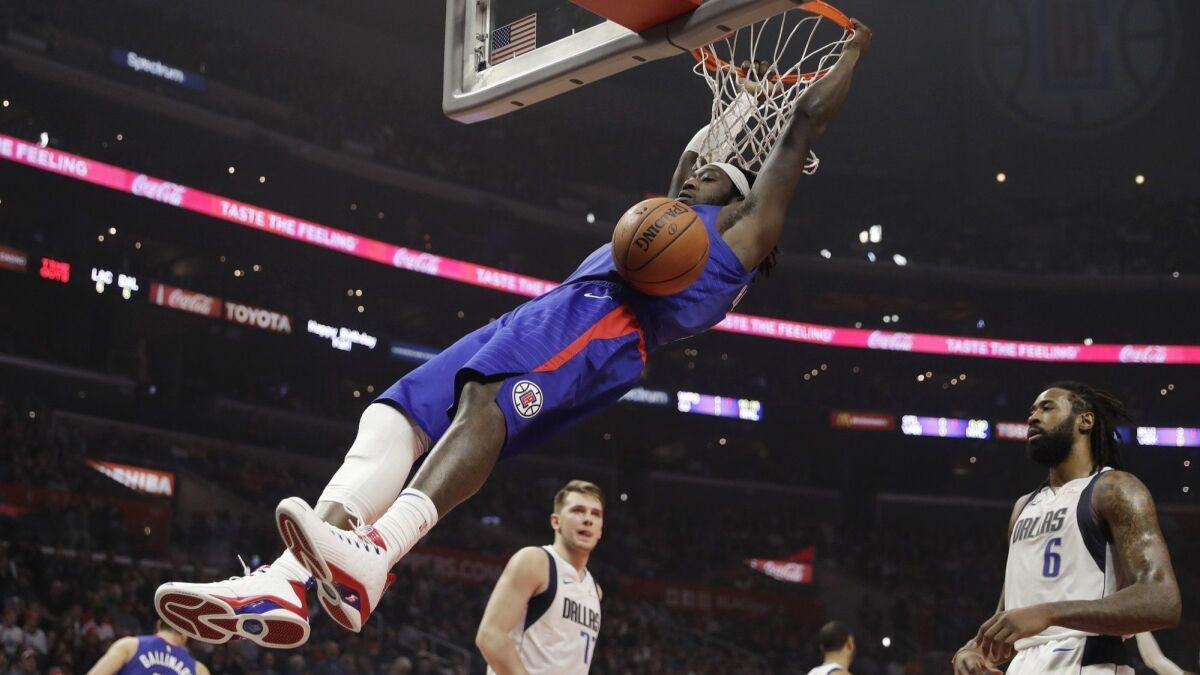 Clippers to host Pride Night
The Clippers are hosting an LGBTQ "Pride Night" on Tuesday at Staples Center that will include a pregame panel featuring professional wrestler Fred Rosser, Paralympian Angela Madsen, WNBA coach Curt Miller and activist Dr. Julie Shaw and moderated by Santa Ana College basketball coach Jason Jaramillo. The panel is accessible to fans who purchase tickets with a promotional code of "PRIDE," the team said.
The team has hosted a Pride Night before, but this is the first time it's been accompanied by a full marketing effort.
That means the team will sell special jerseys and apparel and also bestow on Miller — the former coach of the Los Angeles Sparks who now coaches the Connecticut Sun and is the first openly gay male coach of a professional sports team — its first Clippers Award for Equality and Diversity. The award is given to an individual or organization who has "made significant contributions to the LGBTQ+ community and has made a difference in the city of Los Angeles," according to the team.
Up next for the Clippers: Tuesday vs. Philadelphia
When: 7:30 p.m.
On the air: TV: Prime Ticket; radio: 570, 1330.
Update: Coming off a two-game stretch where he has struggled to make shots, Clippers forward Tobias Harris took part in a heavy pre-practice workout Monday with coaches. Averaging 21.0 points a game on 50.4% shooting this season, Harris has averaged 12.5 points, is shooting 38.1% and has made one three-pointer in his last two games. "It'll come at some point, but one thing I'm afforded from coaching for a long time is I know they're human," coach Doc Rivers said. "They don't make shots every night. You go through the list: Klay Thompson, Russell Westbrook the last couple nights, but overall, the numbers say they'll be good players so I'm not that concerned."
Twitter: @andrewgreif
Get our high school sports newsletter
Prep Rally is devoted to the SoCal high school sports experience, bringing you scores, stories and a behind-the-scenes look at what makes prep sports so popular.
You may occasionally receive promotional content from the Los Angeles Times.