It's no joke — Patrick Beverley's shot is back along with a change in attitude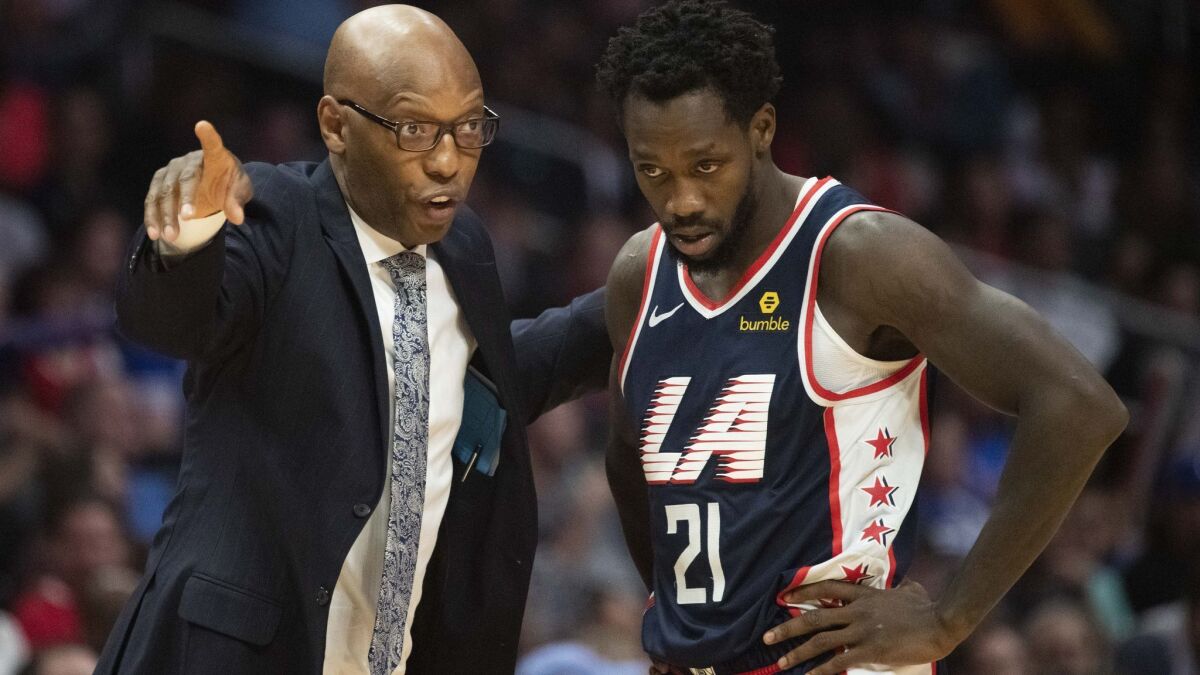 Reporting from Phoenix —
Patrick Beverley fools a few people every time.
In what has become a standard part of the Clippers guard's pregame routine in recent weeks, Beverley ends his shooting session by doubling over near the courtside seats, feigning some sort of facial injury — holding a hand under his nose, as if it's bleeding, or covering an eye, as if it's been poked. Clippers coaches inevitably begin giggling, but those who aren't used to it, a camp that has included both fans and Clippers owner Steve Ballmer, stare out of concern.
Then Beverley breaks character, smiling at the ruse.
He can laugh now. Last year at this time, Beverley was in real pain. After arriving from Houston via the summer trade that made Chris Paul a Rocket, Beverley played 11 games before undergoing season-ending microfracture surgery on his right knee.
He was cleared to take part in all basketball activities before training camp in September but was up-and-down to start the season and eventually benched in favor of rookie Shai Gilgeous-Alexander on Nov. 20. Through 28 games, he was making 34% of his shots from the field and 30% of his three-pointers.
Since a Dec. 15 loss in Oklahoma City, during which he made both three-pointers he attempted, Beverley has transformed into a pain for opposing defenses. He shot 47.7% from the field, 51.9% (14 of 27) on three-pointers and registered a team-high plus-8.8 rating during his nine previous games entering Friday. And against the Suns, he had 16 points on six-for-nine shooting.
"It's a make-miss league, it's the same shots he was missing," coach Doc Rivers said. "As you see, he puts the work in and his numbers say that he's a good shooter, so you just stick with it and you keep telling him to shoot it."
That Beverley's uptick in shooting began at the same time he started playing his pregame joke on unwitting observers — as a way to "create my own energy" — is no coincidence, Beverley believes.
"I can't tell you where it started from," he said. "It's just something to get me going, that's all, something to stay loose, keep my teammates loose and still have fun out there but then compete.
"It's just been fun, man. It's changed my attitude, man, to focus on the bigger picture of winning basketball games and changed my attitude, changed my game. Having more fun out there."
Clippers coaches believe his turnaround is that simple: He's feeling better, more confident, with every day that he puts between himself and his recovery from last season's knee surgery.
"I didn't know it was going to take that long for me to be back to myself," Beverley said. "I've been feeling balanced here lately. Feeling stronger. Just continue to get stronger. Just want to try to make it to the playoffs so whatever we need to do, whatever I need to do to prepare for basketball games to get ready is what I have to do."
Beverley's shooting adds another offensive option to the Clippers' second unit alongside guard Lou Williams and center Montrezl Harrell, but not every team is drastically altering how it defends to account for Beverley's shooting threat.
"We will not mark him as a 'hot guy,' by any means," Phoenix coach Igor Kokoskov said, using a term the Suns have for excellent shooters who require a hard close-out on the perimeter. "But we're going to respect him. That's not a guy that we're gonna disrespect and give him 'dare' shots. We're gonna guard him normally. If he's open, we're gonna rotate. That's what we do. But we aren't gonna chase him around."
Beverley isn't the only Clippers guard who has found his shot in recent games.
Starter Avery Bradley, who also missed a significant amount of games last season because of injury, is shooting 47.2% from the field and 41.2% on three-pointers in his last six games.
For Beverley, the last three weeks have been a welcome change.
He won't be happy until he achieves what he considers the true indicator that he is fully "back" — a dunk.
Twitter: @andrewgreif
---
Get our high school sports newsletter
Prep Rally is devoted to the SoCal high school sports experience, bringing you scores, stories and a behind-the-scenes look at what makes prep sports so popular.
You may occasionally receive promotional content from the Los Angeles Times.