Clippers' Marcin Gortat heavily vested in 'Polish heritage day,' and in Poland's youth programs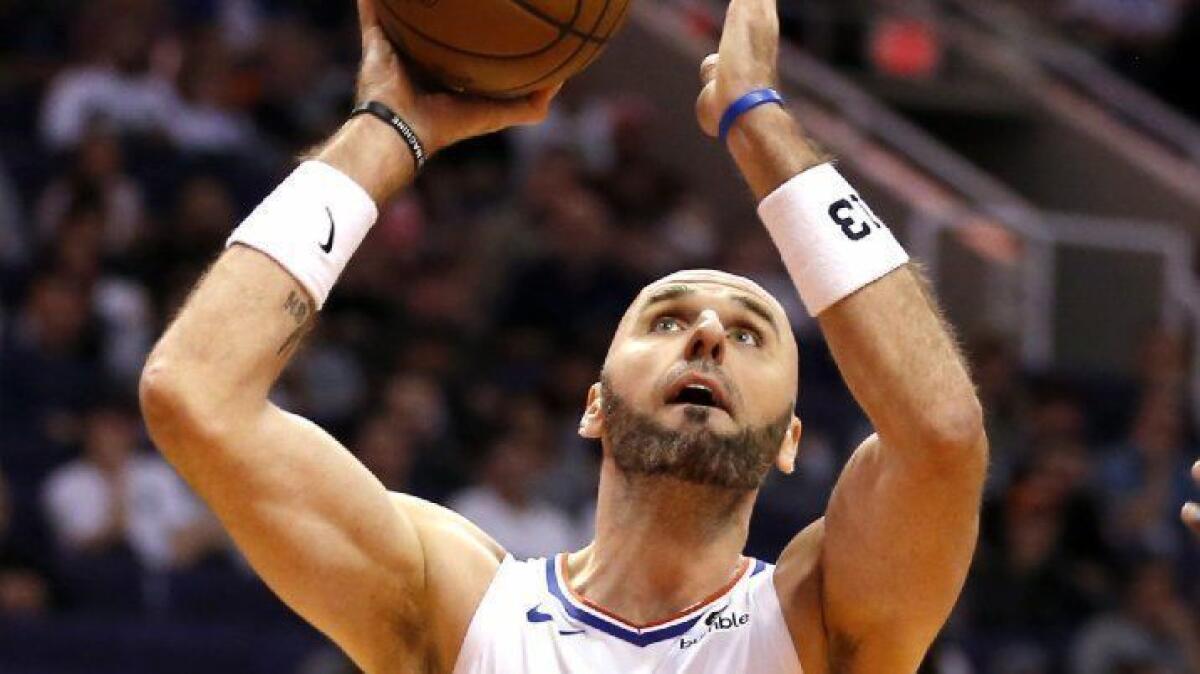 For someone who'd just played his best game of the season, center Marcin Gortat was rather subdued at his locker after the Clippers' victory Friday in Phoenix.
"Yeah, it feels good," he said, "but I wish to have the same game on Sunday."
Barring a Clippers playoff berth this season, no game will mean more to Gortat than Sunday's celebration of "Polish heritage day" during the Staples Center matinee against Orlando. The 34-year-old Gortat, the fourth NBA player produced by Poland and the only one actively in the league, is a role player for the Clippers but a celebrity in his home country, where he employs nearly a dozen through his MG13 Foundation and helps fund and oversee four schools that develop young athletes.
"It's a huge responsibility," he said. "I'm like an ambassador of my country showing the culture and the history of my country to the American people."
Gortat was heavily involved in the event's planning, just as he was with similar celebrations during previous stops in Phoenix and Washington during his 12-year career. He helped arrange for Polish artists, athletes and dignitaries to attend.
In December, he arranged for a catered lunch of traditional Polish food at the team's Playa Vista facility and walked teammates through the buffet, explaining the dishes. At a reception Saturday night in a Beverley Hills home, Gortat worked the room. Before tipoff, he awarded jerseys to three Polish World War II veterans.
"Like our fans, we have an incredibly diverse team and our Clippers heritage nights are even better when our players get involved," said Gillian Zucker, the Clippers' president of business operations, in a statement. "But I have never seen anything like this. Marcin has gone above and beyond with helping the strategy and planning."
When a Polish tall ship docked near Long Beach before Christmas, Gortat visited the boat and bought nearly 100 Clippers tickets for the students sailing the vessel to attend the Dec. 26 game against Sacramento.
Not only did June's trade with Washington remove Gortat from an eroding locker room in Washington, it placed one of Poland's biggest athletic stars in one of the largest media markets in the U.S. The move pleased Ignacy Zarski, the vice consul for public affairs at the Polish Consulate in Los Angeles, who believed it would only enhance Gortat's "public diplomacy" amid their country's centennial celebration of regaining its independence.
"From our point of view, he's a great star," Zarski said. "He's kind of a magnet."
Just as Clippers forward Luc Mbah a Moute has fostered a pipeline from his native Cameroon to the NBA, Gortat is attempting to do something similar in Poland. Gortat didn't touch a basketball until he was 17. He's trying to get others interested in the game earlier. Unlike Cameroon, which can boast Joel Embiid and Pascal Siakam, Poland has yet to find its next generation of basketball stars.
"We try to get going but it's not that easy," Gortat said. "At the end of the day we are getting ready for the point where eventually I'm not going to play."
He made his second consecutive start on Sunday. During an otherwise dismal first half, his basket earned the loudest cheers and he pointed to a section of Polish fans as he ran upcourt. The section produced some of the game's loudest boos, as well, when Gortat was whistled for a foul in the third quarter.
"Everybody has pride in their country," Clippers coach Doc Rivers said. "I'm not sure if anyone has more pride than [Marcin], and I'm very serious."
Twitter: @andrewgreif
Get our high school sports newsletter
Prep Rally is devoted to the SoCal high school sports experience, bringing you scores, stories and a behind-the-scenes look at what makes prep sports so popular.
You may occasionally receive promotional content from the Los Angeles Times.