Danilo Gallinari gets his chance to play in Denver since departure for Clippers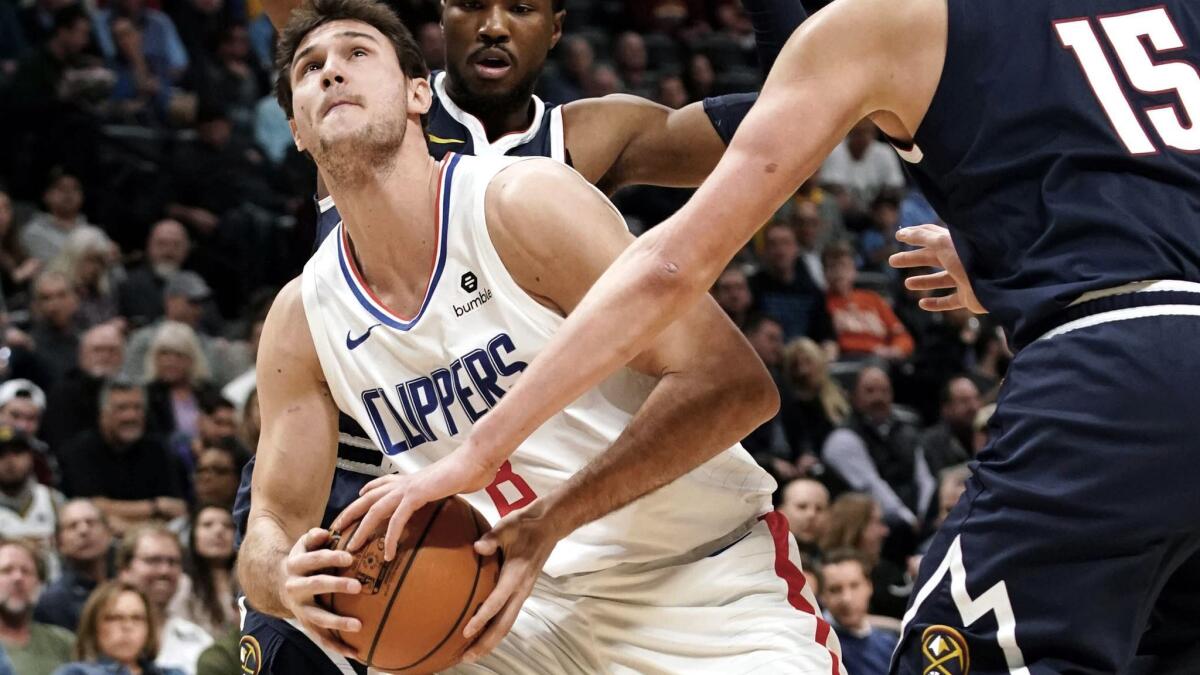 As the October night wore on, Clippers players, coaches and executives took turns standing and addressing the gathering in the private room at a Beverly Hills steakhouse.
Some used the occasion of the team's annual preseason dinner to speak about the most important influences on their lives. Others kept the mood light.
When it came time for assistant coach John Welch to stand and share, he noted what he saw as uncanny similarities between the Clippers and the 2012-13 Denver Nuggets, for whom he served as an assistant coach. Like the Clippers, that Nuggets team operated without a big-name star yet won 57 games, the most since the franchise joined the NBA 36 years before, because of a roster defined by its unselfishness.
Later, Danilo Gallinari stood. A talented young forward on that Nuggets team who sustained a season-ending injury not long before the playoffs began, Gallinari wanted to rebut one piece of Welch's memory.
That team did have a star, Gallinari said in a tone recalled by several as equal parts comic, assertive and deadpan. It was him.
The room filled with laughter.
Gallinari has fond memories of his six seasons in Denver and they came rushing back Thursday as he played his first game at the Pepsi Center since leaving the Nuggets as a free agent in 2017.
He made the Clippers' road trip to Denver last February but was hurt and didn't play. Preparing for Thursday's matchup, unsure of how he would be received by the crowd, felt "good and weird at the same time," Gallinari said.
He received applause during his pregame introduction, then a few boos when he made an early three-pointer.
Gallinari was a breakout player on that Nuggets team but injuries limited not only his team's ceiling — they lost in the first round in 2013 — but his own too. He is healthy and realizing the full range of his potential now during his second season with the Clippers, averaging career highs in points (19.5), rebounds (6.2), field-goal percentage (45.9%) and three-point percentage (44.7%). He is the most efficient pick-and-roll ballhandler in the NBA, generating 1.17 points per such possession.
"I'm just happy for Gallo and the success he's having and the fact that he's staying healthy," said Nuggets coach Mike Malone, whose tenure overlapped with Gallinari's.
Gallinari still has friends in Denver and a house whose homeowner association dues he still pays. It wasn't his preference to leave, but the Nuggets were beginning to commit to a younger core that currently has Denver first in the Western Conference standings.
"It was tough because my first choice was, of course, Denver," he said, "but we didn't find the right situation for me and the team so I had to take another route."
That route has led him to the best basketball of his career. The resurgence is based in part on Gallinari's health but also his place in a locker room both he and Welch say carries the same characteristics of that 2012-13 Nuggets squad. The team remains one of Gallinari's favorite.
"We don't have a lot of selfish players," Gallinari said.
Both these Clippers and those Nuggets "enjoy being around each other, they enjoy passing to each other, it's kind of an intangible thing," Welch said. "The way they're easy to coach and the coaches like coaching them. It's just an enjoyable experience."
The 30-year-old Gallinari is much the same person as he was in Denver. He is regarded as the lowest-maintenance player on the Clippers' roster. Some around Gallinari believe his experience during that charmed Nuggets season has taught the 6-foot-10 Italian to enjoy the atmosphere of this Clippers locker room, knowing such situations can be fleeting.
"I see him doing more, finding ways to help the team more, being more aggressive," Welch said. "I see him, I think he enjoys playing with this team."
Twitter: @andrewgreif
Get our high school sports newsletter
Prep Rally is devoted to the SoCal high school sports experience, bringing you scores, stories and a behind-the-scenes look at what makes prep sports so popular.
You may occasionally receive promotional content from the Los Angeles Times.