Doc Rivers believes Blake Griffin deserves to have Clippers jersey retired
The Clippers' trade of Blake Griffin one year ago came months after the star forward was sold in free agency, in a pitch complete with a mock jersey retirement ceremony, on becoming a "Clipper for life."
As Griffin prepares to face the Clippers on Saturday at Staples Center for the first time since being dealt to Detroit, his former coach, Doc Rivers, believes Griffin will eventually receive the honor, this time for real.
For the record:
12:00 a.m. Jan. 11, 2019An earlier version of this article reported that Stephen Curry and Dwyane Wade are among an elite group of player to average at least 25 points, eight rebounds and five assists per game in a season. They have not.
Rivers expanded on comments he made earlier this season that DeAndre Jordan, Griffin's "Lob City" running mate before leaving for Dallas last summer, also is deserving of a retired jersey.
"Those two, I think they should go in the same day, I really do," Rivers told the Times following the Clippers' 121-100 loss Thursday in Denver. "Blake was great for us, he really was. It didn't end great because we traded him but at the end of the day, Blake and D.J. started the birth of the Clippers.
"[Griffin] deserves a standing ovation."
A high-flying forward whose comedic chops helped extend his reach into Hollywood, Griffin had marketability that lifted the Clippers out of NBA irrelevance and his production helped launch the most successful period of the franchise's history.
The 2011 NBA rookie of the year, Griffin became a four-time All-NBA selection and is the franchise's second all-time leading scorer, is third in rebounds and ranks in the top five in minutes, field goals, free throws, assists and fouls. He signed a five-year contract worth $171 million in 2017.
Concerned the deal would limit the team's ability to build a contender around an injury-prone star, a new front office installed soon after the signing found a willing trade partner in Detroit, desperate for a marquee name. In return, the Clippers acquired Avery Bradley, Tobias Harris, Boban Marjanovic, draft picks and financial flexibility that will allow them to chase top free agents this summer.
"I'm glad it happened," Griffin told The Times in November. "I'm not saying I don't miss certain people. There were some awesome fans that I got to know, and I felt like I was very close with them. And there are some people you miss over there, but it was just time for a fresh start.
"I'm glad to be here."
If the 6-foot-10 Griffin, who produced a 50-point game in October, maintains his current production, he will join James Harden, Kevin Durant and LeBron James as the only players in the last decade to average at least 25 points, eight rebounds and five assists. James and Giannis Antetokounmpo are also on pace to match those statistics this season.
He has already experienced his first game dressing in the Staples Center's visitor's locker room Wednesday during the Pistons' loss to the Lakers. The Clippers plan to honor Griffin with a tribute video.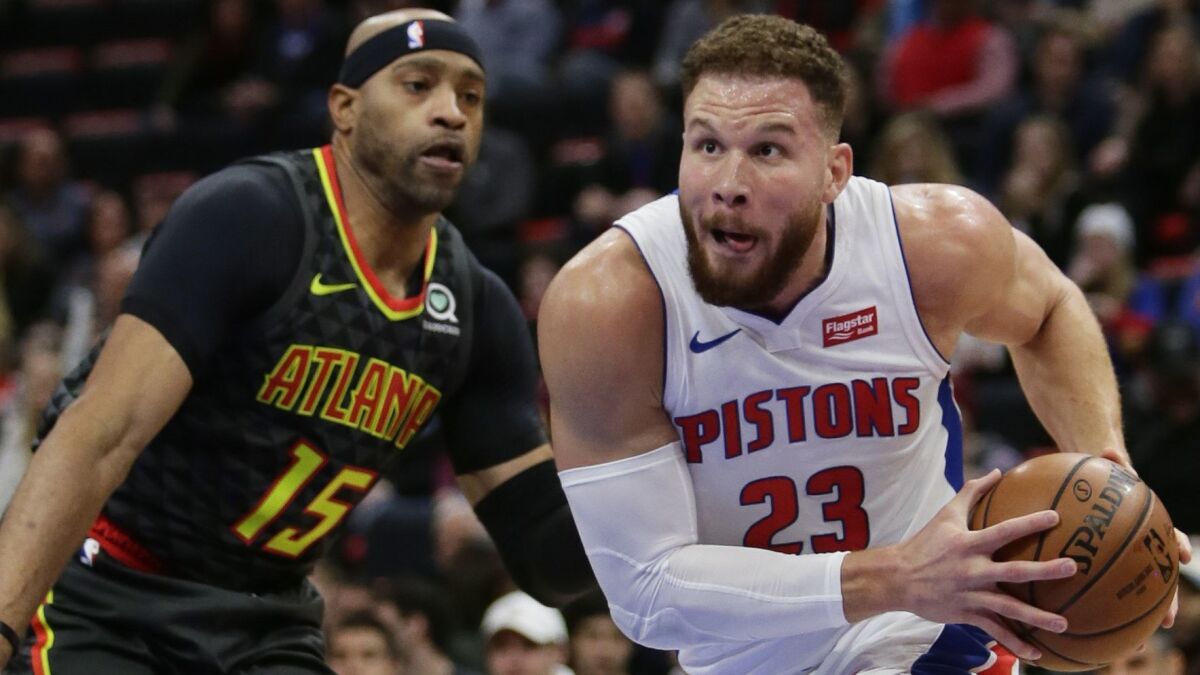 He has spoken with some inside the Clippers organization since the trade but not all. Rivers is among the latter group.
"I'm more concerned with, he was a great Clipper," Rivers said. "Let's leave it at that. All the other … is so overdone to me. The part that needs to be celebrated is what he did with us.
"We won a lot of games with him at that position; we just were never the winner. When you're not the winner, that's what happens. When you're not the winner, you don't get the fanfare."
Saturday's game won't come with fanfare for the other players involved in the trade. Bradley had spent less than four months with Detroit and said he holds little attachment to the franchise.
Harris, who played 157 games with Detroit, called it "just another game for me."
"I don't have any emotions about that, just go out and win," he said. "[Media] can talk about all the headlines, whatever you want, but I don't play into that."
UP NEXT
VS. DETROIT
When: 12:30 p.m., Saturday
On Air: TV: Prime Ticket; Radio: 570, 1330.
Update: Both the Clippers (24-17) and Pistons (17-23) are coming off losses Thursday, with Detroit falling 112-102 in Sacramento. During the loss, Pistons teammates stepped in to separate second-year guard Luke Kennard from the coaching staff after Kennard was sent to the bench. "I like the fact that he did get upset because it shows he cares," coach Dwane Casey told reporters. The Pistons have lost seven of their last eight games and 16 of their last 20.
Twitter: @andrewgreif
---
Get our high school sports newsletter
Prep Rally is devoted to the SoCal high school sports experience, bringing you scores, stories and a behind-the-scenes look at what makes prep sports so popular.
You may occasionally receive promotional content from the Los Angeles Times.