Clippers smarting from Blake Griffin beatdown, and it won't get any easier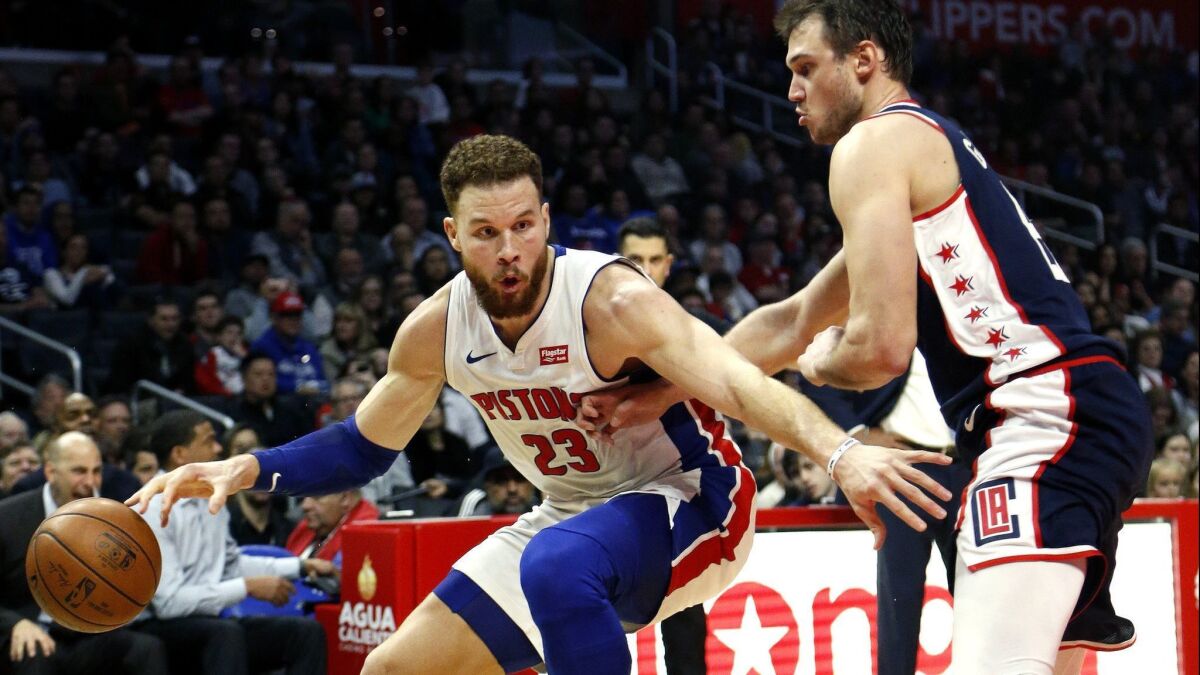 By Sunday, the awkward part was over.
One day after Blake Griffin faced his former team in Los Angeles for the first time and scored 44 points in an emotional Detroit Pistons victory, the Clippers gathered at their Playa Vista facility and moved on.
The fanfare was over, the thank-yous expressed, the story lines written.
The bad news: The next matchup won't be any easier.
The Clippers host another big man and former No. 1 overall draft pick with an arsenal of scoring options Monday when Anthony Davis and New Orleans visit.
Clippers coach Doc Rivers has known Davis since he was in high school through a connection with his son Austin, and called himself "amazed" at how dominant Davis has become. Davis has averaged 28.5 points and 13 rebounds against the Clippers this season and 28.9 points, 13.3 rebounds, 4.4 assists and 2.6 blocks overall.
"I knew he'd be good, but offensively, I didn't know he was going be this good," Rivers said. "I mean, he's a special, generational talent."
Whereas the Clippers have played Davis twice this season, this was the first time they hosted Griffin. Rivers wasn't sure whether his return became much of a distraction in the locker room because the roster has changed so much in the year since the trade.
"Our guys wanted to beat him because he used to be here," Rivers said. "Sometimes you don't even have to be here and you want to beat the guy."
Saturday's loss was the Clippers' second consecutive and part of a stretch of 10 games in 19 days that Rivers calls the "manage run," because how the Clippers get through it will be determined in part by how he manages the team's workload on the days between games.
"It's a balancing act," he said. "You've just got to try to figure out on which day do you not practice and do shootarounds, and which day do you practice and then don't do shootarounds."
He opted against either Sunday. After warmups ended, Rivers brought players into the film room and turned on a surprise screening of the film "Green Book." Practice was canceled.
So who won the deal?
While Griffin was going off Saturday, the players traded for him couldn't match his production.
Forward Tobias Harris had 11 points and 10 rebounds, Avery Bradley had three points and Boban Marjanovic did not play.
While Harris has become one of the Clippers' most consistent scorers, Bradley has endured ups and downs while recovering from abdominal surgeries and Marjanovic has played sporadically.
Bradley is shooting 37.8%, his lowest percentage since his rookie season eight years ago. A vocal subsection of fans on social media have called for his 28 minutes a game to be reduced, and Rivers acknowledged he's considered it. But he contends that Bradley's defense remains irreplaceable.
Asked Saturday about using reserve Tyrone Wallace in Bradley's place, Rivers bristled.
"You think Tyrone Wallace is like Avery Bradley defensively? If you do think that, you need to go back and watch more film," Rivers said. "That would be my answer. I think Ty's a hell of an offensive player. ...
"Avery's value right now, as Rex [Kalamian, Clippers assistant coach] termed, is 'un-statable.' That's not a word, but it's a word in our vocabulary now, and that's Avery's value to us."
The Clippers did find a statistic in Bradley's favor: He leads the NBA in fewest points allowed per possession while defending through screens, on at least 45 possessions, according to Synergy Sports.
Saturday marked the fourth time in five games Marjanovic hasn't played. Last week Rivers said the 7-foot-3 center remains in a "by committee" rotation.
Remaining ready to contribute can be difficult because practices are rare and even then, the speed is different from that of a game, Marjanovic said.
"I'm not worrying about it or angry, I just want my team to win," Marjanovic said.
UP NEXT
VS. NEW ORLEANS
When: 7:30 p.m., Monday
Where: Staples Center
On the air: TV: Prime Ticket; Radio: 570, 1330.
Update: The Pelicans (20-23) are 5-17 away from New Orleans and, after a loss Saturday in Minnesota, are 5-5 in their last 10 games. That's the same record as the Clippers (24-18). Julius Randle scored a career-high 37 points during the last meeting against the Clippers on Dec. 3. He hasn't left the starting lineup since and has averaged 23.0 points, 9.8 rebounds and 3.2 assists while shooting 54% from the field.
Twitter: @andrewgreif
---
Get our high school sports newsletter
Prep Rally is devoted to the SoCal high school sports experience, bringing you scores, stories and a behind-the-scenes look at what makes prep sports so popular.
You may occasionally receive promotional content from the Los Angeles Times.