Clippers' defense might not be the best, but it makes opponents work hardest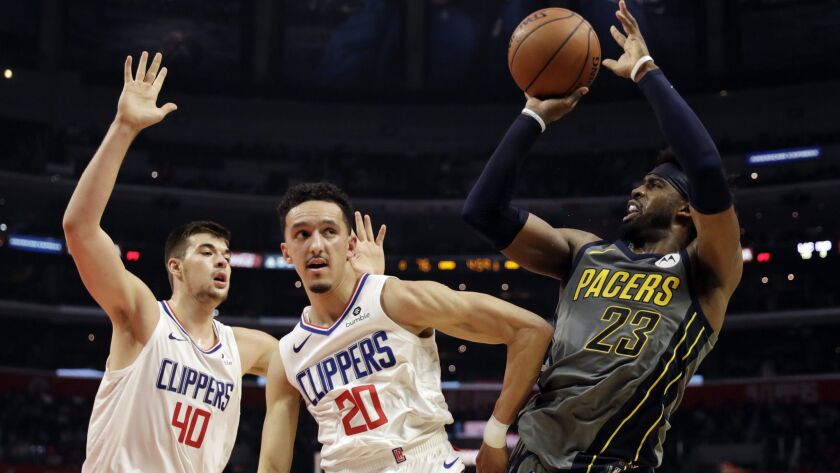 Reporting from Cleveland —
It was during training camp in paradise that the Clippers first began talking about making life hell for opposing teams.
Patrick Beverley, Avery Bradley and Luc Mbah a Moute — all players with reputations as defensive stoppers — discussed during September's preseason practices in Hawaii their belief that the Clippers could own one of the NBA's stingiest defenses.
For much of the season, it hasn't quite turned out that way.
Amid his recovery from abdominal surgeries last season, Bradley struggled at times and eventually was traded to Memphis in February. Mbah a Moute hasn't played since October and the team isn't convinced his sore left knee will improve any time soon. Even Beverley, a perpetual defensive pest, has endured ebbs and flows.
The Clippers' defense ranks 18th.
Part of the players' preseason prediction has come true: Opponents of the Clippers, perhaps more than any other team, have had to work hard for their baskets.
Clippers opponents have attempted a league-high 14.4 attempts a game when the nearest defender is within 2 feet — the tightest defense classified by the NBA's player-tracking data. Conversely, they've been afforded relatively few wide-open looks — defined as when a defender is 6 feet or farther away — and have struggled to capitalize on them, shooting the league's lowest efficient field goal percentage in wide-open scenarios. Several Clippers theorize it's because they've often forced the ball out of a reliable scorer's hands and instead allowed bad shooters otherwise good looks.
"We do a good job making teams go to their second or third options," forward Johnathan Motley said. "Most teams don't do that. We made guys make the extra pass."
Upon his hiring from Toronto this summer, Clippers assistant Rex Kalamian wanted to limit corner three-point attempts, transition opportunities and the moving parts within the Clippers' defense. The unifying theme behind all those priorities was limiting easy opportunities.
The lack of rotations, the thinking went, could keep defenders in front of their man more often. It's been one reason why so many of the shots attempted by opponents have been contested.
Another reason might just be human nature. Players try to limit how often they're chewed out by coach Doc Rivers.
"The game plan is Rex, of course," Beverley said. "But if you allow an open three, oh, you're going to get … cursed out by Doc. He's like the dad that you come in late" — at which point Beverley began to yell.
"You don't want to hear that," he added. "Doc's been around the block and he knows the small things, they built up and they matter throughout the course of a season. They preach about us putting a hand up and if we don't, we hear Doc."
Adding five new players to the rotation at February's trade deadline could have shredded what continuity the team had defensively. During the new-look roster's first practice together, Feb. 8 in Boston, Kalamian slowly walked the new additions through the Clippers' defensive system, starting from scratch.
Instead, the defense has improved in the 16 games since then. The new Clippers are generally taller, with longer wingspans, than the players they replaced, and have been more consistent remembering and executing game plans.
"We have a group of blue-collar guys, a lot of hard-working guys," Beverley said. "And so everyone has a little chip on their shoulder. We go out there with the chip on my shoulder, [Lou Williams'] shoulder, [Montrezl Harrell], you can go around the room, and you add that up, it's dangerous."
A key upgrade at the trade deadline arrived in the form of center Ivica Zubac. His footwork and size have tended to dissuade opponents from driving into the paint. Since Zubac joined the rotation, Clippers opponents are shooting the league's seventh-lowest percentage in the restricted area.
UP NEXT
AT CLEVELAND
When: 4 p.m. PDT, Friday.
On Air: TV: Prime Ticket; Radio: 570, 1330.
Update: The Clippers (42-30), who have won eight of their last nine games, begin a four-game road trip in Cleveland against a Cavaliers (19-53) team that has won two in a row and four consecutive games at Quicken Loans Arena. The matchup will pit first-round selections from last year's draft against each other in the backcourt. Cleveland rookie guard Collin Sexton is averaging 16.2 points and 2.9 assists this season, while Los Angeles' Shai Gilgeous-Alexander has averaged 10.3 points and 3.1 assists.
Sign up for our daily sports newsletter »
Twitter: @andrewgreif
---
Get the latest on L.A.'s teams in the daily Sports Report newsletter.
You may occasionally receive promotional content from the Los Angeles Times.