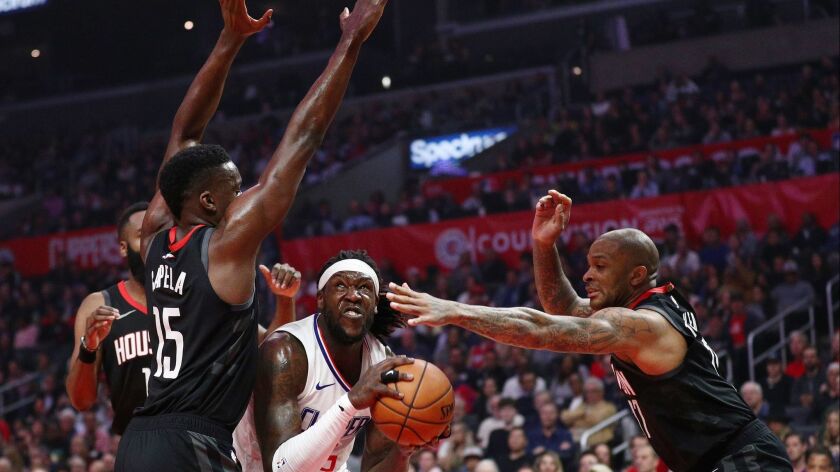 If the final score of the Clippers' 32-point defeat Wednesday against Houston was jarring and unusually one-sided, so, too, was the start.
The Clippers trailed by 13 points after the first quarter against the Rockets, behind six turnovers and only two three-pointers, and their hole only grew in what became a 135-103 defeat.
"I thought from the tip, they were a more aggressive, better basketball team than we were," guard Lou Williams said.
Inconsistent play during first quarters has largely becoming a thing of the past since the trade deadline, when the team traded or waived forward Tobias Harris, center Marcin Gortat and guard Avery Bradley — three-fifths of a starting lineup that never meshed. That group was outscored by an average of 1.5 points during their nearly seven minutes together each first quarter. Super-reserves Williams and Montrezl Harrell were often asked to dig the Clippers out of a hole, rather than add to a lead, once they checked in midway through the opening quarter.
That hasn't been the case as often since the trade deadline. Even though they've been forced to learn each other's tendencies on the fly, additions Landry Shamet, a guard acquired from Philadelphia, and Ivica Zubac, a center traded by the Lakers, have found a rhythm alongside forward Danilo Gallinari and guards Patrick Beverley and Shai Gilgeous-Alexander. Those starters have outscored opponents by 3.8 points during their seven minutes together per first quarter.
The effect has been felt by the whole team. The Clippers own a positive first-quarter plus/minus that ranks 11th in the NBA since the trade deadline. That plus/minus had been a slight negative before and ranked 18th.
The Clippers' stronger starts have been mirrored after halftime, when the starters play the bulk of the minutes to open the third quarter. Their third-quarter plus/minus, once among the bottom 10 in the NBA, has improved to league average.
"I definitely think we're playing with the right pace and spirit," Harrell said last month, when asked about the change in first-quarter efficiency. "I just think we come in with a lot more focus coming down to the end stretch of this season."
It was why Wednesday's performance was such an exception. Clippers starters were outscored by seven points during their six first-quarter minutes against Houston.
"We've got to be a lot better than that, especially a team we could face in the playoffs," said guard Garrett Temple, who started in place of Beverley, who sat because of rest. "We've got to focus, pay attention to detail a lot more next game."
The mistakes included not adjusting quickly enough to Houston's defensive switches and failing to follow the defensive plan. Temple bemoaned the uncontested shots taken by Houston's Eric Gordon.
But if the game was "humbling," as Williams said, the Clippers said it would also be quickly forgotten, chalked up as an exception amid otherwise strong recent play.
"We'll figure out what we did wrong," Temple said. "It was pretty obvious. It would be different if we played great game and just didn't know and they beat us like this. We didn't play nearly our best game."
UP NEXT
VS. LAKERS
When: 7:30 p.m., Friday
On the air: TV: Fox Sports West; Radio: 570, 1330.
Update: The Clippers (47-32) are 2-1 this season against the Lakers (35-43) entering the season-series finale and have won 23 of the last 27 games against the Lakers. The Clippers must go undefeated during their final three games to reach 50 victories, a mark the franchise last accomplished in 2016-17. Friday's game will be the second in as many nights for the Lakers, following their matchup with Golden State. Guard Patrick Beverley has been listed as questionable for Friday, with a right hip pointer, after resting during the Clippers' loss Wednesday against Houston.
Sign up for our daily sports newsletter »
Twitter: @andrewgreif
---