Patrick Beverley and the Clippers are ready to scrap for 82 games, and maybe the playoffs
Patrick Beverley wasn't searching for anything specific when he walked into the bookstore this summer.
A trainer in his hometown of Chicago had suggested he read more in order to "open up my mind," and it was with an open mind that Beverley browsed the shelves.
That's when he saw the paperback.
"I think it chose me," he said.
The 30-year-old Clippers guard has been underlining passages in "The Courage to Be Disliked" ever since. It describes a "Japanese phenomenon that shows you how to change your life and achieve real happiness."
Beverley happens to be something of an authority on the topic of being disliked. He elbowed his way into the league six seasons ago after stops in Ukraine, Greece and Russia by playing a brand of unrelenting defense that reflected his lack of concern for making friends. He has stayed in the NBA by staying in the jerseys of opponents who don't always appreciate his fervor.
Still, he left inspired by the book's teachings — and believes his Clippers teammates are on the same page, too.
In the NBA in 2018-19, the Golden State Warriors hold the rings, the Lakers boast The King and the Houston Rockets will run one isolation set after another for their reigning league MVP.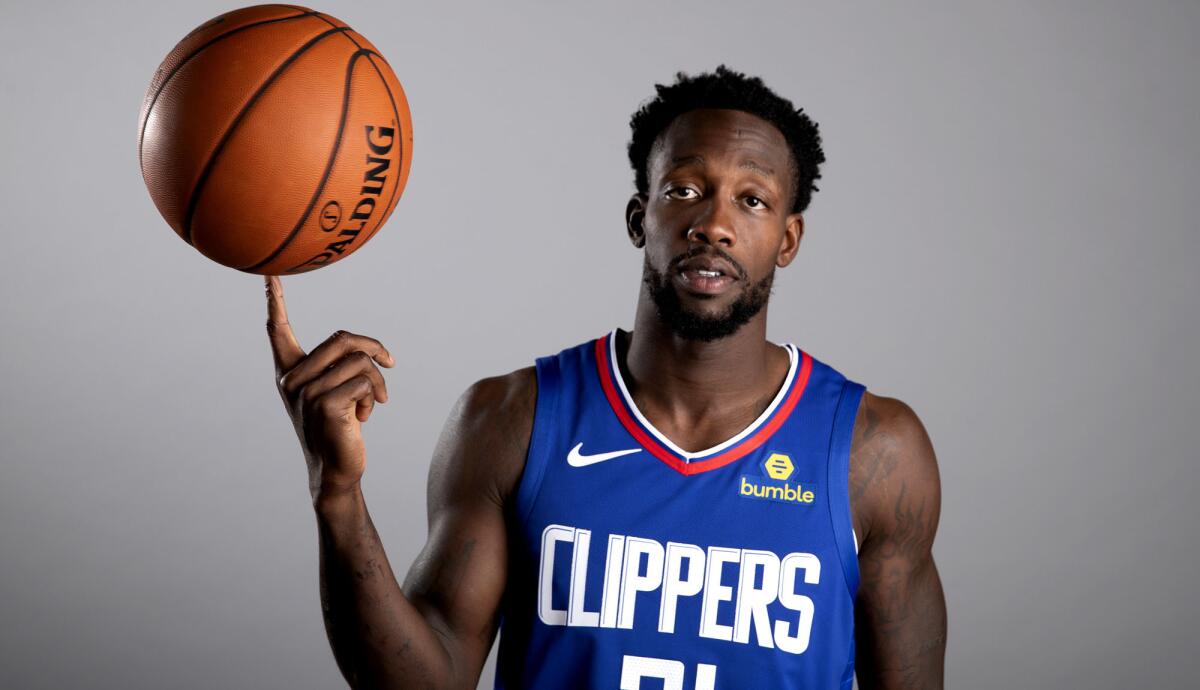 What the Clippers say they have is a collective toughness they believe can coalesce into a disruptive presence. Few projections include them as a playoff team, and understandably so. What they guarantee is that night after night, they plan to be a nagging headache for opponents more comfortably entrenched in the Western Conference's upper half.
"When you come in to play the Clippers every night you're going to be exhausted, you're going to be fatigued, just mentally, emotionally drained," forward Montrezl Harrell said. "When you look up at who you're going to play tonight and it says Los Angeles Clippers you just go into the game like, 'Man, we got to play them? Man, this is going to be a fight tonight.' That's just who we want to be."
Beverley embodies that attitude, punching teammates in the chest as they check in at the scorer's table, but it has been widely embraced.
"We're going to win our way and we're not going to apologize for how we play," coach Doc Rivers said. "This is us and we're good with that."
If the Clippers hit it big in free agency next summer and add two marquee players to maximum-salary contracts, as is possible, the franchise will re-enter the NBA spotlight. They exist for the time being in the uneasy limbo between the league's contenders and rebuilders; just 15 Clippers games are scheduled for national broadcasts this season.
While the attention is elsewhere across the NBA, the Clippers left the preseason encouraged from what they'd seen. Marcin Gortat, Mike Scott, Shai Gilgeous-Alexander, Jerome Robinson and Luc Mbah a Moute were the official offseason additions but it can feel like a brand-new roster given the returns from injury by Beverley, Avery Bradley, Danilo Gallinari and Milos Teodosic. Combined, they missed 194 games last season.
Together finally during the preseason, players have described a unity of purpose that wasn't always the case during the oft-fractious Lob City era.
"We don't have nobody on this team that thinks they're bigger than the program or thinks it's all about them," Harrell said.
One year after the Clippers finished 19th in defensive rating, there are internal expectations of establishing a top-five defense should they stay healthy. A crunch-time lineup could potentially feature three of the league's best veteran stoppers in Beverley, Bradley and Mbah a Moute.
"They do have some versatile pieces, the speed and the quickness I think, with a guy like Beverley on the ball, it starts there," Minnesota coach Tom Thibodeau said. "He has the ability to pressure the ball and contain it, and I think they have some athletic pieces that will be good."
That defense held the Lakers to 37 second-half points during an Oct. 6 preseason game the Clippers won "ugly," Rivers said, in what might be a template for the rest of the season.
"If you're able to come out and punk teams defensively," Bradley said, "I feel like no matter what happens on the offensive end, we'll be in every single game."
The Clippers' previous iteration under Rivers wasn't always the most well-liked of groups, either, as All-Stars Chris Paul, Blake Griffin and DeAndre Jordan rode referees and dunked on opponents. Beverley, who joined in 2017 via the trade that sent Paul to Houston, didn't regard the Clippers as tough last season because he didn't feel their mindset was right.
Now he looks across a locker room and sees players who all have felt doubted. Pride is a potent motivator, and they feel forgotten in a loaded West. Ten of the conference's 15 teams hold higher win-total projections than the Clippers' 37 1/2, according to the Westgate Superbook in Las Vegas. That's less than last year's record of 42-40, even though injuries riddled that team.
"We don't have a lot of pushovers in this locker room," guard Lou Williams said. "I think that goes a long way. Especially with a lot of people just writing us off and saying we're a mediocre basketball team."
When Beverley latched on in the NBA he understood he "fit the persona of the tough guy" because of his Chicago upbringing and long road to get there. Even if he didn't care what people thought, he knew what they expected and played up his image by lashing out at officials, feuding with Russell Westbrook and jawing at opposing coaches. He once told Rivers in the middle of a game that he'd crushed Rivers' Chicago alma mater while in high school (in fact, Beverley's team lost).
Beverley's summer reading led him to take a hard look at himself. Change was needed.
"I felt like I was doing it the wrong way," he said. "I felt like I was going out purposely doing …. for people to not like me."
Beverley, just like the Clippers, must find an edge to have a chance, but the adjustment comes from trying to be smarter while doing so. When a rookie argued a call during a preseason practice, Beverley implored him from the sideline to "move on."
The rookie, he knew, was wasting his breath — as is anyone who thinks Beverley will care what they think of his game.
"I play hard," he said. "You like it, you don't like it, whatever. I'm here to win."
Twitter: @andrewgreif
Get our high school sports newsletter
Prep Rally is devoted to the SoCal high school sports experience, bringing you scores, stories and a behind-the-scenes look at what makes prep sports so popular.
You may occasionally receive promotional content from the Los Angeles Times.