Where giant banners bearing the images of franchise cornerstones once hung from the Staples Center ceiling, there were only black drapes.
New banners will soon be installed above the arena's upper deck.
But Wednesday, in the Clippers' first game at Staples Center without Chris Paul, Blake Griffin or DeAndre Jordan on the roster since coach Doc Rivers arrived five seasons ago, the blank canvas was symbolic of the transition that is underway within the franchise, and a reminder that it's officially curtains for the Lob City era.
"I remember more good than bad," Rivers said. "We won a ton of games we just never got over the hump. Unfortunately, not just for our franchise but all franchises over the last three years, this team called Golden State was made and made it difficult for all of us."
The Clippers played a rotation stocked with young players in their 128-101 exhibition victory over Minnesota. Veterans Lou Williams, Avery Bradley and Luc Mbah a Moute were rested, as well as the injured Milos Teodosic. Tobias Harris continued his strong play by scoring a game-high 23 points.
Swaths of seats in the arena's lower bowl stayed empty throughout the game, and the crowd was announced at 10,099. The Clippers don't have a mega-watt attraction as a draw anymore, not after Jordan became the last of the team's former three-star core to depart in free agency, and how quickly they might add one remains unclear.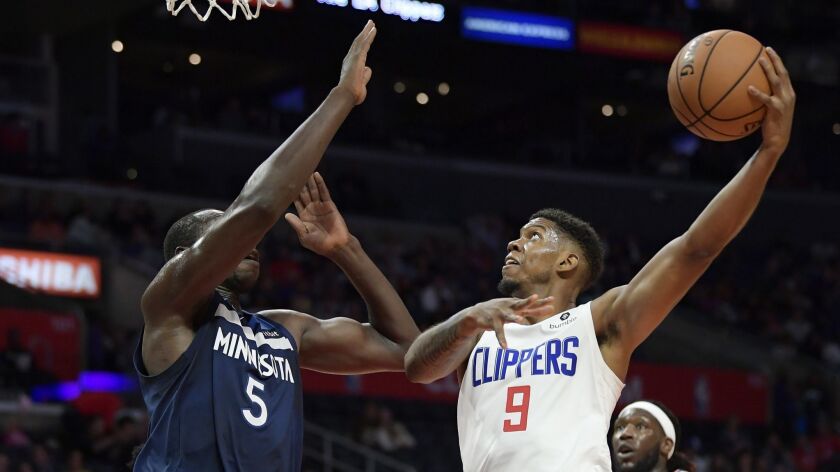 The team hopes to be a big player in 2019 free agency by opening enough cap room to sign two players to maximum-salary contracts. In the short term there has been no traction with Minnesota on any potential trades for All-Star guard Jimmy Butler, according to league sources not authorized to speak publicly on the matter. The Miami Heat remain heavily engaged with Minnesota in trade talks, according to ESPN.
Yet, just because the Clippers don't have a player with a high Q rating, Rivers believes that doesn't mean they can't finish with one of the league's best defensive ratings.
In the absence of individual buzz, Rivers preaches the promise of depth.
"Our expectations are pretty high, yeah," Rivers said. "I've always thought that teams that have those individual guys that can just take you on a given night, you can have a bad night and that guy can win that game for you. We're not going to be one of those teams, you know.
"So, as a group, we have to perform a certain way each night to win games. When you get a group of guys that buy into that you can have a really successful season and I'm hoping that's what happens here."
Those around the team have lauded a group embracing an uphill challenge to compete for a playoff spot in the Western Conference.
"We got two pretty good solid groups and then we got some other guys who can fill in," Williams said. "Last year our problem, we didn't have enough. We had a lot of guys who were injured, in and out of the lineup. So coming back, having a lot of guys, having more than enough guys that are capable of going out there and putting up big numbers on any given night, I think it's beneficial."
The Clippers have 17 players under contract and 15 spots available for the regular season, and the game was an opportunity for those potentially at the end of the rotation to separate themselves, such as second-year players Sindarius Thornwell and Tyrone Wallace, and rookie first-round pick Jerome Robinson.
It was also, Williams believed, "an indication of things to come." Without a single ball-stopping point guard, an offense emphasizing multiple ballhandlers has been implemented. Wednesday, there were 36 assists on 49 field goals.
All in all for the exhibition season, a banner night.
Said Williams: "We got strength in numbers."
Twitter: @andrewgreif
---