Warriors pour on points vs. defenseless Clippers team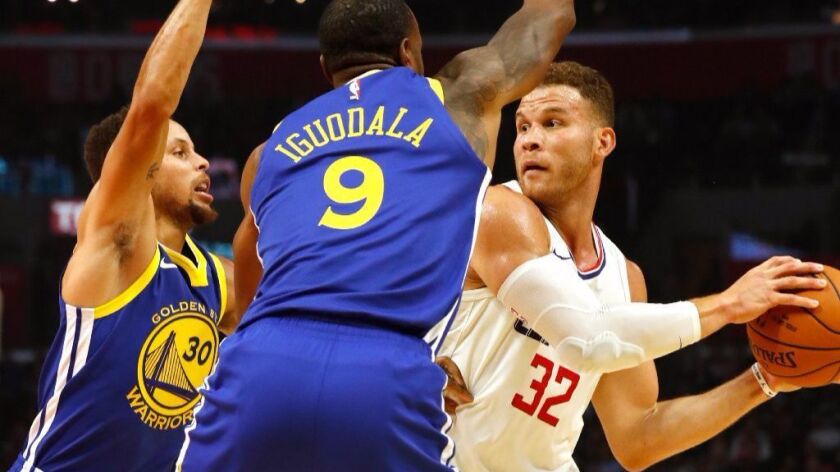 Presumably, there will come a time when the Clippers scratch out another victory against their nemesis and Pacific Division rivals, the Golden State Warriors.
That time certainly did not arrive Monday night.
The Clippers were demolished yet again by the Warriors, getting bulldozed 141-113 at Staples Center. That makes 11 consecutive times the Clippers have lost to the defending NBA champions.
And the past five straight have not been close, all of them by double digits, the average margin of defeat now 22.8 points.
"Sometimes the other team just beats your butt and you just got to take it," Clippers coach Doc Rivers said. "And that's what happened."
The Clippers' defense was turned every which way by the full-throttle Golden State offense, which lit the Clippers up for 58.4% shooting from the field, 48.3% from three-point range.
The Clippers yielded 34 points in first quarter, 40 in the second quarter when the Warriors broke the game open, 33 in the third when the Warriors extended their lead and 34 in the fourth when the Clippers knew another loss was at hand.
"Going down big in the second quarter hurt us," said Clippers center DeAndre Jordan, who had 10 points and 11 rebounds. "We didn't execute defensively, the things we were supposed to do. Offensively we scored 113 points. So it wasn't our offense. It was our defense."
The Warriors' show reached a zenith in the third quarter, the highlight being JaVale McGee running full speed down the middle of the court, his eyes glued on the rim. Draymond Green was dribbling down the sideline, his eyes making contact with McGee's.
Green threw a lob that seemed out of reach until the long-armed, 7-foot McGee leaped high, grabbed the ball and threw down a dunk.
The crowd, with plenty of Warriors fans, went into frenzy.
Stephen Curry was the showman as usual, knocking down a three-point shot just before the third quarter ended to put the Clippers in a 107-86 hole.
Many fans began chanting "Warriors!" until they were drowned out by boos from the Clippers faithful. It was easy to understand why when Curry scored 31 points and made seven of 11 three-pointers.
Danilo Gallinari led the Clippers with 19 points. But the Warriors contained Blake Griffin by sending frequent double teams at him, making him a passer instead of a scorer. He was limited to 16 points on just 10 shots.
"We need to be better defensively," said Griffin, who came into the game averaging 24.8 points a game. "We just gave up too many easy baskets. They ran their offense and got open shots, open layups. They pushed in transition. We needed to get stops and didn't."
Twitter: @BA_Turner
---