Clippers' Blake Griffin says his quadriceps is still partially torn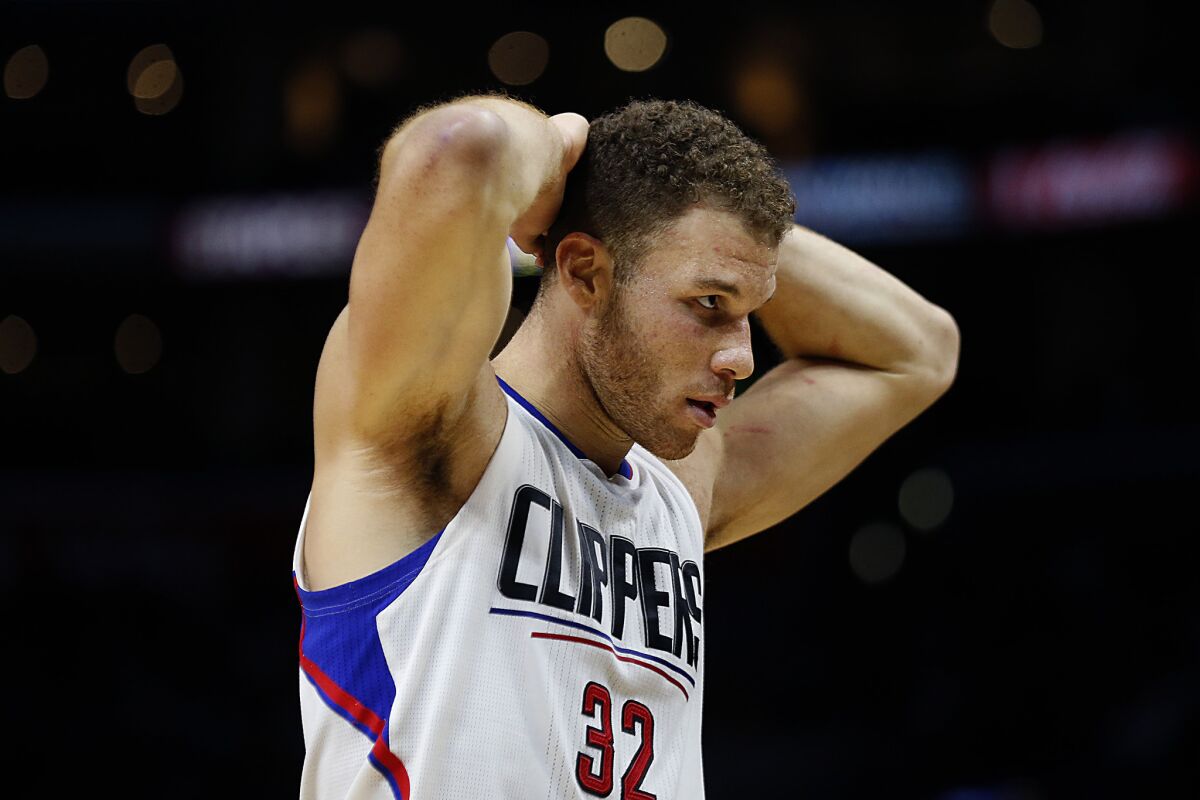 The treadmill that Blake Griffin spent hours on as part of his lengthy recovery from a quadriceps injury also served as something of a metaphor.
The Clippers star forward said Saturday that his left quadriceps remained partially torn more than three months after it first sidelined him and alluded to the possible need for surgery after the season.
Griffin is slated to return Sunday against the Washington Wizards at Staples Center after a 45-game absence caused by injuries and a four-game suspension for punching a team assistant equipment manager, but his minutes won't be the only things that require monitoring. He said his ability to complete the season was "just about managing the pain and getting through this."
See more of our top stories on Facebook >>
The Clippers would have preferred to allow Griffin's tear to fully heal, which wasn't a choice unless they wanted to declare him out for the final seven regular-season games and the playoffs
"The question is, 'Can you play?'" Clippers Coach Doc Rivers said. "That's always the question when guys get injured and they're out this long. You clearly would rather heal the rest of the summer, but you don't have that option. The next option is, 'Can you play?'"
The Olympics could be another matter. Asked whether his injury would need addressing in the summer, the clear implication being surgery, Griffin said, "Probably." Any off-season procedure would likely imperil Griffin's bid to travel to Rio de Janeiro as part of Team USA and participate in his first Olympics.
Griffin doesn't figure to be limited after his first few games back with the Clippers. Rivers said Griffin would "most likely" start against the Wizards but acknowledged the need to manage his workload.
"You don't want to throw a guy out there and him get injured because you're overplaying him," Rivers said. "So we just have to be very careful."
Griffin had played through discomfort in his quad for more than three weeks in December before it became unbearable against the Lakers on Christmas. The Clippers announced the next day that Griffin would be out at least two weeks.
Griffin's recovery was further complicated in late January when he punched team assistant equipment manager Matias Testi over teasing that went too far for Griffin's liking, resulting in a broken hand. The Clippers suspended Griffin four games for the incident, punishment that ended with the Clippers' loss to Oklahoma City on Thursday.
Griffin appeared close to being cleared to practice in early March before discomfort forced him to scale back his workouts. He said his workouts had aggravated the quad and caused pain in his knee.
"I don't want to say 'misdiagnosed,'" Griffin said of his injury and resulting workout plan, "but [I] wasn't doing the right things, I guess. We weren't addressing the initial problem, the main problem.
Get the latest in sports with our free newsletter >>
"Everything I was doing was just putting more stress on my knee. The small tear became a three-month thing because I wasn't doing the right things until we figured it out."
The Clippers went 30-15 in Griffin's absence by using smaller lineups, improving their ball movement and playing better defense. They will have seven games to rediscover a rhythm with one of their top players before the playoffs.
"As soon as he's on the court, I'm going to want to give him the ball every time down," Clippers point guard Chris Paul said, "but we've got to let him work his way back in."
Griffin was having one of his best seasons before being injured, averaging 23.2 points, 8.7 rebounds and 5.0 assists per game while making 50.8% of his shots. He said watching games over the last week was especially excruciating because he was serving his suspension at a time when he was ready to play again.
See the most-read stories in Sports this hour>>
Now he'll have to avoid the temptation to try to overcompensate for sitting out more than half the season.
"It's tough because you want to play a lot and make up for missed time," Griffin said. "But you've got to be patient and only do what my body allows me to do. This will test my patience a lot."
Dawson returns
Rookie forward Branden Dawson practiced with the Clippers for the first time since being arrested last month on suspicion of felony spousal abuse. Dawson has not been charged and Rivers said Dawson was allowed to rejoin the team based on Rivers' understanding of the situation.
"I'm comfortable with their account," Rivers said, "the police and everybody else."
Pierce improving
Veteran forward Paul Pierce is not expected to play against the Wizards but was shooting and running, signaling his return may be nearing. Pierce suffered ankle and knee injuries Monday against the Boston Celtics and has been sidelined for the Clippers' last two games.
CLIPPERS NEXT UP
VS. WASHINGTON
When: 12:30 p.m. PDT, Sunday.
Where: Staples Center.
On the air: TV: Prime; Radio: 570, 1330.
Records: Wizards 37-39, Clippers 47-28.
Record vs. Wizards: 1-0.
Update: Washington entered Saturday 2 1/2 games out of the final playoff spot in the Eastern Conference after having lost four of its previous six games. The Clippers handled the Wizards with relative ease when the teams met in late December in Washington, with Chris Paul and Jamal Crawford combining for 44 points.
Follow Ben Bolch on Twitter: @latbbolch
MORE CLIPPERS NEWS
Doc Rivers gives three Clippers starters a rest
Chris Paul makes tough decision to skip Olympics
---
Get our high school sports newsletter
Prep Rally is devoted to the SoCal high school sports experience, bringing you scores, stories and a behind-the-scenes look at what makes prep sports so popular.
You may occasionally receive promotional content from the Los Angeles Times.