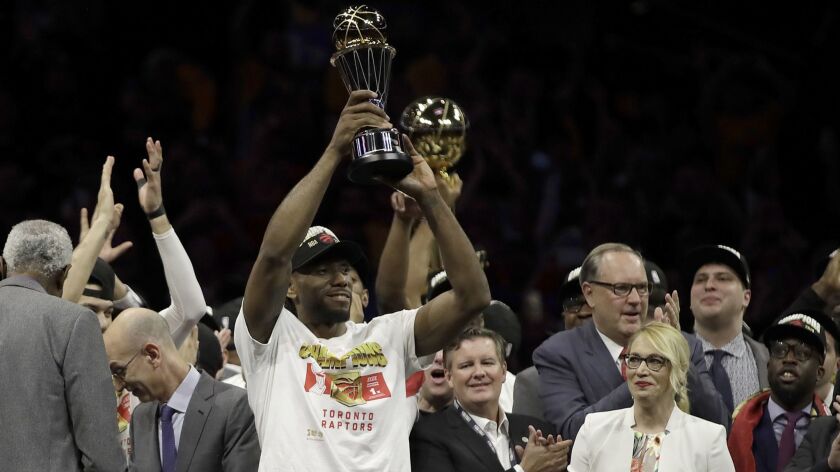 New Orleans' pending trade of Anthony Davis to the Lakers sent shock waves across the NBA on Saturday, but inside Clippers headquarters, where draft meetings were held all day, the news didn't land with a seismic shift for their long-held plans.
The Clippers remain focused on making their own splashy summer move, of course — signing top free-agency target Kawhi Leonard while building around the recently crowned NBA Finals most valuable player with much of last season's playoff-tested core.
Absent signing Leonard, however, the Clippers remain steadfast in their plan of building what president of basketball operations Lawrence Frank has called a long-term, sustainable contender for championships. Not included in that is mortgaging what they see as their future to speed up their timeline of building a title contender. In other words, don't expect owner Steve Ballmer to feel any added urgency to rush into the summer's trade market, cut into his team's $57 million in cap space to sign players who do not fit their mold, or part with young, promising players such as All-Rookie point guard Shai Gilgeous-Alexander.
But that doesn't mean there aren't short-term stakes riding on the Clippers' offseason. Following Golden State's five-year run atop the Western Conference, next season appears wide open for the taking.
Injuries to Kevin Durant (ruptured Achilles tendon) and Klay Thompson (torn anterior cruciate ligament) during the NBA Finals have destabilized the Warriors. Both could leave as free agents, but even if one re-signs or both do, each will miss at least the bulk of next season. Denver, Portland and Houston joined the Warriors in the West's final four this season but face questions of their own. The Lakers acquired a generational talent in Davis, but their leader, LeBron James, is coming off an injury-plagued season that served as a reminder that he will not be in his prime forever.
That could provide an opening for the Clippers, who entered the offseason with momentum after winning 48 games and advancing to the playoffs. Should they fail to sign Leonard in free agency, the team could re-sign several of its own free agents, such as Patrick Beverley and JaMychal Green, and still feasibly boast a core strong enough to make another playoff run.
Adding Leonard, however, only weeks after he led Toronto to its first NBA championship by averaging 30.5 points, 9.1 rebounds and 3.9 assists in the playoffs, likely would vault them among the upper tier of West favorites — even with the combination of Davis, James and another potential free-agent signing looming just down the hallway in Staples Center.
Leonard first has to decline a player option for next season and become a free agent; then he can begin meeting with teams at 3 p.m. PDT on June 30, six hours earlier than allowed by the NBA in years past.
Before the Clippers meet with potential new players they must decide how badly they wish to keep a few already on their roster. Starting Friday, they have until June 29 to issue qualifying offers to guard Rodney McGruder and center Ivica Zubac, which would make them restricted free agents.
McGruder's one-year qualifying offer is worth $3 million. The 27-year-old would have qualified for a smaller offer, but triggered the collective bargaining agreement's "starter criteria" by starting 45 games for Miami last season.
Zubac, 22, is eligible for a one-year qualifying offer worth $1.9 million. Traded by the Lakers in February, Zubac averaged 9.4 points, 7.7 rebounds and 20.2 minutes in 26 regular-season games with the Clippers.
Sign up for our daily sports newsletter »
The team is expected to extend qualifying offers to both. Zubac and McGruder would be allowed to solicit offer sheets from other teams, but the Clippers would have two days to match financial terms.
How the Clippers fare in Thursday's draft — they own the 48th and 56th picks — and free agency will lead to other decisions. One is what to do about guard Sindarius Thornwell, whose contract for the upcoming season becomes guaranteed July 20. Thornwell averaged less than five minutes in 64 games during his second season, but was regarded highly by coaches for his versatility defensively.
The biggest decision in free agency, of course, belongs to Leonard.
Since Finals most valuable player was first awarded in 1969, no player to win it has opened the following season on a different team.
Twitter: @andrewgreif
---