Natalie Nakase continues to climb in the Clippers organization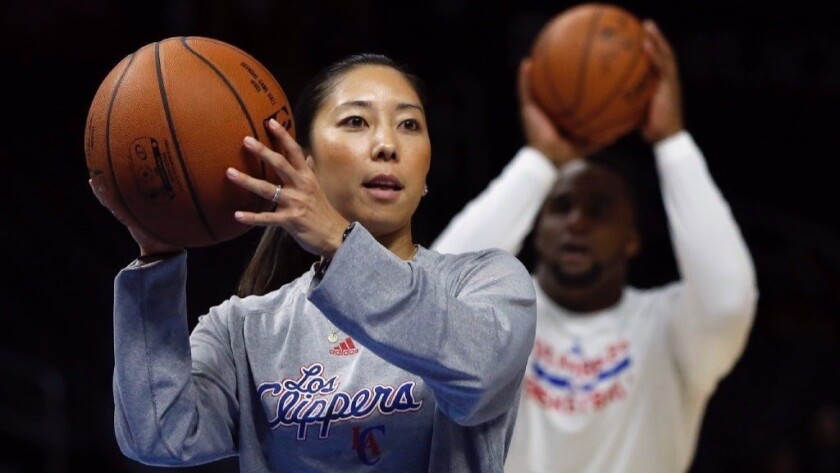 Reporting from Las Vegas —
The Clippers trailed the Sacramento Kings by 10 at halftime of their fourth Las Vegas Summer League game, a chance to advance to the eight-team playoffs potentially on the line.
With the second half about to begin, Natalie Nakase pulled aside 6-foot-8 forward Amir Coffey, who leaned down to listen to the advice of the Clippers assistant coach, who is 5-2.
Whatever advice Nakase gave Coffey worked. Early in the third quarter he finished strong at the rim and drew a foul, converting the free throw for a three-point play. On the defensive end, he contested a shot by Kyle Guy, the NCAA tournament's most outstanding player for champion Virginia. Nakase clapped when Coffey crashed the boards for a rebound.
"She told me to focus on defense," said Coffey, who went undrafted out of Minnesota and is on a two-way contract with the Clippers.
Coffey, who finished with 19 points and nine rebounds in the Clippers' 83-80 win over the Kings, has built a rapport with Nakase over the summer.
"I watched a lot of film with her on things I can correct and get better at, whether that's defensive positioning or offense … making certain reads," Coffey said. "She knows the game well. So anybody that knows the game as well as she [does], you just take their advice and learn. It's the same level of respect."
The Clippers' summer league team finished 3-1 yet was ranked ninth, one spot out of the tournament. Coach Brian Adams gave ample credit to Nakase's offensive prowess, which Clippers head coach Doc Rivers had identified.
"Doc gave me a list of people he would like to help me with [summer league] and Nat was one of them," Adams said. "I've known her for going on six years. I asked Nat if she wanted to be my offensive coordinator. She embraced it. She's done all the breakdown stuff that we do, which is contributing to the style of play. She's been awesome. Constant positive feedback and critiquing. It's been great having her here, it's huge for me."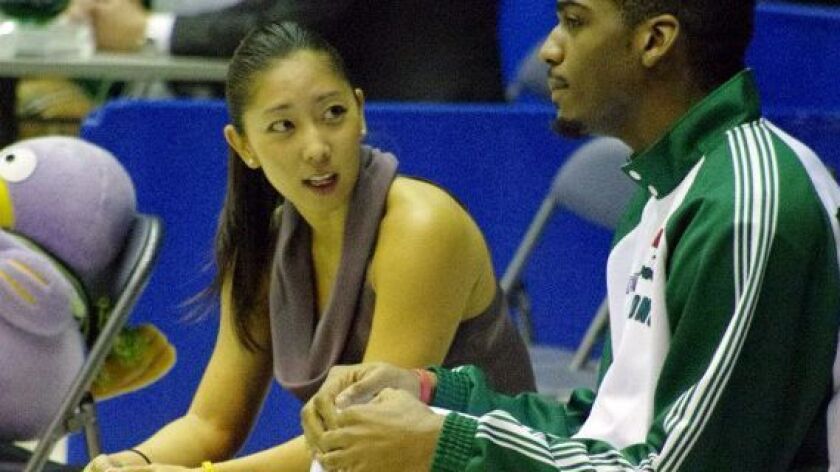 Nakase, 39, made NBA history in 2014 when she became the first female assistant coach at the summer league. Two years before Becky Hammon joined San Antonio's staff, Nakase accepted a position as an intern with the Clippers' video department in 2012, eventually becoming a video coordinator.
She was promoted to assistant coach of their G League affiliate, the Agua Caliente Clippers of Ontario, in 2017. Last year she was promoted to the player development staff.
"It's been a dream of mine to coach in the NBA [and] eventually be a head coach in the NBA," Nakase said. "It's a stepping stone Doc Rivers gave me the opportunity to do. I'm blessed he gave me the opportunity."
There are several other women in NBA coaching positions, including Jenny Boucek (Dallas), Lindsay Gottlieb (Cleveland), Kara Lawson (Boston) and Kristi Toliver (Washington).
"We're all supporting each other," Nakase said. "It's grown since I've started till now. It is incredible to see these women take on these positions, but the main thing is that they are ready to take on these positions. It's not just 'let's hire a woman.' These women are ready; that's what's important "
Sign up for our daily sports newsletter »
The rapid increase of female coaches in the NBA is important, Adams said, but he also contends their gender isn't an important factor in their hiring.
"You're seeing women become NBA coaches all over the place. Nat was one of the pioneers … every year her role has increased. It's great to see," Adams said. "At the end of the day take [the words] 'man' and 'woman' out of it. [Coaches] have to prove they can work and study the game. It's about an opportunity and taking advantage of it. It's not about male or female, it's about doing your job like Nat does day in, day out."
Nakase is accustomed to defying odds. She was a walk-on turned starter at UCLA and played professionally for two seasons in the NWBL and one in Germany, but fell short of earning a spot in the WNBA. She became the first female head coach in Japan's top-tier men's professional league with the Saitama Broncos.
"For me, It's always been motivation," Nakase said. "If you're going to tell me I can't play Division I, I can't play pro or coach in the NBA, I say 'thank you' because I always flipped that type of negative feedback into positive. I'm more motivated to do it because of that."
---
Get the latest on L.A.'s teams in the daily Sports Report newsletter.
You may occasionally receive promotional content from the Los Angeles Times.