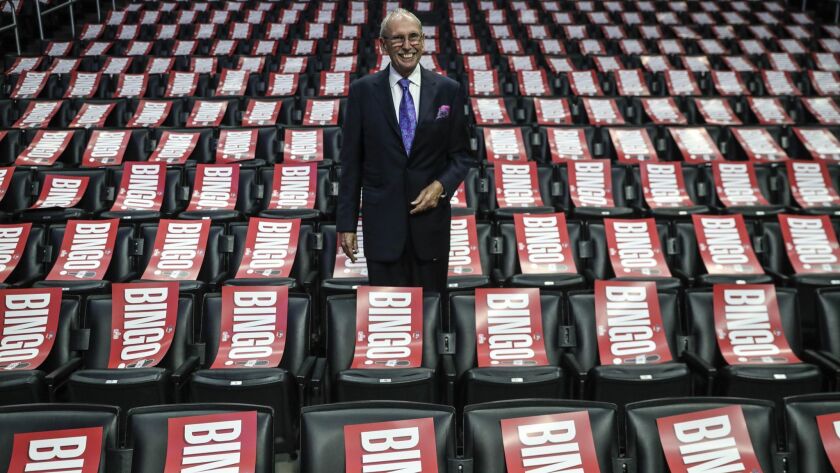 Oh me, oh my.
Another voice from the pantheon of great Los Angeles sports broadcasters is putting down his microphone, and it will be a loss for us all when Ralph Lawler walks away.
Once we had Vin Scully and Jaime Jarrin describing Dodgers championships, Chick Hearn telling us that the Jell-O was jiggling for another Lakers victory, Bob Miller educating fans about hockey, and Lawler rising above the levels of many terrible Clippers teams to deliver ringing, animated play-by-play. Jarrin remains but Scully is in his third year of retirement, health scares nudged Miller to retire in 2017, and Hearn died in 2002. "I'm kind of the last of the old-timers," Lawler mused Wednesday, before he called the 3,229th Clippers game of his career and last regular-season assignment.
There were seasons when Lawler's calls were the best thing about the Clippers. The Peoria, Ill., native saw more bad basketball than any human being should have to witness — more than 500,000 minutes of Clippers games, according to a tribute posted on the center-court scoreboard, during a 40-year tenure that is longer than the existence of eight NBA franchises. He missed only three games.
It's sad he's leaving just as the Clippers are about to begin a playoff journey — he will call the first-round games on TV and any games after that on radio — and finally showing promise of better years ahead. But he's nearly 81 and he knew before this season it was smart to leave while people still wanted to follow "Lawler's Law" and be warned to fasten their seat belts during a tight game and hear him yell "Bingo!" each time a Clipper hit a three-point shot. It was perfect that each fan at Staples Center on Wednesday got a sign with "BINGO" and Lawler's microphone as an exclamation point, and was urged to stand up and add their voices to his own. Many did. It was a joyful noise.
Still, during particularly good games he would wonder if he'd made the right decision. "In the middle of the broadcast I would think, 'I'm leaving this?' What am I doing walking away? You're not going to replace this excitement very easily in your life," he said. But his head overruled his heart.
"This is the time for us to go on and turn the page and go on to the next chapter while we're still healthy enough to turn the pages," he said of himself and his wife, long known as "Sweet Jo."
They met while in real estate school in San Diego; each was married before and combined they have three children, seven grandchildren and a 1-year-old great-granddaughter. Jo joined him for a halftime ceremony in which the Clippers gave them a trip to Australia and New Zealand and announced the establishment of a scholarship in his name at his alma mater, Bradley University. In addition, a golden microphone will be left courtside in his honor. Fans chanted "MVP," another nice touch.
"God love you for still being here," he told fans he remembered from the "dark days" at the Sports Arena. "I wish I were 10 years younger because this franchise isn't going to win a championship. It's going to win championships."
Lawler, who will receive the Curt Gowdy media award from the basketball Hall of Fame in September, now will have time to make up for the Christmas dinners and birthdays he missed during a 60-year-career. He's eager to enjoy restful anonymity in Bend, Ore., where, he joked, no one will follow him with cameras as they did during a pregame ceremony on Wednesday.
The thought he will become anonymous didn't sit right with Bill Walton, who was his broadcast partner for 13 years. "I've got friends up there and I'll take care of that," said Walton, who worked alongside him last night at Lawler's request. "I'll have them follow you around. Bingo! There will be a new billboard in Bend, 'Welcome to Bingoland.'"
There was only one possible response to that. "Oh me, oh my," Lawler said, shaking his head.
Their affection is deep, and Walton credits Lawler with saving his life when Walton hit a low point after years of foot problems and surgeries. Coincidence brought them together at a 7-Eleven in Pacific Beach, and Lawler asked what he was doing. "I said, 'I'm trying to buy a beer here,'" Walton said. "He said, 'No, with the rest of your life.' And I said, 'I have no idea.' And he took a pause and he said, 'Well, I have an idea,' and the rest is history. And here I am.
Sign up for our daily sports newsletter »
"I had never ever given broadcasting [a thought]. I'm 6-11, I've got red hair, big nose, freckles, goofy, nerdy-looking face, I'm a stutterer, I can't talk and I'm a Deadhead …. Learning how to speak is my greatest accomplishment and your worst nightmare."
Walton isn't the only announcer who has benefited from Lawler's generous spirit over the years, though he might be the most exuberant. In between random shouts of "Bingo!" Walton praised Lawler's character, spirit and wit. And Walton was remorseful that while unveiling the "Thanks Ralph" logo on the court he forgot to campaign for Lawler to get one more honor. "Ralph needs to get a statue out front to go with Chick and Bob," Walton said.
Oh me, oh my, yes he does.
---