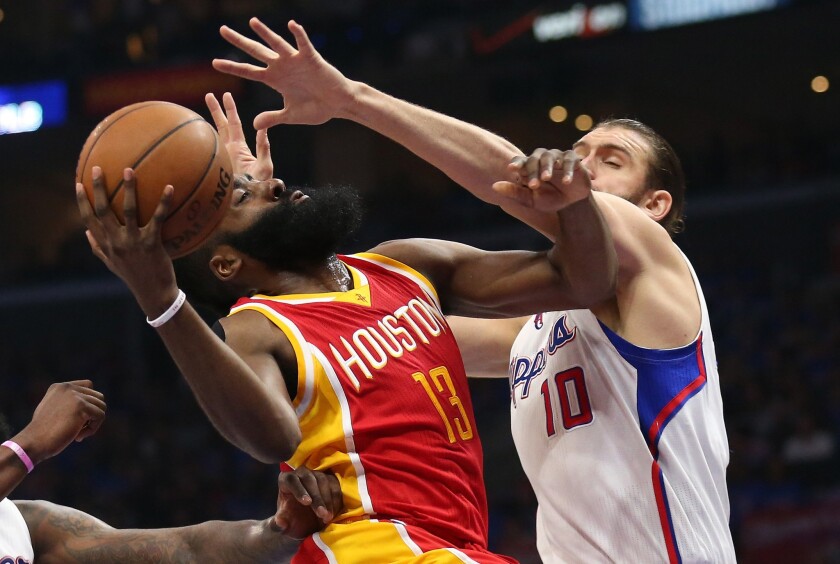 Whose line is it, anyway?
It sure didn't belong to James Harden on Friday night.
The Houston Rockets star, who led the NBA in both free-throw attempts and makes, didn't even show up at the stripe in the first half of Game 3 at Staples Center. That, after making 15 of 15 from the line two nights earlier, in which the Rockets shot 64 free throws — twice as many as the Clippers.
Harden, he of the bushy, witness-protection-program beard, was missing in action at the line.
"I think you saw all game, every time he drove you saw our guys pulling their hands back," Clippers Coach Doc Rivers said. "They had the discipline to do that. We didn't do it at all the last game."
Clearly, the Clippers were determined to make him work for every point, anything to limit a player who averaged 10.2 free throws — 8.8 of which he made — during the regular season.
Harden's first free throws, both made, came with 10 minutes 38 seconds remaining in the third quarter. Even though he's a local, raised in Artesia, he was roundly booed when he stepped to the line.
Three minutes later, Harden drove to the hoop, made a contested shot and looked for the foul call … only to be whistled for a charge. The packed house roared its approval.
Harden, the runner-up to NBA most valuable player Stephen Curry, has notoriously struggled against the Clippers. In 20 career games against the Clippers heading into Game 3 — half of which he started — Harden averaged 14.8 points and made 35.5% of his shots. That's significantly down from his overall career averages of 19.7 points on 44.4% shooting.
By the end of the 124-99 victory by the Clippers, Harden had made five of five free throws and had a team-high 25 points.
What's more, Harden had the additional distraction this week of a dust-up with Clippers forward Matt Barnes. During Game 2 in Houston on Wednesday, Barnes verbally lashed out at a female fan who allegedly said something to him — a fan who turned out to be Harden's mother.
Upon learning the identity of Monja Willis, Barnes "made peace" by talking to her at halftime and after the game. Still, he was fined $50,000 by the league Friday for directing inappropriate language at a fan.
During a shootaround Friday, Rockets forward Josh Smith was asked whether he and his teammates might try to rough up the wiry Barnes to send him a message.
"We don't care about anything but winning the basketball game," Smith said. "We're not focused on verbal wars. On the court, you really can't do anything. You do something you're going to get suspended. Nobody wants to lose money, so it's all about staying focused and channeling that energy into something positive instead of something negative."
As good as that sounds in theory, Barnes was hammered by bulky forward Terrence Jones on a drive late in the second quarter. Jones knocked Barnes into the padded stanchion. Unfazed, a nodding Barnes got nose to nose with Jones to let him know he'd be around all night.
Harden, for one, couldn't have felt overly positive about his team's performance in the first two quarters, after which the Rockets trailed, 64-57.
Harden had 10 points in the half, fourth best on his team.
---