Clippers hold on to win 116-102
The Clippers' lead was evaporating, their energy waning, their star player making the sort of mistakes that lose you a playoff series and end your season.
Then, their star player started hitting shots. They got a second wind. They built the lead back up, never giving in and leaving Phoenix with a 116-102 victory and a season extended.
After the Suns cut their lead to as little as six points in the fourth quarter, it was the home team that ultimately ran out of energy. The Clippers, who looked to be on the precipice of a devastating loss, finished off the victory and set up Game 6 on Wednesday at Staples Center.
Paul George scored a playoff career-high 41 points on 15-of-20 shooting, leading the Clippers in a hostile Phoenix Suns Arena environment. Marcus Morris had 22 points thanks mostly to a red-hot first quarter and Reggie Jackson continued an impressive postseason with 23 points on 8-of-14 shooting.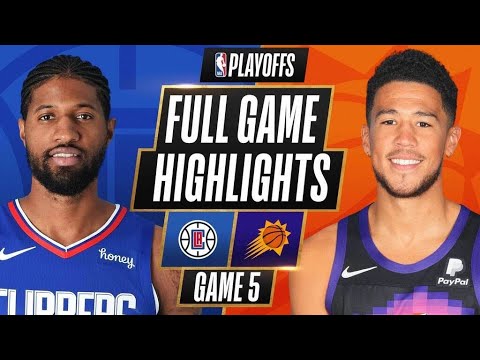 Video highlights from the Clippers' 116-102 victory over the Phoenix Suns in Game 5 of the Western Conference finals on June 28, 2021.
"PG's been great for us all year," Clippers coach Tyronn Lue told reporters, "and I just don't understand why it's magnified so much when he doesn't play well. ... I'm just happy he came back and played a great game."
As a team, the Clippers shot 54.8% from the field, easily outstripping the Suns's 45.8% mark.
Devin Booker led the scoring for Phoenix with 31 points on 9-of-22 shooting. Chris Paul was the only other Suns player to score above 20 points with 22 on 8-of-19 shooting.
The Clippers have made a habit of coming back to win playoff series. They took the first step to doing it for a third straight time on Monday.
"We thrive in this moment," Paul George said.
For what might be the first time in the history of a franchise defined by doing the opposite, that appears to be true.