Clippers respond with a vengeance to Kelly Oubre Jr.'s antics in win over Suns
Having already dunked on, and subsequently stared down, Clippers forward Paul George within the first minute of Tuesday's game at Staples Center, Phoenix forward Kelly Oubre Jr. went about adding to his highlights.
He blew kisses to the crowd after sinking a first-quarter jump shot. Before halftime, he bounced like a Pogo stick to block a dunk attempt by center Ivica Zubac at the rim. His energy was everywhere and because of it the Suns, even playing on a second consecutive night without leading scorer Devin Booker, trailed the Clippers by only 10 points at halftime.
It was not close for much longer, because in the process of what became the Clippers' 120-99 runaway victory, their 10th consecutive win at home and the third-longest streak in team history, they proved they were unwilling to commit the same mistake that doomed them during the teams' first meeting
It was October, when some on the Clippers realized what life would be like as the NBA's hunted.
After opening their schedule with an emotion-filled home opener against the Lakers and a road date at the new Chase Center against Golden State, the Clippers' third game came against a Suns team that hadn't beaten the Clippers in three years or been a Western Conference factor since 2010.
Landry Shamet's on-court presence is a huge plus for the Clippers, but missing 17 games because of a high ankle sprain continues to complicate his return.
The Clippers played as though they appeared to expect a 13th consecutive victory in the series. Instead, they were jumped from the start in what became an eight-point road loss, a reminder, players said, that the Clippers had better grow used to matching the energy of opponents looking to bag a signature win against a Clippers team billed as a championship contender.
"That was the first game that happened to us," Zubac said of an eight-point Oct. 26 loss in Phoenix. "They came at us and after that we were like, everyone's going to give us their best shot."
That will only continue the rest of the season, as the Clippers barrel toward the playoffs and a potential high seed. If the Suns loss made the Clippers certainly aware of the proverbial target on their back, they haven't always been able to blunt opponents' charges. Maurice Harkless pointed to Saturday's loss in Chicago as a missed opportunity.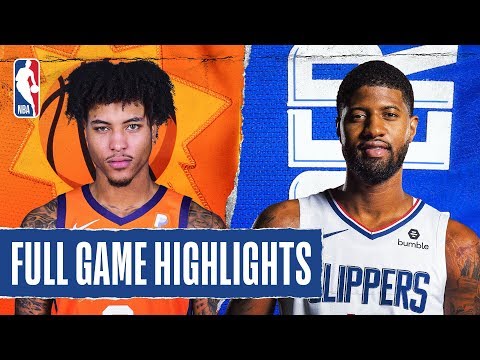 Highlights from the Clippers' win over the Phoenix Suns on Tuesday.
"They came at us and, I thought we were ready for it, the road trip just kind of caught up with us," Harkless said. "We gotta assert ourselves early in games and not give teams that confidence. No matter how we come into a game, we gotta be ready because we know the team on the other side is going to give us everything they got."
On Tuesday, the Clippers held Phoenix to 40% shooting in the first half, but makeable shots weren't falling and the effects from a six-game trip were evident.
"I thought the whole team in the first half was a little sluggish," coach Doc Rivers said. "But I thought we kind of ran it out."
In the third quarter, the Clippers outscored the Suns by 11 points and took control through their defense.
In the fourth quarter, it was their offense that ended any threat from the Suns.
George had a team-high 24 points, and Kawhi Leonard had 20 and six rebounds. Lou Williams came off the bench to score 20 points, including 11 in a row in less than 90 seconds during the fourth quarter to open a 101-80 lead.
With the two returning from injury, the Clippers had their pulse and heart back again and all was right with their world.
"When he gets it going," Rivers said, "there is no shot he can't make."
Phoenix's Deandre Ayton had waited 25 games for Tuesday's appearance, the length of his suspension after testing positive for a diuretic. Getting on the court took even more patience. The Suns' last bus arrived at the arena an hour before tipoff, forcing the top pick in the 2018 NBA draft to undergo a rushed warmup.
Ayton missed Phoenix's first shot — his first field-goal attempt since Oct. 23 — but finished with 18 points and 12 rebounds.
Oubre had a team-high 19 points but couldn't transfer the effectiveness of his first-half energy into the second half. And in the end, he ended up on the wrong side of not only the game, but a highlight.
In the second quarter, his errant pass was intercepted at midcourt by George. Oubre backpedaled, blocking George as much as possible, but the Clippers forward rose for a dunk, exacting a measure of payback.
And when it was over, he stared at Oubre.
Sign up for Full-Court Text with NBA reporter Dan Woike
Receive SMS texts about the Lakers, Clippers and the rest of the NBA and text back with your questions.
Get our high school sports newsletter
Prep Rally is devoted to the SoCal high school sports experience, bringing you scores, stories and a behind-the-scenes look at what makes prep sports so popular.
You may occasionally receive promotional content from the Los Angeles Times.