Clippers' Patrick Beverley favorite to win NBA 2K Players Tournament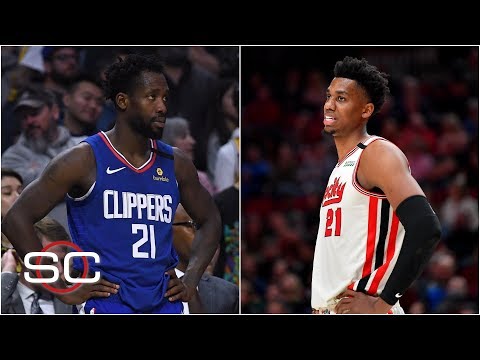 Patrick Beverley talking a little smack before the NBA 2K tournament.
To seed its players-only video-game tournament, the NBA settled on using each player's own rating in NBA 2K.
It turns out, however, the rating isn't much of a gauge of a player's ability in the actual game.
One round into the 16-team, ESPN-televised tournament, 14th-seeded Clippers guard Patrick Beverley is now the betting favorite to win, slightly ahead of Phoenix's Devin Booker, according to multiple oddsmakers.
Beverley is one of four double-digit seeds to advance, joining 16th-seeded Derrick Jones Jr. of Miami, who beat top-seeded Kevin Durant by 16 points. Washington rookie Rui Hachimura, seeded 13th, beat fourth-seeded Donovan Mitchell of Utah and 10th-seeded DeAndre Ayton of Phoenix upset seventh-seeded Zach LaVine of Chicago, as well.
Beverley, 31, is the Clippers' go-to irritant defensively while making 39% of his three-pointers since he arrived via trade from Houston in 2017. And his standing as one of the locker room's essential voices is a product of contributions that go beyond what is captured in box scores, teammates and coaches have said in praise of the Chicago-raised guard. He also has a way of controlling games virtually, even beating teammate Paul George — a renowned gamer who was on the cover of NBA 2K in 2017 — at George's own tournament in November.
What works in real life, though, isn't necessary reflected in a video game, and Beverley was seeded 14th because of his 78 overall rating.
Beverley disagreed with his seeding before the tournament began, touting his experience.
The NBA 2K Players Tournament will feature a showdown between NBA players in the video game world. Here are some key facts about the esports event.
"I guess people forgot I was overseas for five years," he told ESPN on Friday, "and every day I played 2K, all day."
Later that day, Beverley beat Portland's Hassan Whiteside by 30 points in the first round in what was somehow a classic Beverley performance: At one point during the ESPN broadcast, which was filming from Beverley's house in Houston, the guard screamed for his virtual player to jump on the court to grab a loose ball.
Beverley and Clippers teammate Montrezl Harrell could be on a crash-course for the tournament championship April 11, which awards $100,000 to a charity of the winner's choosing in support of coronavirus relief efforts. The eighth-seeded Harrell beat Indiana's Domantas Sabonis by 18 points on Sunday to advance to Tuesday's quarterfinals on ESPN2, where he will face Jones.
Beverley will face sixth-seeded Andre Drummond of Cleveland.
Get our high school sports newsletter
Prep Rally is devoted to the SoCal high school sports experience, bringing you scores, stories and a behind-the-scenes look at what makes prep sports so popular.
You may occasionally receive promotional content from the Los Angeles Times.