Fifty-point halftime deficit!? Clippers suffer largest loss in franchise history
Clippers owner Steve Ballmer stood near the court inside Staples Center, staring blankly at the freshly printed box score in his hand, as team President Lawrence Frank stood at his side.
Ballmer made his billions through his ability to draw insights out of data. The numbers he was looking at Sunday afternoon, however, led to just one conclusion.
During one of the most inexplicable first halves in the franchise's five-decade history, the Clippers could not shoot, rebound, defend or hold on to the ball, and it all added up to the most eye-popping figure of them all — a 50-point halftime deficit, the largest in NBA history since the league introduced the shot clock 66 years ago.
"Wasn't a lot of fight, a lot of pop [today]," coach Tyronn Lue said.
The trouble during Dallas' eventual 124-73 victory wasn't only that star forward Kawhi Leonard missed the game, two days after needing eight stitches to close a laceration in his mouth, and forward Marcus Morris, another of the team's best defenders, sat out for a third consecutive game because of a sore knee.
2020 should have been the greatest year for sports fans with the Lakers and Dodgers winning titles, but Kobe Bryant's death and the coronavirus changed that.
The free-flowing offense that carried the Clippers through gut-check victories to open the season against the Lakers and Denver, two of the Western Conference's top contenders, crumbled under a horrific shooting performance in which the Clippers made one of their first 20 three-point attempts and four of 33 tries from deep overall.
The poise displayed while weathering Lakers and Nuggets rallies days before was nowhere evident during the first quarter, when the Clippers could not stabilize themselves after a litany of turnovers and misses, allowing their free fall to continue unchecked.
It was the first home game of the Clippers' season, yet it was probably for the better that COVID-19 pandemic protocols kept fans from watching in person what spiraled into the largest margin of defeat in franchise history.
"We let them do their plays like it's a walk-through," center Ivica Zubac said. "We didn't make it tough for them. We didn't pressure them. We just let them do whatever they want, and they made all their shots. We didn't make anything."
While Dallas star Luka Doncic scored 13 points, with six rebounds and four assists, in the first quarter alone, the Clippers (2-1) mustered 13 points total, looking as though they were still sleep-walking from their 4 a.m. arrival Saturday after their win in Denver. Doncic finished with a game-high 24 points in 26 minutes and added nine rebounds and eight assists.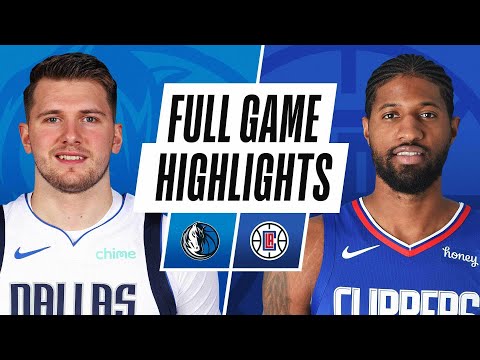 Highlights from the Clippers' 124-73 loss to the Dallas Mavericks at Staples Center on Sunday.
It took 10 minutes for the Clippers to hit double digits in points. By that time, Dallas had already scored 29. It took 15 minutes for Luke Kennard to become the third Clipper to register a point.
By halftime, the Mavericks (1-2) had made nine three-pointers and the Clippers nine field goals total.
George offered "full responsibility," saying the sluggish start was partially because he wasn't mentally ready after spending the previous day celebrating Christmas with his family, having been out of town on the holiday.
"We got our butts kicked today, but, you know, it's one game," said George, who finished with 15 points in 24 minutes and had four assists and two rebounds. "Think we will just take what we need to take away from today and go to the next one. We wasn't ready today. We wasn't prepared. Not from the [coaches'] plan but us just being ready to go. And that's on me. So we will be ready for the next game."
There was a brief moment of pushback to begin the third quarter, when 10 unanswered points by the Clippers trimmed their deficit to 40. By the quarter's end, however, starters had been replaced by reserves and the Mavericks led 104-57.
The Clippers avoided making more history midway through the fourth quarter when Reggie Jackson's three-pointer gave them 66 points, ensuring they would exceed the 63 the Buffalo Braves scored in 1972, the franchise low for points in a game.
A lacerated mouth suffered against the Denver Nuggets on Christmas will cause Clippers star Kawhi Leonard to miss Sunday's game against Dallas.
Lue called the historic rout an exception rather than a step backward from the progress gained during a pair of impressive victories to start the season. If the Clippers watch the film, which Lue was not sure would happen before Tuesday night's game against Minnesota, they will need to "look at pretty much every possession," Zubac said.
"Mentally, I hope guys just kind of wash this one off, find a way to get better, watch the film and understand that it's only one of 72," Jackson said.
George scored the game's first basket, freezing his defender in front of the Clippers' bench before rising for a 19-foot jumper, but it would be the Clippers' only lead — one that lasted all of 17 seconds. George threw the ball away on the team's fourth and seventh possessions. The turnovers helped Dallas' lead snowball.
In Leonard's place, the Clippers started Kennard, who scored seven points with two rebounds in 29 minutes. Lue didn't provide a timetable for Leonard's return.
"Hopefully he's fine," Lue said. "I'm not sure yet."
Leonard watched the game in a track suit from the bench, even standing in front of teammates and offering a few words during a first-half timeout. But not much could be said. The numbers explained it all.
Three observations
With four turnovers Sunday, Paul George has 15 turnovers in his first 97 minutes. He said he must do a better job "valuing the possession," and coach Tyronn Lue said George must be more decisive.
No team during the new season has made fewer three-pointers than the four the Clippers made Sunday or shot a lower percentage from deep than the Clippers' 12.1%.
Foul trouble continues to follow guard Patrick Beverley, who was called for four Sunday and has 13 through three games.
Get our high school sports newsletter
Prep Rally is devoted to the SoCal high school sports experience, bringing you scores, stories and a behind-the-scenes look at what makes prep sports so popular.
You may occasionally receive promotional content from the Los Angeles Times.