Clippers have no Finals answer, eliminated by Suns in Game 6
For 29 days they were constantly on the move, shuttling between basketball courts in Los Angeles and Dallas, Salt Lake City and eventually Phoenix, a game scheduled every other day as their manic, marathon postseason continued deeper than any Clippers team before it.
When its end arrived Wednesday inside Staples Center, with minutes still to play in a 130-103 loss in this clinching Game 6 of this Western Conference finals, the Clippers finally had nowhere to go.
There would be no Game 7 in Phoenix. There would be no plane ride to a Finals date in either Milwaukee or Atlanta. There were only long stares, emotionless expressions and a team coming to terms with the one deficit it could not overcome after five weeks of rallies.
Arms crossed, coach Tyronn Lue leaned against the scorer's table inside Staples Center as Suns guard Chris Paul made a final three-pointer.
Paul George, the All-Star who had played more minutes than anyone this postseason, checked out to a standing ovation with 2:58 remaining and wiped his brow with a towel in a folding chair.
Kawhi Leonard, joining his teammates on the sideline for the first time in these Western Conference finals, the injured right knee that had cost him eight consecutive games hidden in black pants, looked down the sideline where Suns star Paul, after scoring 41 points, screamed a cathartic roar inside the arena he once called home.
The Comeback Clippers' magical run in the NBA playoffs ended in ugly fashion with 130-103 loss that reminded everyone of the franchise's past.
It was Paul who finally dug his former team a trench too deep, then tossed on the dirt for good measure, his 31 second-half points making him only the third player in the last 25 years to score at least 30 after halftime in a series-clinching victory. It sent the Suns to their first NBA Finals since 1993 while denying the Clippers the kind of rally that had extended their season during two, previous rounds.
Those comebacks had become so routine, that it didn't appear over when Phoenix built a 10-point lead with nine minutes left before halftime. It was tied four minutes later.
And it didn't appear over when their lead was up to 17 with four minutes to play in the third quarter. Only two minutes later, the Clippers had chopped that to seven. But after three inconsistent games while playing with injured ligaments in his left hand, Paul was indomitable. His seven three pointers and 66% shooting overall led to his first Finals appearance in his 15th season, alongside a coach, Monty Williams, who had wept four hours before tipoff at the realization of how close the Suns were to the Finals.
"I understood the emotions that Chris was dealing with," Williams said. "I just ran out of tears. I used all mine up about 2:30, 3 o'clock today."
Paul George scored 21 points, two days after rescuing the Clippers' season with 41 in Game 5.
"This team squeezed everything we could out of what we had," George said.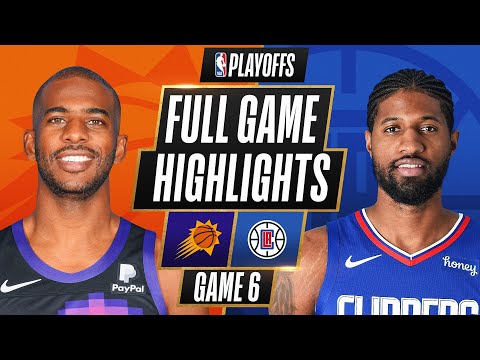 Video highlights from the Phoenix Suns' 130-103 victory over the Los Angeles Clippers in Game 6 of the Western Conference finals on June 30, 2021, at Staples Center.
Marcus Morris scored a team-high 26 points for the Clippers, who made 12 of their 39 three-pointers while the Suns drilled 17 of their 31.
At times, this was not the Clippers' finest hour. With 5:49 to play, and the Clippers down 26, Patrick Beverley shoved Paul in the back with two hands and was ejected.
At that moment "we knew we broke them," Suns forward Jae Crowder said.
Like their three other losses in this series, this was a winnable game spoiled by self-inflicted mistakes, aided by mental and physical fatigue Lue acknowledged had caught up to his team. It wasn't a last-second inbounds pass (Game 2) or an 0-for-10 shooting slump with a chance to take the lead (Game 4) that hurt the Clippers this time but allowing 19 second-chance points — on a night when the Clippers didn't have a second chance to fall back on.
"I think it's a shock to a lot of the guys in the locker room" that the season was over, Lue said. "It tells you a lot about the team. No matter who's playing we think we still have a chance."
Guard Reggie Jackson's eyes welled with tears after the final game of the best season of his 10-year career, describing how his teammates had "revitalized" his career nine months after he'd weighed his passion to continue playing. His questions coincided with many the Clippers faced after a postseason collapse that revealed fault lines in that roster's foundation, leading to former coach Doc Rivers' exit.
When Lue took over, he told players that he would not accept finger-pointing. And when injuries sidelined center Serge Ibaka (back), Leonard (knee) and center Ivica Zubac (right knee) in the postseason, the Clippers didn't wilt but welcomed the challenge.
"Finally getting to a position and place that we've never been before as an organization, it means a lot to the guys in the locker room, even though we want to do more, and we're going to do more," Lue said.
"But just taking that next step of erasing the bubble, the talk of can we perform, can we get to the next step? And those guys have done that."
What they could not do was add another 48 hours to their season. Paul made sure of that. He took questions with the conference-title trophy in front of him, a silver basketball he had never claimed before, the trophy the Clippers still seek. "There's no excuses, healthy or unhealthy," George said. "You're literally one possession in each game up to this point, one possession in each one of those games to this series being a lot different.
"But at the same time, you understand the healthiest team usually wins at this time. We were very unfortunate to be on the bad side of that."
Get our high school sports newsletter
Prep Rally is devoted to the SoCal high school sports experience, bringing you scores, stories and a behind-the-scenes look at what makes prep sports so popular.
You may occasionally receive promotional content from the Los Angeles Times.