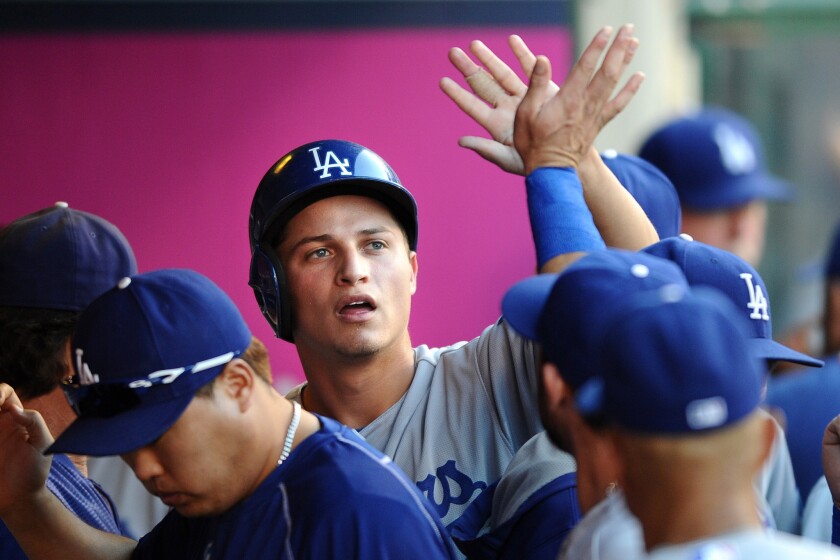 Reporting from Phoenix —
As well as Corey Seager has played in his first eight games in the major leagues, Manager Don Mattingly said he plans for Jimmy Rollins to be the Dodgers starting shortstop when he returns from a jammed right knuckle.
"When Jimmy gets back, we plan on playing Jimmy," Mattingly said.
Seager, 21, will start his fifth consecutive game at shortstop Saturday in place of the sidelined Rollins.
Widely regarded as one of the top prospects in baseball, Seager is batting .385 with four doubles and four runs batted in. Seager reached based four times Friday night in the series opener against the Arizona Diamondbacks, as he was one for one with three walks.
"He's been pretty good," Mattingly said. "Kind of what we expected. He's pretty mature, doesn't get too excited. He's got a good eye. He can hit both sides."
Mattingly said Seager's inexperience doesn't scare him.
"He doesn't scare me at all, I'll tell you that," Mattingly said. "I'm not afraid to put him out there."
Comparing Seager's even temperament to Adrian Gonzalez's, Mattingly said he wouldn't be afraid to play him in a postseason game, either.
"He's kind of got that Gonzo kind of heartbeart, pretty slow," Mattingly said. "He'll live to be like 108 or something. His blood pressure is really low, I bet."
When Rollins is ready to play, Seager will be a backup to him at shortstop, as well as to Justin Turner at third base.
Rollins, 36, is a former National League most valuable player and World Series champion. Rollins is batting a career-low .220, but has 13 home runs.
---