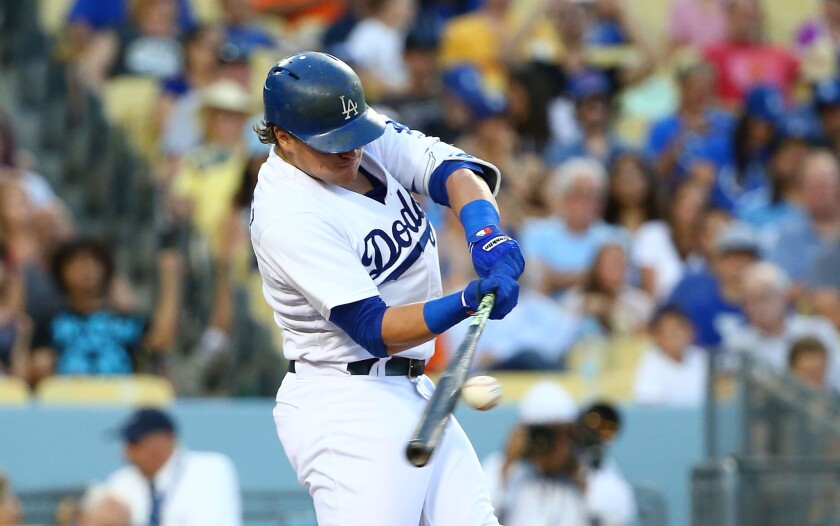 When the Dodgers take the field Saturday for Game 2 of their National League division series against the New York Mets, Enrique Hernandez will replace Joc Pederson in center field and Yasmani Grandal will supplant A.J. Ellis at catcher.
Corey Seager, who was the Dodgers' No. 3 hitter in Game 1, will bat second.
With right-hander Noah Syndergaard pitching for the Mets, the left-handed-hitting Carl Crawford and Andre Ethier remain the team's corner outfielders.
Howie Kendrick will lead off for the first time this season.
Crawford, who led off Friday night, will be dropped to the sixth spot in the lineup.
The Mets made one change to their lineup, replacing Michael Cuddyer in left field with rookie Michael Conforto.
Dodgers lineup:
Howie Kendrick 2B
Corey Seager SS
Adrian Gonzalez 1B

Justin Turner 3B
Andre Ethier RF
Carl Crawford LF
Yasmani Grandal C
Enrique Hernandez CF
Zack Greinke P
Mets lineup:
Curtis Granderson RF
David Wright 3B
Daniel Murphy 2B
Yoenis Cespedes CF
Lucas Duda 1B
Travis d'Arnaud C
Michael Conforto LF
Ruben Tejada SS
Noah Syndergaard P
---