Dodgers defeat Braves, 4-3, to advance to NLCS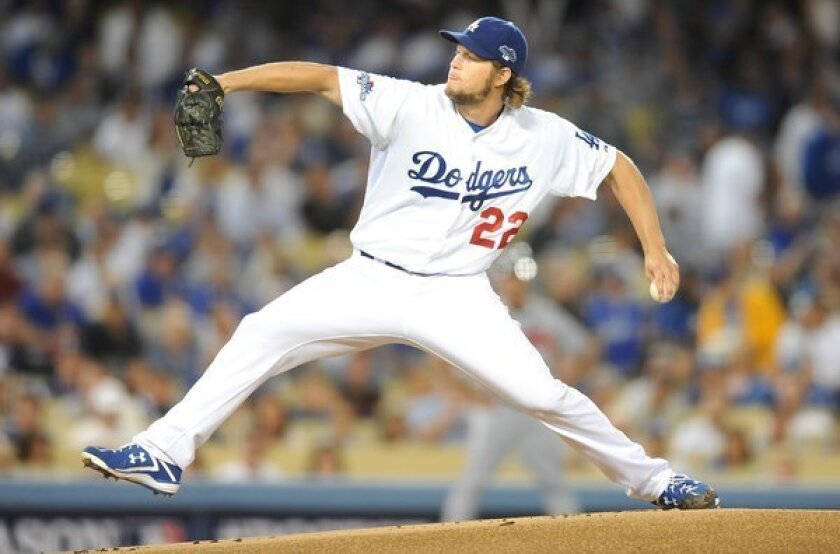 Juan Uribe, almost booed out of town after two disappointing seasons with the Dodgers, continued his redemption in dramatic fashion.
Uribe hit a two-run homer in the bottom of the eighth to give the Dodgers a 4-3 comeback victory Monday night at Dodger Stadium over the Atlanta Braves in their division series.
The Dodgers became the first team to clinch a division series, defeating the Braves, 3-1, in the series. The victory advances the Dodgers to the National League Championship Series, where they'll play the winner of the Pittsburgh Pirates-St. Louis Cardinals series, which is tied, 2-2.
BOX SCORE: Dodgers 4, Braves 3
Manager Don Mattingly at first asked Uribe to bunt after Yasiel Puig led off the eighth inning with a double. Twice Uribe failed to get the bunt down.
Then on a 2-2 pitch, he crushed a David Carpenter pitch to the left field corner. The sellout crowd at Dodger Stadium exploded, absolutely rocking the ballpark.
If the series turned into a battle of bullpens, the Braves were supposed to have the edge, but Uribe changed that conversation.
Closer Kenley Jansen struck out the side in the ninth, and the Dodgers began to celebrate on the field and blue and silver streamers were released over the stadium.
Here is an inning-by-inning recap of Game 4:
Dodgers 4, Braves 3 (end of game):
Kenley Jansen wasted no time in finishing the game off. He struck out Jordan Schafer, Jason Heyward and Justin Upton to end it.
Dodgers 4, Braves 3 (end of eighth):
And a hero walked among them.
After Yasiel Puig opened the inning with a double off David Carpenter, Manager Don Mattingly asked Juan Uribe to bunt him to third. Agh! The speedy Puig could score easily from second on a single. Uribe twice failed to get the bunt down.
Then on a 2-2 pitch, he absolutely drilled a two-run homer out to left. The stadium was absolutely shaking. He also had a two-run homer Sunday.
The Dodgers are bringing in Kenley Jansen in to close it out in the ninth and wrap up the series.
Braves 3, Dodgers 2 (middle of eighth):
Brian Wilson came in to pitch the eighth. The Beard struck out his first two (Brian McCann striking out for the fourth time), and then gave up a singles to Chris Johnson and Andrelton Simmons before he got Elliot Johnson to fly out.
Braves 3, Dodgers 2 (end of seventh):
The Dodgers are down to their last six outs.
The got a two-out double from Mark Ellis off Luis Avilan in the seventh, and this time the Braves intentionally walked Hanley Ramirez to bring up Adrian Gonzalez.
But Gonzalez, who led the Dodgers with 100 RBI this season, flew out to right on a full count.
Braves 3, Dodgers 2 (middle of seventh):
Clayton Kershaw called it a night and the Dodgers immediately fell behind.
Ronald Belisario gave up a triple to Elliot Johnson. It might have been held to a double, but Yasiel Puig tried a sliding stop and the ball squirted past him.
The Dodgers brought the infield in for pinch-hitter Jose Constanza, but he lined a single to center to score Johnson.
Manager Don Mattingly immediately pulled Belisario, calling on J.P. Howell to end the inning.
Freddy Garcia, 37, went six fairly remarkable innings for the Braves, holding the Dodgers to a pair of Carl Crawford solo homers. He gave up eight hits and struck out six.
Dodgers 2, Braves 2 (end of sixth):
Juan Uribe doubled with two outs, so the Braves intentionally walked Skip Schumaker to bring up A.J. Ellis.
It worked, Ellis bouncing out to third.
It also marked the final inning for Clayton Kershaw, who is not coming out to start the seventh. Ronald Belisario is in to make it a bullpen game.
Kershaw pitched plenty well enough to win, holding the Braves to three hits and striking out six but was betrayed by a pair of unearned runs. After throwing 124 pitches Thursday, he threw 91 Monday.
Dodgers 2, Braves 2 (middle of sixth):
Clayton Kershaw got the easy inning he needed. He retired the Braves in order -- striking out Brian McCann for a third time.
It took him only 12 pitches, bringing his total pitch count to 91 after six innings.
Dodgers 2, Braves 2 (end of fifth):
Freddy Garcia, who in the past year was released by the Padres and designated for assignment by the Orioles, is holding the Dodgers in check.
Garcia has matched Clayton Kershaw through five innings, holding the Dodgers to a pair of runs. The Dodgers did have Carl Crawford walk and steal second in the fifth, but Garica struck out Mark Ellis and got Hanley Ramirez to bounce out.
Dodgers 2, Braves 2 (middle of fifth):
This is becoming an extremely tense game, and one Clayton Kershaw doesn't figure to finish.
Kershaw held the Braves scoreless in the fifth, but he did walk a batter and had to throw more than he wanted.
After 4 1/2 innings, Kershaw has thrown 79 pitches. He threw 124 pitches in Thursday's Game 1.
Dodgers 2, Braves 2 (end of fourth):
The Dodgers could find only pieces of an attack in the fourth.
Yasiel Puig opened the bottom of the inning with a single, but was thrown out attempting to steal.
Then with two outs, Skip Schumaker came up with one odd hit. He lined a ball down the first-base line. Freddie Freeman stuck out his glove and found the ball, only it was hit so hard it actually drove his glove off his hand and to the ground.
Freeman quickly recovered, but his underhanded throw to Freddy Garcia was too late to nab Schumaker. Garcia, however, caught A.J. Ellis looking at a third strike.
Dodgers 2, Braves 2 (middle of fourth):
Clayton Kershaw won't be throwing a dramatic shutout. Not when he team keeps muffing double-play balls behind him.
Kershaw gave up a leadoff single to Freddie Freeman and then saw Adrian Gonzalez charged with an error when he fielded Evan Gattis's bouncer and threw it past a somewhat late-covering Hanley Ramirez at second.
Kershaw struck out Brian McCann looking, again, but Chris Johnson singled in a run. Andrelton Simmons hit a bouncer to Juan Uribe, who fired to Mark Ellis to start what should have been an easy double play.
Instead the normally reliable Ellis threw the ball past Gonzalez for an error as Gattis scored the tying run. Both runs were unearned.
Dodgers 2, Braves 0 (end of third):
After striking the ball hard in the first inning and looking like they might jump on starter Freddy Garcia, the Dodgers started quieting down.
Until it was Carl Crawford's time to come to the plate again. Crawford once more hit a solo home run, this one just staying fair but landing well into the stands.
It was his second homer of the game and third in two games. Going into the postseason, he'd hit only two since April.
Dodgers 1, Braves 0 (middle of third):
So far Clayton Kershaw hardly looks bothered by starting on short rest.
Kershaw retired the side in order in the third. The hardest hit ball was actually struck by pitcher Freddy Garcia, who sent Carl Crawford to the wall.
Dodgers 1, Braves 0 (end of second:
Quick bottom of the inning for Dodgers, who went in order. Freddy Garcia struck out Juan Uribe and A.J. Ellis.
Dodgers 1, Braves 0 (middle of second):
The Braves weren't happy about some of home plate umpire Bill Miller's calls. Brian McCann was called out on a curveball that must have seriously broke, because catcher A.J. Ellis caught it in the dirt.
McCann shared his dismay with Miller, causing Manager Fredi Gonzalez to come out and bring him back to the dugout.
After Chris Johnson singled for Atlanta's first hit, Kershaw retired the next two Braves, including Andrelton Simmons on a called third strike.
Dodgers 1, Braves 0 (end of first):
The Dodgers weren't into wasting time. Their first hitter of the game, Carl Crawford, deposited a leadoff solo homer into the right-field stands. He also hit a three-run homer on Sunday.
After a Hanley Ramirez single they almost added two more, but Yasiel Puig's drive was caught at the wall by right-fielder Justin Upton.
Dodgers 0, Braves 0 (middle of first):
Clayton Kershaw throws a scoreless first, though leadoff hitter Jason Heyward hit a bouncer to Adrian Gonzalez the normally reliable first baseman bobbled for an error. Kershaw then retired the next three Braves in order.
The Dodgers did offer a twist on the first-pich ceremony. From around second base Eric Karros threw to Steve Garvey at first. Karros sprinted to half way down the first base line, where Garvey -- who apparently still has trouble throwing -- tossed it to Karros, who turned home and threw to Steve Yeager.
Garvey then took the microphone and said to the crowd: "Welcome to the final game of the 2013 NLDS." The crowd went wild.
Pregame:
Few athletes have seen their life has changed in the course of one year like Yasiel Puig.
He had just completed his first season in the minors, a partial one at that, after being signed out of Cuba for a stunning seven-year, $42 million deal. A price that may prove an actual bargain.
Puig, 22, is now a regular with the Dodgers and has started ever postseason game for the Dodgers. In three games, he's hitting .462 and has scored four runs. All six of his hits have been singles, yet he constantly seems to be having an impact on the games with his hustle and daring.
Quite a change for someone who a year ago was trying to figure out what to do with his first offseason.
"I don't focus too much on it being the playoffs or being my first opportunity or anything like that," Puig said. "It's really just another game that I've played, and so I always give my best because it's the game that I love to play."
Puig seemed to come up slightly limping at one point in Sunday's game, but said he felt fine Monday. As hard as he plays, it always seems like he's running or diving into something.
"I feel in perfect condition, and I'm ready to give it my best today as well against Atlanta to finish the series here so I can start preparing for the next team that comes," he said.
---
Get our Dodgers Dugout newsletter for insights, news and much more.
You may occasionally receive promotional content from the Los Angeles Times.