For the Dodgers, moving past Aroldis Chapman was the right move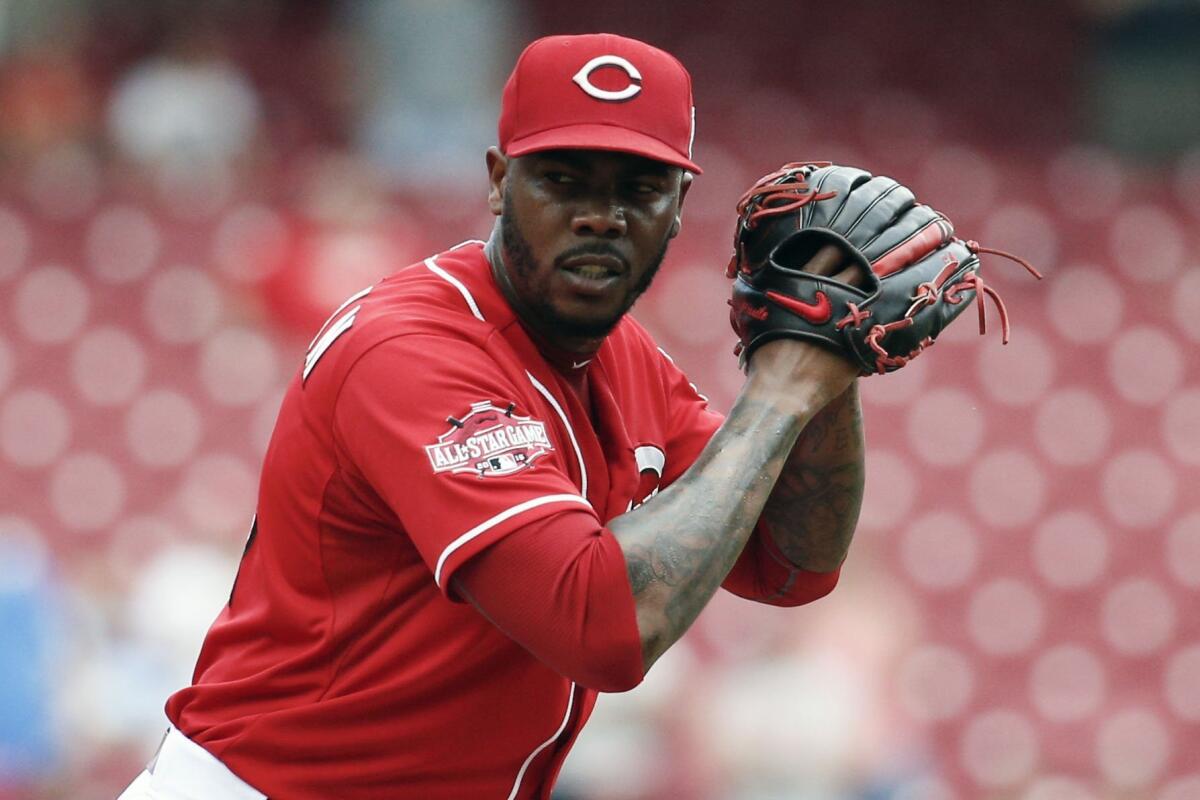 OK, just understand right now there are going to be times when you look back on this Aroldis Chapman chapter to the Dodgers' curious off-season and lament what could have been.
He's going to throw 100 mph. He's going to save games. Going to look big and powerful and extremely useful on the mound.
Which does not mean the Dodgers should have completed their deal for the hard-throwing closer. Really, it's kudos to them for moving on.
When reports broke during the Winter Meetings that Chapman had been involved in an alleged domestic violence incident, the Dodgers backed off a supposedly done deal that would have acquired the Reds closer for a pair of prospects.
Teaming with Kenley Jansen, the addition of Chapman would have suddenly given the Dodgers a super back end to their bullpen. The temptation was understandable. Now the Yankees have the super bullpen, going where the Dodgers decided not to Monday, trading prospects for Chapman.
The Dodgers were in a different situation than the Yankees. If they'd gone through with the deal, they would have had both Jansen and Chapman pitching in their final season before becoming free agents. That's an awkward situation, and one Jansen was reportedly – and understandably – not happy about.
Now maybe the Dodgers front office just thought they could put Chapman in the eighth-inning role and he'd be swell with it, which is one crazy reach if he had not been contacted. These are two guys pitching for their first huge contract next season.
And, of course, there is another issue with the Dodgers. There is uncertainty hovering around Chapman related to his maturity and commitment: issues the Dodgers are already wrestling with in outfielder Yasiel Puig.
Put the two of them together on one team, and who knows? Maybe major toxic trouble. Maybe they somehow inspire each other down the right road. A risk best avoided. Both divisive players are currently under investigation by Major League Baseball for alleged domestic violence incidents and could face suspension.
If they had swung the deal with Cincinnati for Chapman and he walked after the season, the Dodgers at least would have earned a first-round sandwich pick. That's great, but not enough added motivation to roll the Chapman dice.
The Dodgers bullpen, of course, has not exactly been a source of team strength the past two years. Undoubtedly Chapman would have been a major addition. And there are likely to be games when Chapman is blowing away batters for the Yankees and Dodgers' followers are left wondering could have been.
Still, for the Dodgers, passing on him seemed the prudent move. It's been a very rough off-season thus far for their front office, but here is a move – or a non-move – that deserves a tip of the cap.
Get our Dodgers Dugout newsletter for insights, news and much more.
You may occasionally receive promotional content from the Los Angeles Times.