Commentary: Dodgers need to leave Aroldis Chapman trade plans behind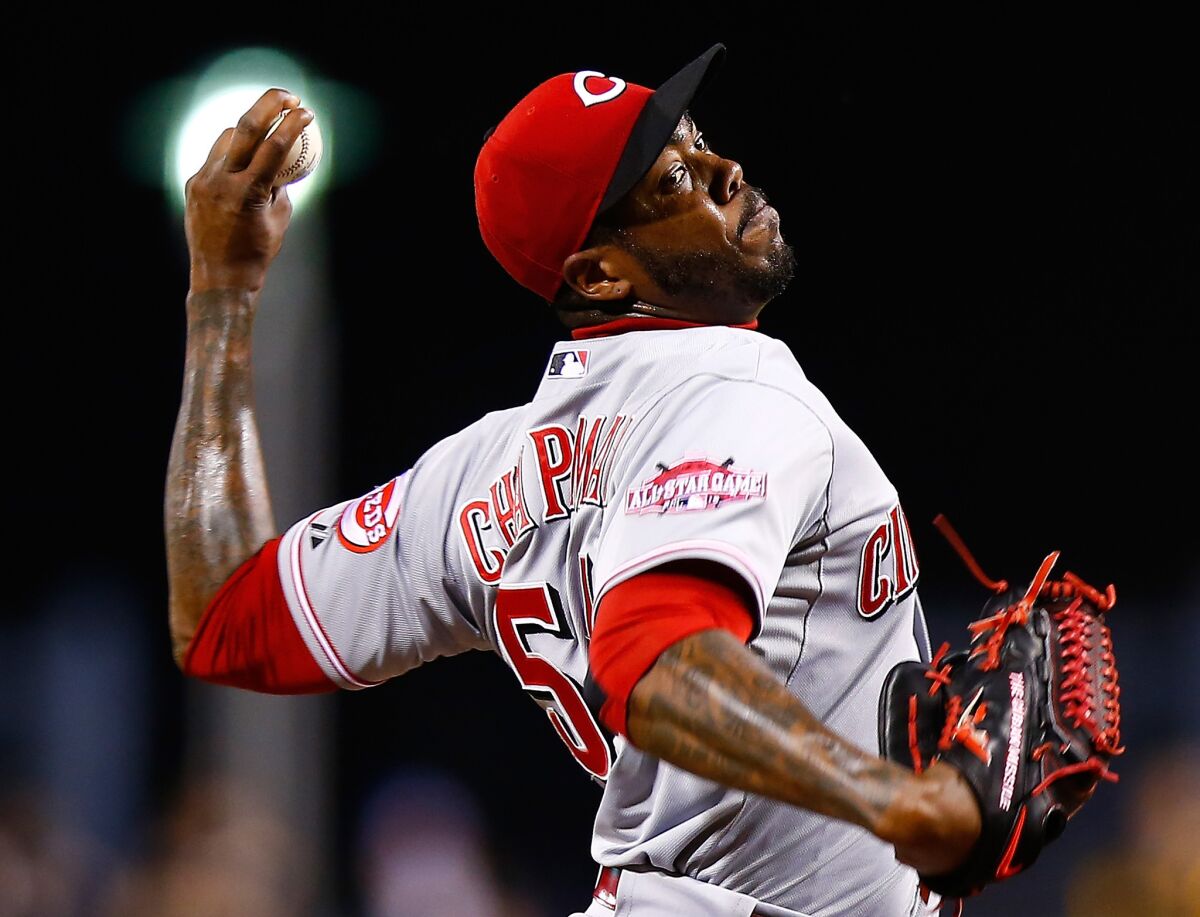 Maybe we'll never know exactly what the Dodgers were planning in their attempt to acquire Reds closer Aroldis Chapman, though surely that effort must be dead now. At least you would hope.
It was never leaked what two prospects the Dodgers had agreed to send to Cincinnati for Chapman, but even to pick up a dominant closer, teams don't typically send prized prospects for a player who will become a free agent in a year. Unless, of course, it's Andrew Heaney for Howie Kendrick.
Maybe the Dodgers were going to work some kind of two-headed closer supreme with Kenley Jansen and Chapman. Maybe they were going to flip one of them. Maybe they were just going to be open to whatever.
It should all be a non-issue after Yahoo Sports wrote about a police report detailing allegations of domestic violence from an Oct. 30 incident. Police in Davie, Fla., said a woman, Chapman's girlfriend and the mother of one of his children, told them she had been choked and pushed against a wall. Chapman denied this, though he admitted to firing a handgun eight times in his garage, Yahoo Sports wrote of the police report.
Because of conflicting reports and lack of cooperation, police made no arrests, but Major League Baseball is investigating the incident under its new domestic violence policy -- just as it is in the incident with Yasiel Puig and his sister at a Miami bar two weeks ago.
The Dodgers are reportedly taking in the news of Chapman's incident and deciding what to do next. They could wait until MLB concludes it report, go ahead with the deal now or just walk away. Here's to walking away.
Chapman, 27, is the hardest-throwing pitcher in baseball, if not baseball history, and an obvious star. But as detailed here by Richard Fitch in Sports Illustrated, Chapman has a spotted and temperamental past and has long been hounded by maturity issues.
The Dodgers already have their clubhouse struggles with Puig and are grappling with what to do with his future. They hardly need to add a second such potentially divisive figure to their mix.
Whether Chapman is cleared by MLB or suspended, it should matter little to the Dodgers. He did admit to police that he fired his weapon eight times in his garage, once through a window into a field. That alone should be enough of a warning signal to move on.
He's the Reds' problem now. Some team will likely take a chance on him and that golden arm. It just shouldn't be the Dodgers.
MORE ON DODGERS
Dodgers claim outfielder Daniel Fields from Milwaukee Brewers
Dodgers claim right-handed pitcher Danny Reynolds from Angels
Dodgers Manager Dave Roberts reflects on meeting with Clayton Kershaw
Get our Dodgers Dugout newsletter for insights, news and much more.
You may occasionally receive promotional content from the Los Angeles Times.