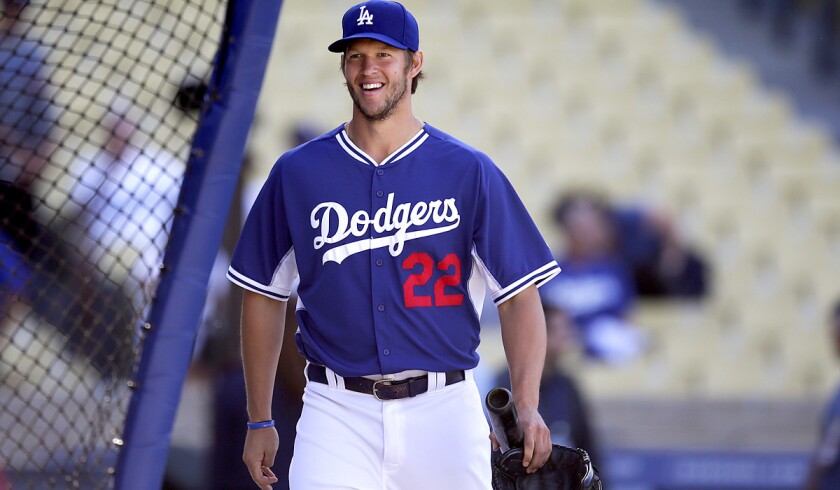 Ah, a debate! How exciting is that? Two sides with divergent opinions, both feeling strong about their position, both confident about what should happen next.
The issue? The next step in the comeback of Clayton Kershaw.
And it's the team's medical staff vs. … Clayton Kershaw?
"There's been a small debate going on," said Manager Don Mattingly.
Kershaw made his first rehab appearance since going on the disabled list for the first time with a strained upper back muscle on Friday, needing only 56 pitches in five innings for Class-A Rancho Cucamonga.
It was apparently a fairly effortless outing.
"He feels good today," Mattingly said. "He said he felt like he didn't even pitch."
He feels so good that he finds a second rehab start unnecessary, though the medical staff is understandably pushing for caution. Kershaw has made only one start this season: opening day in Australia on March 22. That was more than a month ago.
Mattingly said Kershaw was scheduled to throw a bullpen session on Monday, and the Dodgers would know about his next step afterward. Kershaw politely declined comment.
The Dodgers are off Monday and Mattingly plans to give each member of the rotation an additional day off. If Kershaw were to replace Paul Maholm in the rotation, he would start on Friday.
But he could easily find his next start coming at double-A Chattanooga or triple-A Albuquerque. The Dodgers certainly don't want to take any chances with their $215-million investment. After throwing only 56 pitches for Rancho Cucamonga, they could not expect him to go much more than 70 in his next start.
Mattingly said he was staying out of the difference of opinion on Kershaw's next move.
"I don't want to be part of the debate," Mattingly said.
---