Dodgers aren't sending Corey Seager to this year's Futures Game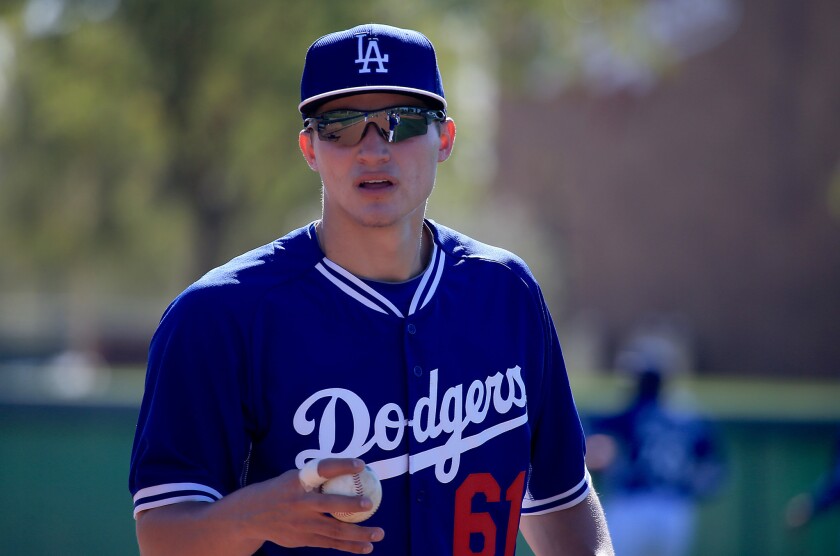 The future is ours, or maybe theirs, or maybe there are some not really too concerned.
Major League Baseball announced its teams for the All-Star Futures Game Thursday and the rosters were notable less for who's on it for the Dodgers than who is not.
On the United States team the Dodgers will have catcher Kyle Farmer from their double-A Tulsa team. On the World Team will be right-hander Juan Gonzalez from triple-A Oklahoma City.
If you're having trouble recognizing those names, it's OK. None appear in the Top Ten of anyone's top Dodgers' prospects for 2015.
The most glaring omission is shortstop Corey Seager, generally considered the Dodgers' most exciting prospect in years. The Times' Bill Shaikin tweeted the Dodgers declined the selection of Seager.
I'll assume they just don't want to risk injury to their top prospects, but if so and every team took that approach, there wouldn't be much of a minor-league game to be played at the All-Star break every year. Seager -- while the Dodgers had a very different front office -- did play in last year's game.
Also missing from the Dodgers are pitchers Grant Holmes, Jose De Leon, Chris Anderson and any of the position players who looked intriguing during spring training – Darnell Sweeney, Scott Schebler and Kyle Jansen.
Farmer, 24, is considered a prospect. He has a .327/.364/.500 slash line but with just one home run and nine RBI at Tulsa, but after going .337/.396/.515 with one homer and 27 RBI at Class A Rancho Cucamonga.
Gonzalez, 25, is a reliever from Venezuela who's split time between Tulsa and Oklahoma City, going a combined 1-0 with a 1.07 ERA and 0.95 WHIP in 22 appearances.
---
Get our Dodgers Dugout newsletter for insights, news and much more.
You may occasionally receive promotional content from the Los Angeles Times.