In defense of Dodgers General Manager Ned Colletti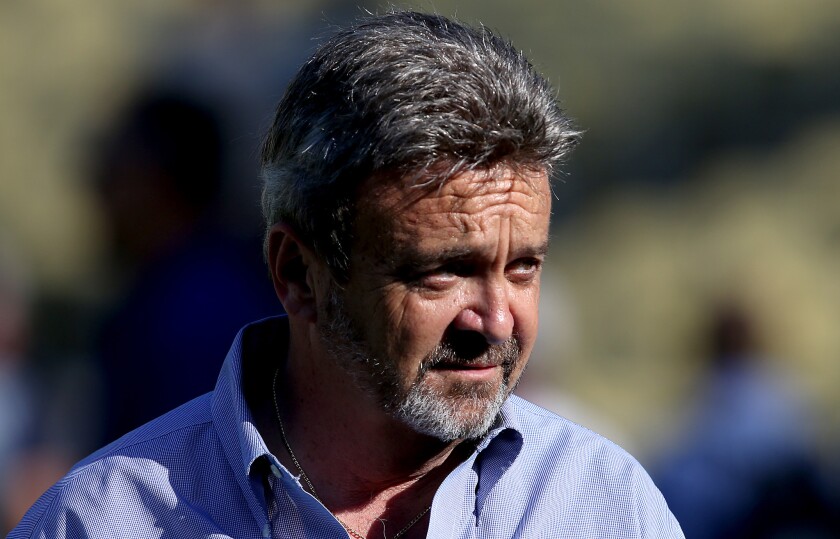 Lose in disappointing fashion and you get unhappy. You get emotional. You want explanations and accountability. Mostly, you want heads to roll.
And so it is with the Dodgers, a team with a record payroll built to conquer the World Series, which instead was rather unceremoniously dumped in the first round of the playoff by the Cardinals.
This must be someone's fault! Someone has to take the blame!
The favorite fall guy is now Ned Colletti, the general manager many Dodgers fans could never fully embrace because of this Giants roots. Reports have him out any moment.
And, sorry, Dodgers fans, that's just wrong. This is not a man who deserves the door.
Colletti may find it strange I'm defending him, given we've always had a something of a tenuous relationship. It's part of my job to bring a critical eye and offer opinions on all-things Dodgers. And being a highly competitive guy, he did not always do his Snoopy happy-feet dance when there were criticism.
Certainly, he's got some wrong over the last nine years but what general manager hasn't? And I understand the perspective that he's had his shot and it's time to move on.
But to lay all the blame on him for what transpired this season, or what did not transpire, is not fair.
The biggest criticism is understandably the failure of the bullpen. Middle relief, which Colletti used to pick up on the cheap and cobble together in effective fashion every year, was the team's great failing.
The Dodgers spent over $35 million on their bullpen this season and never could figure out an effective late-inning bridge to closer Kenley Jansen. Yet when the bullpen was constructed in the off-season you didn't hear any complaints. It looked like a team strength. Colletti had three former closers in the bullpen to get the ball to Jansen.
Now people might say the key term there is "former," that they lost their jobs for a reason. True, though Brian Wilson was coming off an abbreviated season in which he had an 0.66 ERA in 18 games, was unscored upon in six more postseason games and was a highly effective eight-inning setup man. He was signed one year for $10 million, with a $10-million option.
Coming back from elbow surgery, the Dodgers had every right to believe his arm would be even stronger this season. Instead, he went 2-4 with a 4.66 ERA and a 1.61 WHIP in 61 unpredictable games. Was that Colletti's fault?
The Dodgers were without a closer at the end of the 2012 season when Brandon League posted a 0.40 ERA over his last 21 appearances and converted all six of his save opportunities. The Dodgers signed him to a generous three-year, $22.5-million deal in the off-season to be their closer. He quickly blew up the next year. Yet League actually wasn't bad last season, finishing 2-3 with a 2.57 ERA. He was unscored upon in four postseason appearances.
Chris Perez was a base $2.3 million flier taken for one year on a right-hander coming off a down season, who had nonetheless saved 123 games in the last four years. This is some wild gamble?
Meanwhile, last year's young, hard-throwing relievers -- Chris Withrow and Jose Dominguez -- were injured. Paco Rodriguez was injured Aug. 3, did not return until there were two weeks left in the season and was left off the postseason roster. Paul Maholm, the long man, was lost to a knee injury.
Sometimes things happen you have no control over. By the trading deadline, Colletti knew what was up with the bullpen yet no move was made to shore it up. The Dodgers were unwilling to trade their top three prospects -- Joc Pederson, Corey Seager, Julio Urias and as it turns out others as well -- to add relief help to a team otherwise primed to make a World Series run.
Think that call came from Colletti, who had to know his job security was less than solid if the team disappointed? It had to come from ownership, or more specifically, likely team President Stan Kasten.
The Times' Bill Plaschke implied in his Friday column on Colletti that ownership was unhappy that he had spent so much money on older veterans, including Andre Ethier. That's pretty funny. The new ownership was already on board and wanted to make a splash and statement to the fans when they OK'd a five-year, $85-million deal to Ethier.
And they (read: Kasten) helped engineer the blockbuster trade that brought over a billion in new salaries in the deal for Adrian Gonzalez. You can't pat yourselves on the back for that deal one minute and then lambaste it the next because you have too many highly paid outfielders.
Colletti is only free to form the team he wants to the extent Kasten allows.
Colletti has led the Dodgers to the playoffs five times in his nine seasons. He has survived penny-pinching Frank McCourt and cost-is-no-object Guggenheim. Every call hasn't worked, but show me a single GM whose calls have.
I know you're upset, but he doesn't deserve to be the fall guy du jour.
---
Get our high school sports newsletter
Prep Rally is devoted to the SoCal high school sports experience, bringing you scores, stories and a behind-the-scenes look at what makes prep sports so popular.
You may occasionally receive promotional content from the Los Angeles Times.