Josh Beckett's comeback is complete with no-hitter against Phillies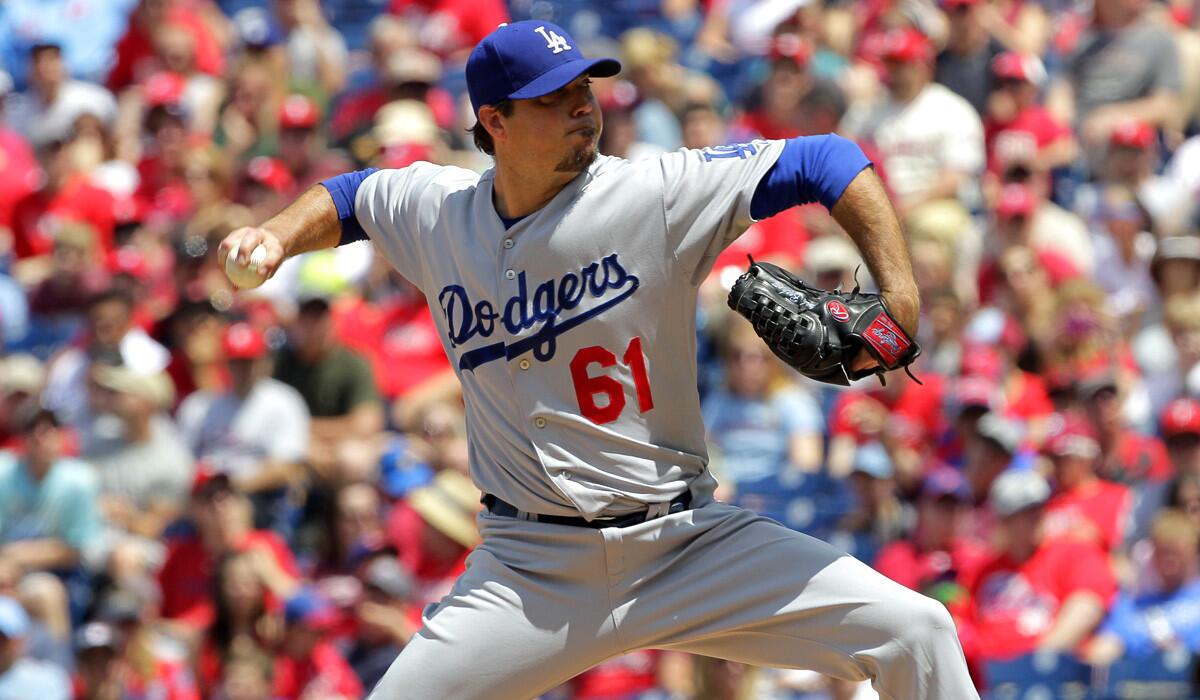 Getting used to it yet, this Josh Beckett who no longer relies on a dominant fastball and loves to drop in the curve?
Seems it is time. Beckett not only was at it again Sunday, he was doing it better than ever. Better than anyone dared imagine.
Beckett capped his remarkable comeback from a risky surgery last summer, throwing his first career no-hitter in the Dodgers' 6-0 victory over the Phillies on Sunday at Citizens Bank Park in Philadelphia.
The no-hitter is the first of the season. The last no-hitter was pitched by the Miami Marlins' Henderson Alvarez against the Detroit Tigers on the final day of the 2013 season.
Beckett walked three, but after a leadoff walk in the second inning he retired 23 consecutive Phillies before walking Jimmy Rollins with two outs in the ninth. He caught Chase Utley looking at a fastball on a 3-2 pitch for the game's final out.
It wasn't like the 34-year-old right-hander was blowing it by everyone –- he struck out six -- but he was around the plate and his curveball, always a strong pitch for him, is now becoming his main weapon.
It's an extraordinary turnaround for Beckett, who had surgery last July to remove a rib that was pressuring a nerve that caused numbness in his fingers. Such surgery has a spotty success rate, but Beckett has become its new poster boy.
It was the 11th no-hitter in Los Angeles Dodgers history, and the team's first since Hideo Nomo threw one in the rain in Denver in 1996.
Beckett (3-1) lowered his earned-run average to 2.43, which would be the lowest of his 13-year career. He threw a season-high 128 pitches to complete the no-hitter in the 321st start of his career.
The Dodgers supported him with a six-run, 11-hit attack. Justin Turner hit a solo home run and Adrian Gonzalez had three hits and drove in a pair of runs.
Get our Dodgers Dugout newsletter for insights, news and much more.
You may occasionally receive promotional content from the Los Angeles Times.