Dodgers suffer a dark night in Pittsburgh in 13-6 loss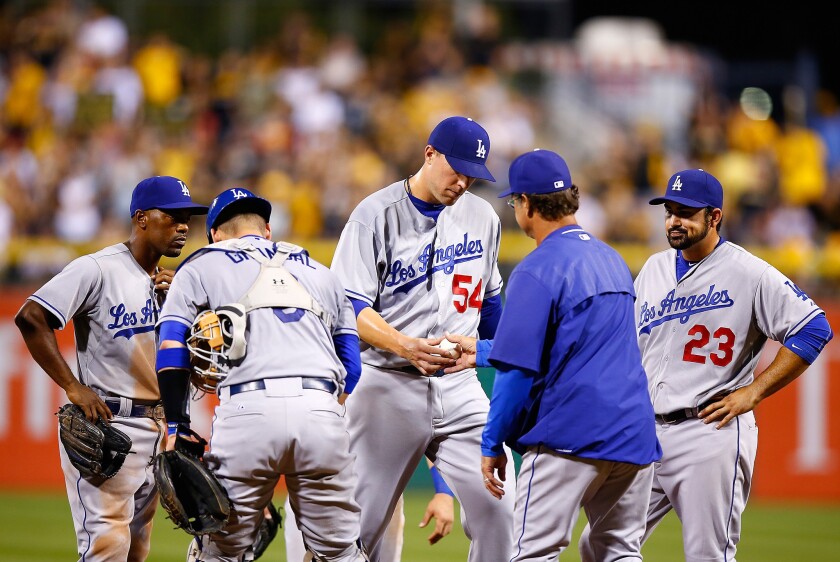 Battered, embarrassed and even limping, the Dodgers left Pittsburgh with their season at its lowest point.
They remain three games up in the National League West, thanks to the San Francisco Giants getting swept in Chicago, but that remained their only positive note after the Pirates completed a three-game sweep of the Dodgers with a 13-6 victory on a muggy, painful Sunday night at PNC Park.
The Dodgers started the night so promising, playing aggressively and jumping out to a 5-1 lead. They were still leading, 5-3, going into the bottom of the seventh when they suffered their most humbling inning of the season.
The Pirates scored nine times in the seventh -- eight runs charged to beleaguered reliever Jim Johnson -- to first rally for the lead and then just seemingly to play with the Dodgers.
The game had already taken a bad turn for the Dodgers in the fifth inning when they lost veteran Howie Kendrick, a veritable rock for the Dodgers at second base all season, who strained his left hamstring while running out an infield hit.
Kendrick is batting .296 and is second on the Dodgers with 49 RBIs. He has played a solid second base and, along with shortstop Jimmy Rollins, has given the Dodgers reliable play up the middle and helped turn them into top defensive team. It's unknown how long he will be out.
The Dodgers had hoped to use the weekend series against the Pirates to demonstrate to the league -- and themselves -- they would be a team to fear come playoff time.
Instead, they took a serious step backward. This series did nothing to boost their confidence, let alone reintroduce some swagger. Mostly, it just created more questions.
Alex Wood started but pitched only five innings. He and Mat Latos, the other starting pitcher acquired at the trade deadline to stabilize the rotation, have been at best uneven. In their four combined starts since coming to the Dodgers, they are a combined 0-2 with 5.90 earned-run average.
A number that has to look like gold to Johnson. He was supposed to become their main eighth-inning man, but has done nothing but struggle in his first four appearances with the Dodgers. The first three were disappointing, but they paled in comparison to his dismal outing Sunday.
Johnson was charged with eight runs in two-thirds of an inning. His Dodgers' ERA is 29.46. He has given up 12 runs in his four appearances, or the same amount he gave up in 49 games for the Atlanta Braves before the trade. Johnson became only the second Dodger in history to be charged with eight runs in just two-thirds of an inning.
Joel Peralta followed Johnson and continued his downward cycle by giving up a three-run homer.
The Dodgers' bullpen, a major problem last season, remains so despite a massive overhaul. Of course, if starters can't go longer than four (Latos on Saturday) or five innings, the bullpen is going to be continually beat up.
Johnson (2-5) started the seventh for the Dodgers and gave up the eight runs on six hits, a walk and a hit batter. There was a Yasiel Puig throwing error in there and when Peralta took over he immediately gave up a three-run homer to Jung Ho Kang, charging two more runs to Johnson, but at no point did the right-hander look like someone Manager Don Mattingly could trust.
Wasted for the Dodgers were two-RBI nights from Adrian Gonzalez and Yasmani Grandal, and a solo homer from Enrique Hernandez.
Wood was charged with three runs on five hits, three walks and a hit batter in his five innings.
The Dodgers jumped on a plane after the game, headed for a very long flight back home.
---
Get our Dodgers Dugout newsletter for insights, news and much more.
You may occasionally receive promotional content from the Los Angeles Times.