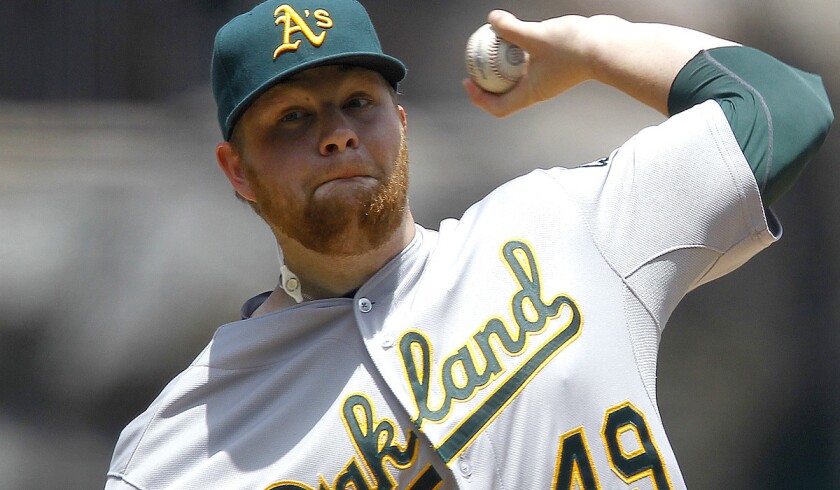 Hope you love that current Dodgers rotation. Hope you really, really love it. Like, blindly love it.
Because apparently there is not going to be the addition of some superstar arm to fill it out. No monster trade for Cole Hamels, no mega-signing of Max Scherzer, not even an upgrade with James Shields.
The Dodgers officially, finally, announced the signing of left-hander Brett Anderson on Wednesday and General Manager Farhan Zaidi pronounced the rotation complete.
"You never say never, but we have no plans to pursue those kind of guys at this time," Farhan said.
So this is your Dodgers 2015 starting rotation: Clayton Kershaw, Zack Greinke, Hyun-Jin Ryu, Brandon McCarthy and Anderson.
TNaturally, any rotation that leads off with Kershaw, Greinke and Ryu is going to be formidable. How McCarthy and Anderson hold up the bottom half, however, is hardly guaranteed.
McCarthy was horrible the first half last season with the Diamondbacks and terrific the second half with the Yankees. The often-injured Anderson is one of baseball's better pitchers when healthy, but he has been unable to throw 90 innings in any of his last four seasons.
You'd think maybe the Dodgers would want to add at least one more legitimate starter, but Zaidi said they're pleased with their current situation and have moved on to other areas. Apparently those on the roster fringes.
"We made a concerted effort to improve our starting pitching depth," he said. "It's important for us to have guys in triple A, or frankly even in the big league bullpen, we feel can swing into the rotation and keep us competitive. Adding guys like [Mike] Bolsinger and Joe Wieland were sort of specifically meant to address that.
"Those are the kinds that'll probably be our focus going forward."
The Dodgers picked up Bolsinger from the Diamondbacks last month for cash. Last season he went 1-6 with a 5.50 ERA in 10 games (nine starts). Wieland came to the Dodgers along with catcher Yasmani Grandal in the Matt Kemp trade and is 1-4 with a 5.31 ERA in nine career games (seven starts).
The Dodgers have also added right-hander Juan Nicasio, who in four years with the Rockies went 21-22 with a 5.38 ERA.
That looks like a lot of mediocrity behind the projected rotation, and calling it mediocre might be kind.
Of course, it should be noted Zaidi said Dee Gordon was their second baseman and they were not dangling him to other teams, and then traded him the next day.
So possibly it's just a signing strategy. And just possibly, you'd better really love the rotation as it is.
---