Dodgers acquire starting pitcher Roberto Hernandez from Phillies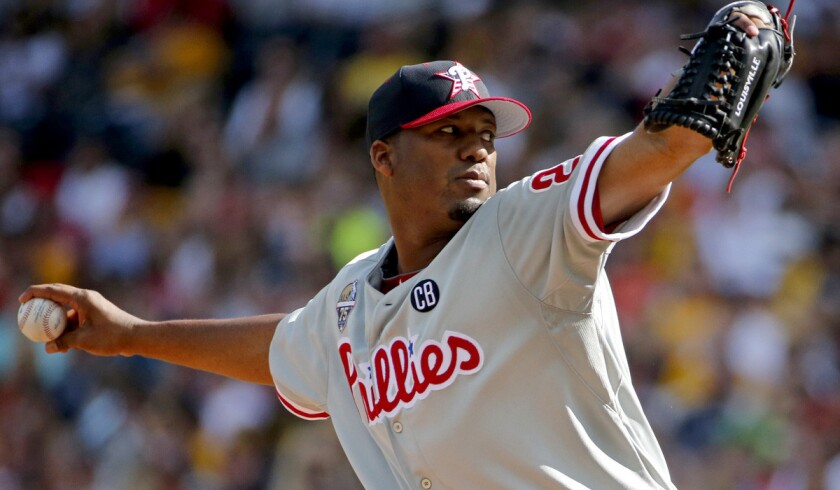 The Dodgers acquired a starting pitcher from the Phillies on Thursday, and, sorry, it was not Cole Hamels.
It was Roberto Hernandez, who is not to be confused with the former Dodgers reliever of the same name but can be confused with Fausto Carmona.
The Dodgers picked up Hernandez from Philadelphia for two players to be named later or cash considerations, so it's not like the deal can be completely judged right now.
At minimum he offers rotation insurance, and at maximum he could start Friday for struggling Josh Beckett, who is battling a sore hip.
Dan Haren has also been struggling in the rotation, but for now his outstanding performance Wednesday in a 2-1 victory over the Angels has seemingly ended talks of his being ousted as a starter.
Hernandez, 33, came into the baseball world as Carmona, but the Dominican Republic native was caught in a scandal for falsifying his identity in order to obtain a visa. He returned to us under, we assume, his rightful name as Hernandez.
It hardly made him a better pitcher, though. He is 65-90 with a 4.59 earned-run average and 1.41 WHIP in his nine seasons in the majors. He was 6-8 with a 3.87 ERA for the Phillies this year, though in his last four starts he went 3-0 with a 1.88 ERA.
He was released by the Indians in 2012 after seven seasons and the Rays after last season before signing a one-year deal with the Phillies for $4.5 million. It's not exactly a salary dump by Philadelphia.
Beckett was a pleasant surprise for the Dodgers early this season. They were uncertain how he would return from surgery to remove a rib, but he threw a no-hitter and had a 2.26 ERA through his first 20 starts.
But since returning from a disabled list stint for a torn labrum in his left hip, it's been a struggle for Beckett. In his three starts since, he's allowed 11 earned runs in only 12 innings, surrendering 21 hits and walking seven.
The Dodgers will have to make a move on their 25-man roster to make room for Hernandez. They could return Carlos Frias to triple-A Albuquerque, if they're not putting Beckett back on the DL.
Hernandez has appeared in relief 42 times in his career. He last started for the Phillies Friday, allowing one run on five hits in eight innings against the Nationals.
---
Get our Dodgers Dugout newsletter for insights, news and much more.
You may occasionally receive promotional content from the Los Angeles Times.