Frank McCourt buys into the elite with European horse-jumping tour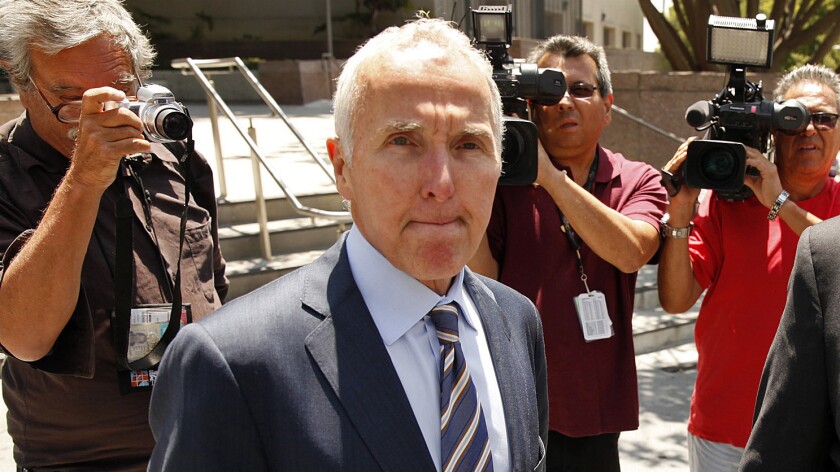 What would you do if you suddenly became filthy rich?
Buy a South Pacific island, a movie studio, a downtown L.A. parking space?
Imagine Frank McCourt's dilemma. He already owned a Major League Baseball team, and then sold it for a record $2.15 billion. What's his new toy supposed to be?
Would you believe a horse-jumping tour?
Well, the upper crust do have to stick together. So our man Frank has now purchased a 50% stake in the Global Champions Tour, which is a series of horse-jumping competitions held mostly in Europe.
Its title sponsor is Longines and its honorary president of the Jumping International de Monte Carlo leg of the tour is Charlotte Casiraghi. You know, member of the Monaco royal family and granddaughter of Prince Rainer III and Grace Kelly.
Show jumping is primarily a sport for the hoity-toity and not the rest of us, unless they need someone to clean up after the horses.
In a phone interview with Bloomberg News, McCourt would not reveal how much he invested in the premier jumping series, but indicated he has a little left over.
"You know what happened with the Dodgers," McCourt told Bloomberg. "We took a franchise losing almost $60 million per year and ended up selling it for the highest price ever paid for a sports franchise. We created value there and we plan to do the same thing here."
Yeah, about that. He took the Dodgers into bankruptcy and was forced to sell the team. But as Jamie McCourt once told me, timing is everything.
An upcoming broadcasting rights deal pushed the sales price into another financial realm. So the man who had to borrow $30 million just to meet payroll, who saw attendance plummet, who was the most reviled owner in Los Angeles sports history (pre-Donald Sterling comments on blacks), is now an expert on maxing out the value of a sports entity?
"The sport is a natural in terms of reaching out to very large international companies that are looking to reach our expanding audience," McCourt said. "There's a lot of opportunity to introduce the sport to a multitude of fans."
I guess there are multitudes of the wealthy these days, since they're about the only ones who made out fine during the recent Great Recession, but I'm not sure how much this "sport" appeals to the Average Joe.
This is a pastime developed by wealth Brits. They ride horses in sports coats. Very proper. Yacht racing on four legs. Most of the tour's stops are in Europe, though McCourt said he plans to expand its reach into the Middle East and Asia, and enter into the United States, or any other place where they hunger to watch horses jump over things.
"I love sports," McCourt said to Bloomberg. "This sport is very telegenic. There's more we can do to bring the beauty, the difficulty, the risk, the athleticism and the excitement of the sport to fans."
Poor Jamie McCourt. She took only $131 million in her divorce agreement and had to settle for buying a little vineyard in Napa. Meanwhile, Frank has bought his way into rubbing elbows with European royalty. Maybe money can't buy you love, but apparently prestige is another matter.
---
Get our high school sports newsletter
Prep Rally is devoted to the SoCal high school sports experience, bringing you scores, stories and a behind-the-scenes look at what makes prep sports so popular.
You may occasionally receive promotional content from the Los Angeles Times.