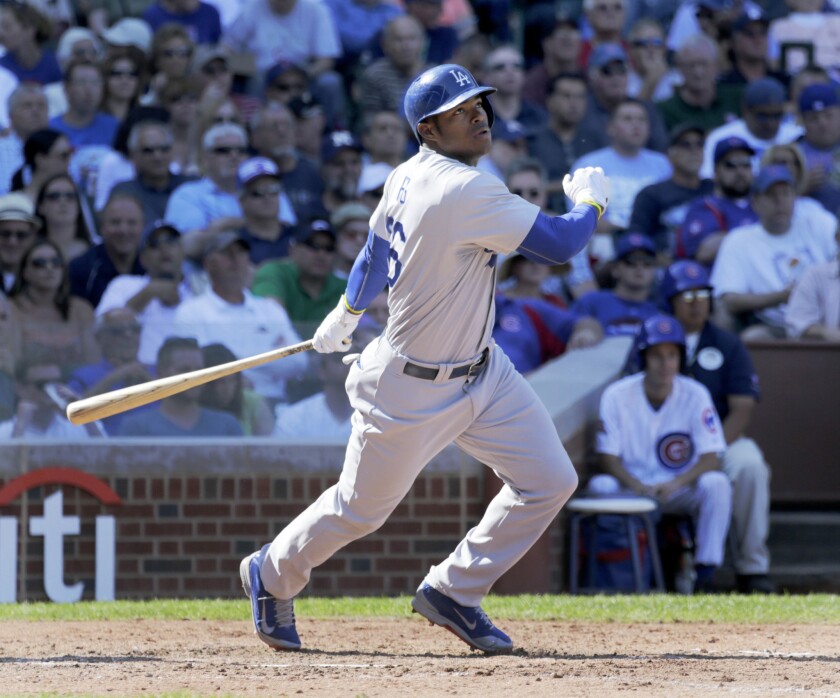 It's unspoken, at least publicly, but it's pretty clear the Dodgers would like phenom Joc Pederson as their everyday center fielder in 2015.
They're trying to be careful and say the right things like, "We're not going to hand it to him," but come on, what can they say?
Of course, Andre Ethier has said he expects to start here or somewhere next season. Which makes you wonder exactly which outfield position he's going to be given an opportunity to win with the Dodgers.
He played all three outfield spots last season. He's spent most of his career in right, moved to center in 2013 when Matt Kemp was injured, opened there and spent most of his playing time there in 2014, and then ultimately lost out to an outfield alignment of Carl Crawford in left, Yasiel Puig in center and Kemp in right.
Now Kemp's gone and the Dodgers are eyeing Pederson as their everyday center fielder.
"I don't expect anything to be handed to me," Pederson said during last weekend's fan fest. "It never has been in the past. I still have to grow as a baseball player."
Puig should be paying close attention to the Pederson storyline.
Pederson did everything he could at triple-A last season, putting together the Pacific Coast League's first 30-30 season in 80 years before strugglng in a brief September call-up (.143/.351/.143).
As Ken Gurnick pointed out at MLB.com, the Dodgers have a lousy history the last two decades of rookies winning a starting job out of spring and then having an impact. The last was Raul Mondesi in 1994. Todd Hollandsworth was the National League Rookie of the Year two years later, but he platooned the first half of the season.
So it's difficult to count on a rookie, regardless of enormous success in the minors. Ethier, of course, could still – and perhaps likely will – be traded before the season begins, though for now he offers a fallback plan should Pederson falter during spring training.
If he shines, the outfield figures to be set with a Crawford-Pederson-Puig alignment. If he does not and Ethier is still with the team, then it figures Puig will return to center and Ethier to right (likelly in a platoon with Scott Van Slyke). Considering he's never been confused with a speedster, Ethier performed fairly well in center but you have to figure Puig is the most natural fit of the two.
If Ethier is traded and Pederson doesn't earn the starting nod, then Puig still figures to open in center and Van Slyke in right.
Puig has said he doesn't want to bounce around in the outfield. He has designs on winning a Gold Glove, which requires you're identified with one position. And all that should hinge on how well Pederson performs this spring.
---