Three-way trade opens up more questions for Dodgers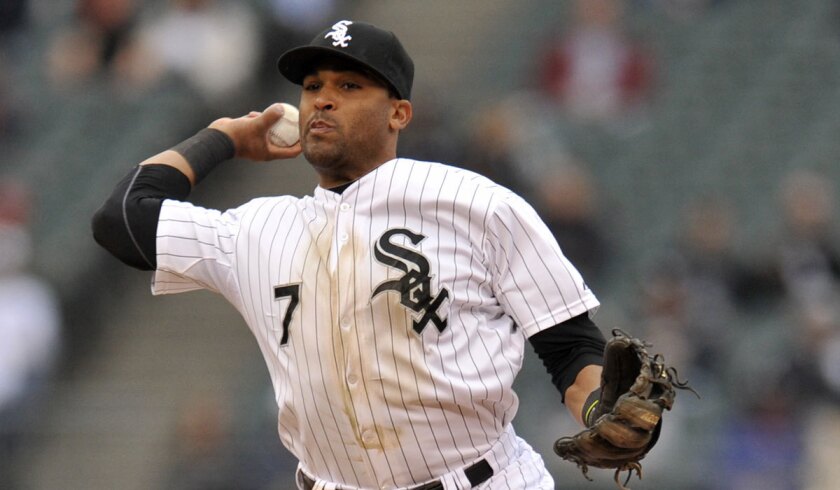 Nothing like the curious trade. Trades that leave heads being scratched, waiting for interpretation, wondering if more is still to come.
The Dodgers made their first trade of the off-season Wednesday, and on the surface, it did not address any of their current needs.
It was a three-way deal, which Andrew Friedman & Co. seem partial to, costing them three prospects. Infielder Jose Peraza, outfielder Scott Schebler and minor league infielder Brandon Dixon were sent to the Reds, who sent third baseman Todd Frazier to the White Sox, who sent right-hander Frankie Montas, outfielder Trayce Thompson and second baseman Micah Johnson to the Dodgers.
For the Dodgers, this essentially ended up a swap of prospects. Thompson, who bats right-handed, is seen as someone who potentially could split time in center with the left-handed Joc Pederson. Montas, who can hit 100 mph on the ol' radar gun, is expected to start the season in triple-A Oklahoma City's rotation. Johnson could figure in at second base, but he hits left-handed, same as just-signed Chase Utley.
Join the conversation on Facebook >>
So the trade begs a few questions:
Where does Enrique Hernandez fit in all this? The Dodgers just picked up backups at the two positions he was most likely to receive playing time.
How did the Dodgers sour on the speedy Peraza, 21, who when acquired last summer had been ranked the Braves' No. 1 prospect?
If Thompson makes the roster, then doesn't one of the current five outfielders have to be moved?
Does Cincinnati getting the prospects from the Dodgers kill any remains of returning to the Aroldis Chapman trade? It was supposed to be for prospects.
Are these new players just pieces to be used in another trade still to come?
Why didn't the Dodgers just trade the prospects to the Reds straight up for Frazier and move Justin Turner to second?
Some answers will be provided over time and some will be explained by the Dodgers, but the last question is one to ponder: Frazier is the only regular involved in the trade and a two-time All-Star who hit 35 home runs last season.
The Dodgers apparently were concerned that moving Turner to second base would prove too risky for his left knee, surgically repaired last October. Pivoting at second on a double play puts particular stress on the knee.
But Turner is coming off a career year at age 30 and can't be considered a lock to duplicate his 2015 season (.294/.370/.491). They could have taken baby steps with Turner at second, while having an All-Star third baseman to hit in the middle of their lineup.
Right now for the Dodgers, the trade looks like a swap of minor leaguers, none of whom are guaranteed to be on the opening day roster. Most seem to think they got the better of the prospect swap, but anyone who followed Friedman's moves last off-season knows this could all be a prelude for deals still to come.
MORE DODGERS NEWS
Could the Dodgers actually trade Andre Ethier when they need him most?
Dodgers send Jose Peraza to Reds, get three top prospects from White Sox
Former Laker Mychal Thompson reacts to Dodgers trading for his son Trayce
---
Get our high school sports newsletter
Prep Rally is devoted to the SoCal high school sports experience, bringing you scores, stories and a behind-the-scenes look at what makes prep sports so popular.
You may occasionally receive promotional content from the Los Angeles Times.